Get Ready For the Token Claim.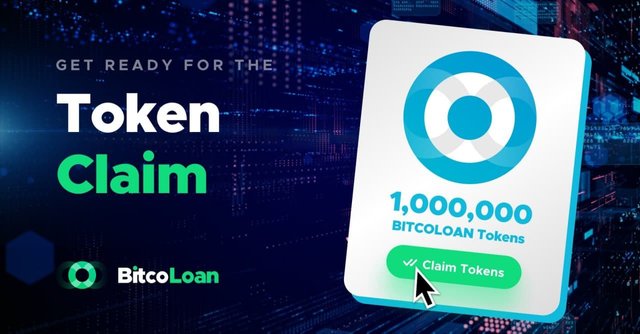 The timer is about to expire! Tomorrow, the BITCOLOAN Token claim on Metamask will be available.
There will also be another booking option for those who managed to get more tokens during the initial booking.
The end of the Tier#3 and the token claim means the inevitable progressing with our Road Map and the coming token exchange listing.
Token Claim
The timer will expire soon. If you've managed to book your tokens, tomorrow you will see a "Claim" button in the "Token" dashboard section. Tokens will be sent to your Metamask wallet.
There won't be any other additional procedures to claim the token. However, if you haven't booked your tokens yet, you can do so right now in the "Token" section of your dashboard. Read the guide here.
1% Profit
As you already know, the tokens you store in the BitcoLoan system will turn you a 1% daily profit of the remaining token balance.
Still, should you transfer the tokens on Metamask, there will be no more payments. Once you've sent the tokens on Metamask wallet, you won't be able to return them to BitcoLoan.
Exchange
With the token claim opportunity, the token exchange listing is getting closer. There you will be able to buy more tokens or sell yours.
Later this week, we will tell you more about the token getting on to the exchange, exact event date and other details in our blog.
Future Plans
We're still getting ready for the BitcoLoan Protocol launch. One more stage is almost over! It implies more updates are coming up.
You can find out more about it on the token page. We will also share more interesting details in our blog later on.
Podcast
If you wish to learn more about the latest news or get some insights on the protocol development and BitcoLoan future plans, listen to the recently released podcast!
If you want the next token, protocol or BitcoLoan updates articles to be more interesting for you, just leave your questions in the comment section below. We will do our best to answer them in the following blog news!
Liked reading this article? Spread the word!