Become a VIP Client and Get Access to Private Loans!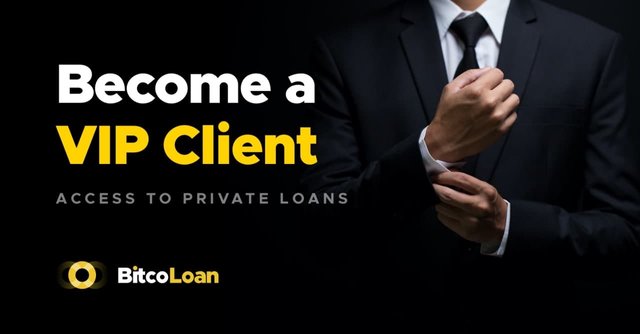 More than 2000 clients register on BitcoLoan every day. We've found out that there is a range of those ready for greater things.
We present you an opportunity to get VIP status. With this status, you'll be able to invest in private loans with higher profits and exclusive benefits.
To obtain VIP status, you will need to have BITCOLOAN Tokens. There should be at least 500,000 tokens in your balance in total. You can withdraw the tokens, but your status will remain.
Benefits
You can become a VIP client and get unique benefits. The first and most important one is access to VIP Only loans.
You can find such loans in the Deposit section, and they're specially marked. If you have a VIP status, you can become one of the VIP Only loan investors.
We will add more VIP clients benefits pretty soon.
How to obtain VIP status
To get VIP status, you will need to have at least 500,000 tokens. It doesn't necessarily mean that you need to have the whole amount at one time.
Simply put, you can withdraw tokens, but they will still count in your total token amount. However, once the tokens are withdrawn, you won't be getting 1% daily profit of the remaining token balance.
Once the token is on the exchange, you will also be able to obtain VIP status if you prove the right token amount ownership.
How to get more tokens
You can obtain tokens in two ways. The first one is to complete Bounty tasks that will be available until the BITCOLOAN token exchange listing.
The second way is to get tokens by making a deposit. All investors get 64 tokens for each $1 invested. The token amount is not limited.
We've made the second way a separate Bounty task for your convenience.
Once the token is listed on the exchange, you can buy the token and get VIP status after you confirm the token ownership through contacting the Support Team.
Soon, there will be more news and updates. Stay tuned!
Liked reading this article? Spread the word!