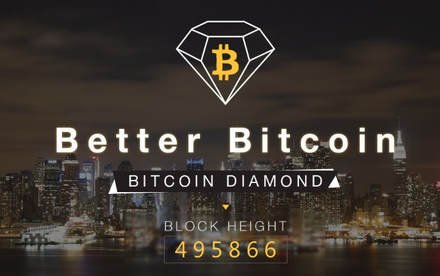 The Bitcoin hard forks just keep on coming. Bitcoin Diamond (BCD) will be another cryptocurrency created via this method, forking at block height 495866, shortly before Super Bitcoin forks at block 498888.
Bitcoin Diamond's focus features will be:
Privacy protection through encrypting amounts and balances
Fast transaction confirmations by raising the block size limit to 8MB
Reducing the cost of transaction fees
There will be a limited amount of Bitcoin Diamond, set at 210 million, which is ten times more than the supply of Bitcoin. In line with this, holders of Bitcoin at the time of the fork will receive a cryptocurrecy dividend of ten Bitcoin Diamond for every one Bitcoin held. Yes, that's 10 BCD for every 1 BTC for free. Nice.
Like Bitcoin Gold and Super Bitcoin, Bitcoin Diamond is a friendly fork. This means that it is using the fork process to create an altcoin that is complimentary to Bitcoin, rather than trying to become the real Bitcoin, which is the goal of Bitcoin Cash.
You can read more details about Bitcoin Diamond at their official website btcd.io
This article, Bitcoin Diamond is Preparing to Emerge from the Hard Fork Rough, was first published on 11/19/2017 at BitcoinToTheMoon.com