Content adapted from this Zerohedge.com article : Source
---
Circle Internet Financial, a company backed by Goldman Sachs is buying the cryto exchange Poloniex for $400M.
This seems to be the catalyst which lifted bitcoin higher this morning, surpassing the $10,000 mark.
The move seems to provide validation to the cryptocurrency market since one of the largest banks in the world is now a part owner in one of the largest crypto exchanges.
Circle, which allows users to transfer money via text, said in an statement on its website it will "address customer support and scale risk, compliance, and technical operations to bolster the existing product and platform." An excerpt from its statement is below:
We're proud to announce that Circle has extended its commitment to a new vision for global finance by acquiring Poloniex, a leading token exchange platform.
Built upon a foundation of blockchain technology and crypto assets, Circle is on a mission to make it possible for everyone, everywhere to create and share value. Circle Pay helps people around the globe connect to one another and share value just as they would share any other kind of content on the open borderless internet; Circle Trade serves institutions and investors as one of the world's largest providers of crypto asset liquidity; and our forthcoming Circle Invest app enables individuals to tap into crypto asset investment through a simple, seamless, mobile experience.
Now Poloniex addresses another key element of Circle's product foundation: An open global token marketplace.
We want to take a few moments to welcome Poloniex, present the immediate work you can expect from us with Poloniex right now, and share what we see as its future.
The combine company will now take on the likes of Coinbase.
As Bloomberg adds, "the agreement comes as startups and corporations alike are trying to figure out whether to wade into cryptocurrencies. While many have been involved in blockchain for years, there has been more hesitancy around what to do with digital assets like Bitcoin due to volatility and a history of it being used in shady transactions like drugs and evading taxes."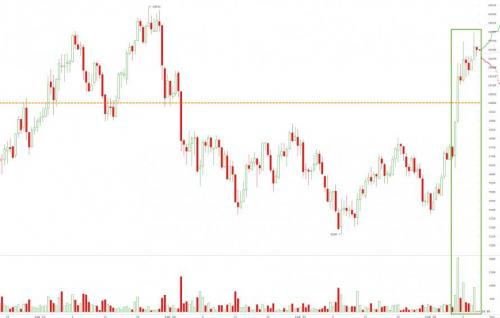 Non-adapted content found at zerohedge.com: Source
---
Disclaimer : Account @zer0hedge is not affiliated with ZeroHedge.com.
I read ZeroHedge multiple times a day to find the best articles and reformat them for Steemit. I appreciate the upvotes but consider following the account and resteeming the articles that you think deserve attention instead. Thank you!
Head over to ZeroHedge.com for a more complete news coverage about what affect the economy, geopolitics & cryptocurrencies.