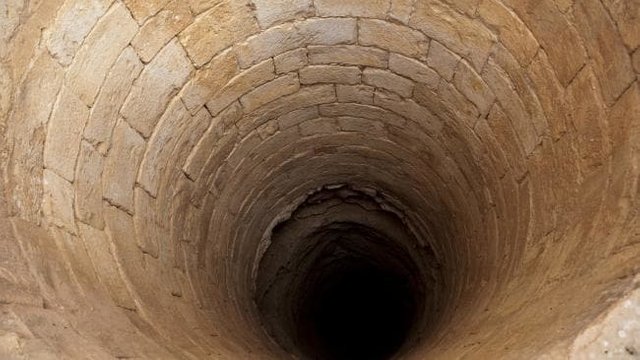 ---
Where is the bottom?


I've been thinking a bit about where the bottom of this bear market lies. The price hit 6k at the start of February and hasn't been anywhere close to that ever since. Instead, it's gone up to 11700 twice and the closest it's come back to 6k was 7660.
Things could be looking pretty good for a recovery! The support is defintely holding around 8000-8200 and the price does seem to be in a shockwave pattern around that median level. This price also lines up with the 38.2% Fibonacci drawn between 11700 and 6000. Looking at the other levels, one can expect the price to play around 7360 for a bit too, if it decides to head back down and retest 6k.
It could be a couple of weeks before the 6k retest and perhaps many more months until we see a true bottom. We know there are old lows at 5400 and 3000 dated November 12 and September 15, respectively, so there is still a possibility that we could retest even these levels.
---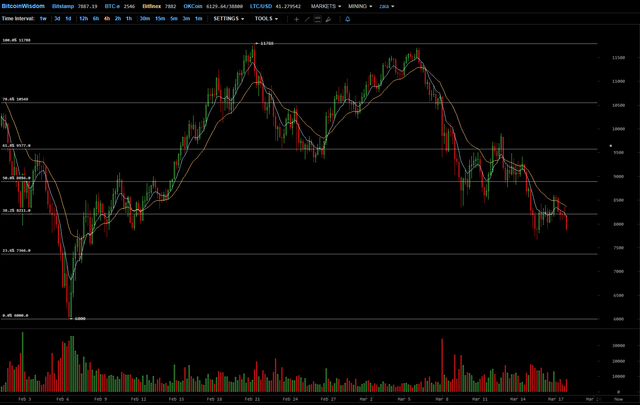 Alts are down too


On the alts front, they're all proportionately down relative to Bitcoin. Ethereum is trading sub-600, which is honestly looking good (and its testing lows), but keep an eye out for a break of that support if Bitcoin continues to fall.
Steem and SBD has been steadily declining, so I'm sitting tight with them. I lost a fair bit of paper wealth with Steem losses, which was more of an annoyance than anything, but SBD back under 2 dollars was frustratingly inevitable. I'm holding my SBD for now for the next bullrun, which could be months or even years from now, but that's fine.
It could be the beginning of a long winter for crypto, and its interesting that everything is dictated by the price of Bitcoin itself. Many thought that Ethereum was breaking into its own and becoming less and less dependent on Bitcoin as more users permanently moved over to the Ethereum blockchain, but the price action tells us otherwise - Bitcoin is still king and will remain so for a long time to come.