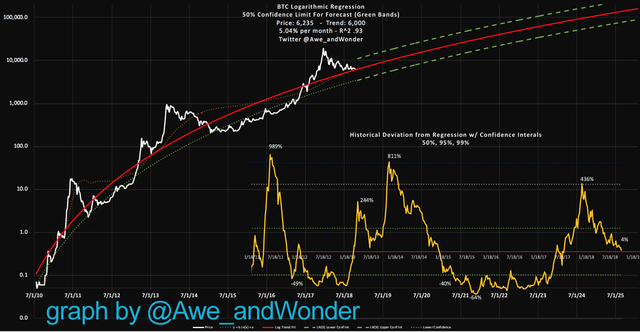 As someone that is not really interested in technical analysis and drawing fancy lines in charts all day, every day, I still decided to make this post.
The main reason is to give all the newbies that might have been burned during the last months a different, long-range perspective on Bitcoin.
And I also think this is in general an interesting perspective for everyone interested in Bitcoin price analysis with a focus on larger patterns.
Here is the excellent article by "Awe & Wonder": https://medium.com/coinmonks/bitcoins-logarithmic-growth-rates-facebook-s-s-curve-and-future-projections-22d8acaaa801
Some important quotes:
"According to Willy Woo, the space is currently somewhere in the early adopters phase."
"Currently, for every 1% increase in time there is a corresponding 5.87% increase in price.
Again, similar to Facebook's adoption S-curve, BTC is increasing in price at a decreasing rate."
Currently Bitcoin's price is almost 50% below its logarithmic trend line!
So stay cool and hodl. My opinion. (Not financial advice, I am not a financial advisor)
Comments etc. appreciated.