Learn About Crypto Insights Journal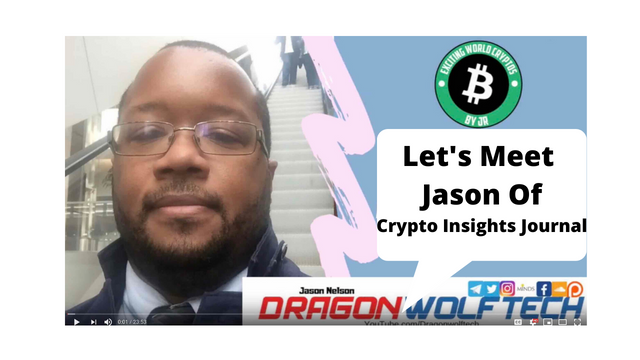 Learn About Crypto Insights Journal
Hello everyone This is a blast from the past. A video interview I did with Jason with Crypto Insights Journal Also as Dragonwolftech.
He also is on Uptrennd as well under the name of Jason Nelson I had the opportunity to interview Jason. We talked more about his platform and its main vision. As well many different aspects on the topic of blockchain and cryptocurrency. Jason of Crypto Insights Journal. Creates Bitcoin, Cryptocurrency and Technology related content for websites, blogs, and video platforms. He does many great interviews all the time with various hero's in the cryptocurrency space. Always providing amazing information and insight to the crypto world. Please take the time to check out this amazing interview I did with him. As well check out his channel and rest of his content. His interviews will provide you with so much exposure and information to help in you on your journey in this space.
Here Are the Questions Asked In This Interview.
What is your name and tell me a bit about your background
How did you find out about blockchain and cryptocurrency?

Tell us about your platform of DragonWolfTech?

I understand you do many interviews of many great people on your show.
Who has been your most interesting or influential guest so far? and tell us why?

What are 3 concerns you have for cryptocurrency?

Tell me someone who you think is very important to the crypto world?

If you could have dinner with anyone from history, who would it be and why?
Uptrennd: @Jason Nelson
How To Reach Crypto Insights Journal
Name: Crypto Insights Journal
YouTube: Crypto Insights Journal
Uptrennd: @Jason Nelson
Website: https://cryptoinsightsjournal.com
Twitter: @dragonwolftech
Minds: dragonwolftech
Patreon: dragonwolftechtv
Instagram: dragonwolftech/
Dtube: @dragonwolftech
Steemit: @dragonwolftech
Flote dragonwolftech/
---
If You Like To Help My Platform. Donations Are Kindly Accepted Below
Cointr.e: https://cointr.ee/excitingworld32
Bitcoin: 1mwKGPCzjiTWrMsTZBojQjcSJGgUiv2F4
Ethereum: 0xE58bc9Cf1F43C27d5EB9942138C97c55eE5d7b2B
Litecoin: Ld3BLhdXmQJoWzjm72TX86RyvRvoUnLjcj
DASH: Xkajy3TtF1d85Hrkc5qnQKxzoTESUhvYBi
Patreon: Donate to My Patreon: Exciting World Cryptos
Amazing words.
#cryptoinsightsjournal #uptrennd #Homeofcrypto #1up #tokens #dragonwolftech #technology #techevents #toronto #canada #fu#blockchain #usd #downtrend #academy #satoshi #login #ideas #reversal #telegram #social #media #jason nelson
#bitcoin #crypto #ethereum #cryptocurrency #neo #elastos #litecoin #eos #ripple #ontology
Thanks for watching; If You Have Any Questions Feel Free To Use the Links and Contacts Presented