In a previous post I wrote two weeks ago, I discussed the the different phases of a bubble as well as where analysts believe we currently are. This information was based off of Ken Goldberg's, original article, where he explained that we are in the final stages of the manic phase, which is the last phase before the last big pump will occur, which will send us to unexplored reaches of the galaxy.
There is no doubt that if you hold whatever cyrptocurrency you own, it will most likely go up over time, but if you want to expand your portfolio by at least 50%, here are three indicators you should look for before reentering the market in the coming days or weeks.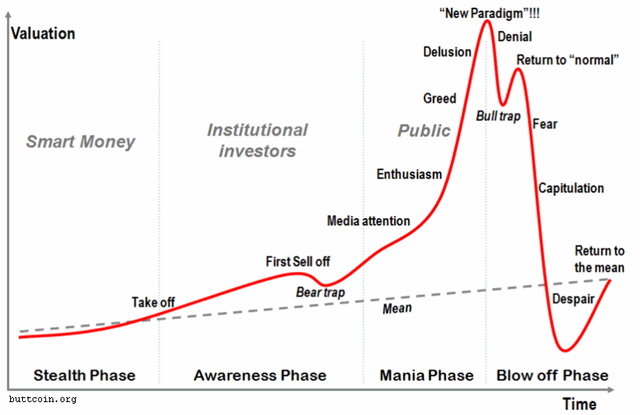 Source
---
According to Goldberg,
We will see Bitcoin's price drop below $1850, and go no lower than $1450.
We are now in the last phase of the bubble where we will experience a price push to $2800
After we exceed $2800, be on high alert because the price is expected to soar past $3000 before Bitcoin's burns out like the phoenix it is.
I encourage you to read Ken's original post to get your own interpretation on what this recent price action might mean. I am not a professional trader, so all of this is purely speculation. I however, doubled my portfolio in the last month by using technical analysis and advice from traders like Ken. It is never a bad idea to hold, but if you are currently a minnow or even a baby dolphin that has been dreaming of swimming with the big fishes, then this is a perfect chance to take advantage of good ole history repeating itself.
If you liked this post and want to see similar posts like it, please follow, comment, and re-steem!