John McAfee, Influential Tech Pioneer Encourages Cryptocurrency Investors to HODL
Crytocurrency enthusiast John McAfee is advocating that those bullish on bitcoin stay the course and continue to hold on to the digital asset, despite a downturn over the weekend that saw it shed nearly half of its value from its December peak.
On Dec. 25, McAfee, who founded the eponymous virus-protection software company, said: "Bitcoin is still the crypto giant. It is at a low price, and will never be cheaper," he wrote on Twitter. "It will be ten times this price in 2018. Remember — it has the lowest circulating supply of any coin," he said.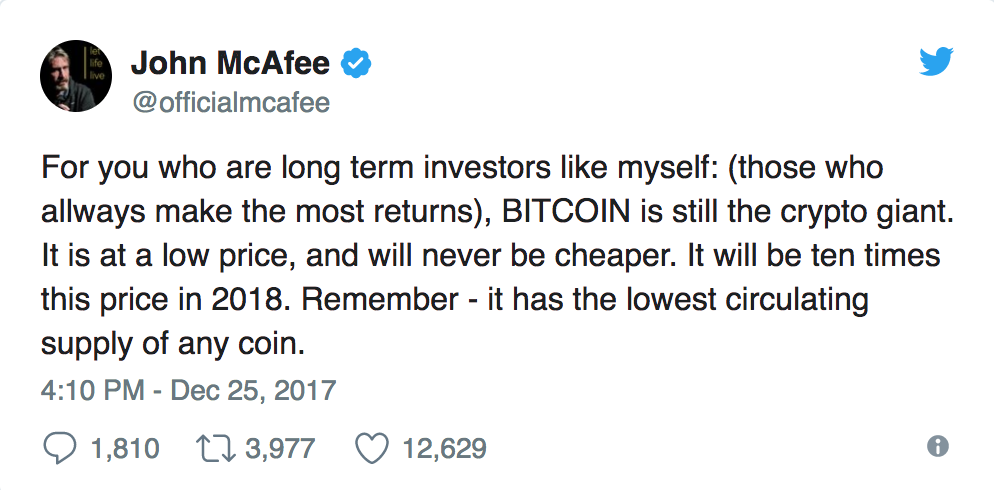 He also attempted to address some key criticisms of using bitcoin BT, +0.38% — notably the high costs and slow speeds associated with processing transactions, that have given rise to splits in bitcoin, including Litecoin and Bitcoin Cash: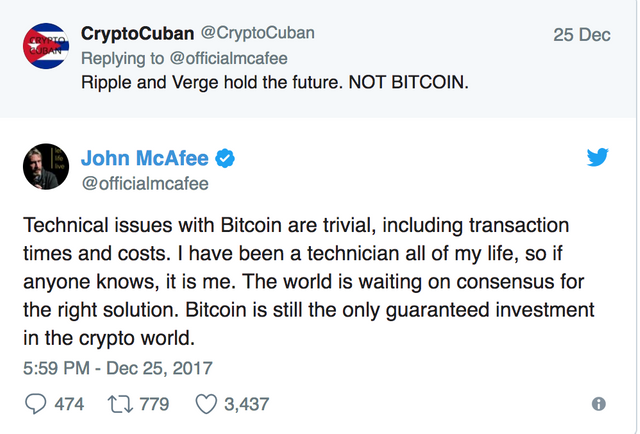 McAfee has been among the more vocal supporters of bitcoin, predicting that the world's most prominent cybercurrency would see a single unit hit a value of $1 million by 2020, doubling down on an earlier bet that a single bitcoin would be worth $500,000 over the same time.
In recent trade, bitcoin was attempting to mount a modest rebound, trading around $16,000 in the spot market, after seeing its value tumble by more than a third since hitting an all-time high on Dec.17 near $20,000. At its lows, the asset plunged by about 45%.
Overall, bitcoin's price has climbed more than 1,550% so far in 2017.
In futures trade, both bitcoin futures trading on the CME Group Inc. CME, +0.35% and those on the Cboe Global Markets Inc. CBOE, +0.58% were trading in positive territory above $15,600, up by more than 10%, according to FactSet data.