🗞 Daily Crypto News, March, 20th💰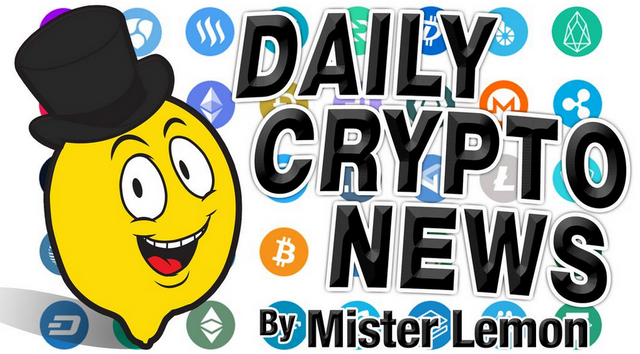 Welcome to the Daily Crypto News: A complete Press Review, Coin Calendar and Trading Analysis. Enjoy!
Tuesday, March 19 — cryptocurrency markets are mostly trading in the green zone, with Bitcoin (BTC) hovering above the $4,000 mark.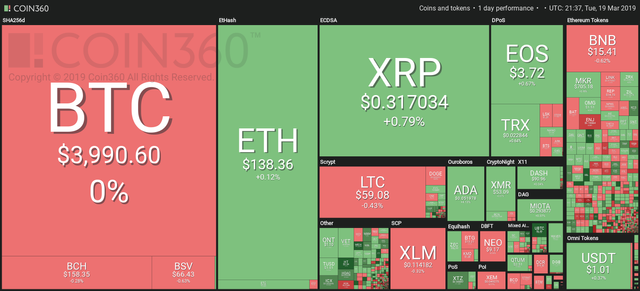 New Zealand-based cryptocurrency exchange Cryptopia has resumed trading on 40 trade pairs, according to a tweet from the firm on March 18.


In the tweet, the company announces that it has "resumed trading on 40 trade pairs that we have quantified as secure. We will continue to expand this list as we clear more coins." The update follows the exchange's recent announcement of the plans to reopen trading on its platform by the end of March, following a $16 million hack in mid-January.
In January, Cryptopia suspended services after detecting a major hack that reportedly "resulted in significant losses." The platform had initially informed the public it was undergoing unscheduled maintenance, issuing several updates before officially disclosing the breach.Almost 90 percent of cryptocurrency exchanges' reported trade volumes may be incorrect, new research from trading analytics platform The Tie warned in a digest released on March 18.


Reporting on figures gathered from 97 exchanges, researchers found that the vast majority of the volume claimed to come from users may not in fact exist.


The revelations came as a result of calculations of lesser-known exchanges versus well-known businesses such as Binance and Kraken.

IBM is taking its banking clients a step closer to cryptocurrency.


Announced Monday, six international banks have signed letters of intent to issue stablecoins, or tokens backed by fiat currency, on World Wire, an IBM payment network that uses the Stellar public blockchain. The network promises to let regulated institutions move value across borders – remittances or foreign exchange – more quickly and cheaply than the legacy correspondent banking system.


So far three of the banks have been identified – Philippines-based RCBC, Brazil's Banco Bradesco, and Bank Busan of South Korea – the rest, which are soon to be named, will offer digital versions of euros and Indonesian rupiah, "pending regulatory approvals and other reviews," IBM said.
BlockFi's interest-yielding deposit accounts, launched in beta in January and fully live this month, have attracted more than $35 million in crypto. Most of it is being lent to institutional borrowers.


BlockFi's terms of service give the company significant leeway over how it uses depositors' funds and what interest rate it can pay them. This flexibility is needed for the company to grow fast, CEO Zac Prince says.
Institutional investors borrow crypto at individualized terms, at interest rates from 4 to 12 percent, and BlockFi can call in the loans at any time.


When crypto prices move dramatically, BlockFi manages risks by making borrowers put up more collateral or selling some of it.


BlockFi is planning to roll out new products every six months and raise more capital.
On Monday, March 18, technology giant IBM announced that its new cross-border payments network, intended to clear and settle foreign exchange transactions in seconds instead of days or weeks, is widely available.


The pilot phase of the new payment network, dubbed World Wire, was first announced in July 2018. World Wire, which went into limited production on Monday, is built on the Stellar protocol and conducts transactions using Stellar Lumens and the US dollar-pegged Stronghold stablecoin. The network currently boasts payment locations in 72 different countries and can conduct transactions in 47 <abbr title="

Government approved currency (dollars, euros, etc.) that isn't backed by a physical commodity (gold or another commodity).

">fiat currencies between 44 different "banking endpoints."

📑 Daily Crypto Calendar, March, 20th💰
"$DAPS #testnet goes live at 1 pm PDF on 20th of March!"
Multicoin Capital's Kyle Samani and Kadena CEO Will Martino debate PoW vs PoS live on March 20th @ 2pm ET.
"Staking QKC for votes starts on March 20, 2019. Early bird rewards will begin to calculate on the same day."
Dev team hosts weekly status update at 5 PM (MST) on current developments including Tritium mainnet and satellite launch.
"ICONLOOP is proud to take part in the '#AWS Partner Summit Seoul 2019'!"
STEEM Trading Update by my friend @cryptopassion
Here is the chart of yesterday :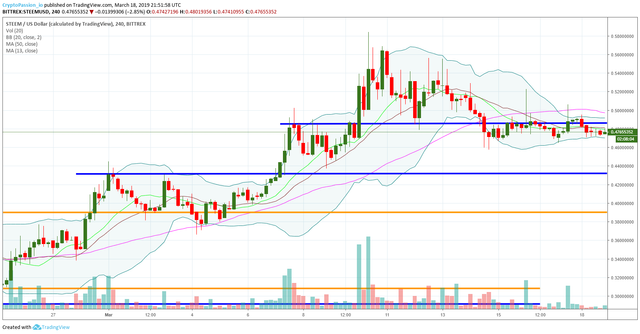 Here is the current chart :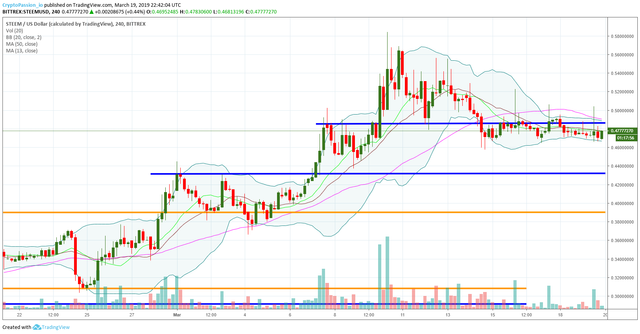 Due to the Bitcoin up trend, it looks like the STEEM want start a little UP also and perhaps go test the resistance line. We are trying to break that resistance line since several days now but even we were able to do it during some hours, it was always to be rejected just under after. Let's see if the UP that we have currently on the BTC will help us to really break the resistance line.
Last Updates
Join this new Free To Play on the STEEM Platform !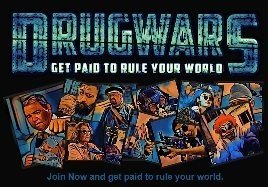 You don't want to miss a Crypto news?
Join SteemFollower and get Upvotes back !
---
Posted from my blog with <a


---
Posted from my blog with SteemPress : https://scrips.io/blog/mr-cryptolemon/%f0%9f%97%9e-daily-crypto-news-march-20th%f0%9f%92%b0/
---