🗞 Daily Crypto News, August, 9th💰
The Price of Bitcoin Is Facing Its Final Resistance Zone Before $15K;
Bitcoin is Almost as Big as Bank of America;
Massive Short Squeeze Prompts Chainlink (LINK) Price to Rally 52%;
Decentralized Tech Will Be Ready for Humanity's Next Crisis;
🗞 Daily Crypto Calendar, August, 9th 💰
Welcome to the Daily Crypto News: A complete Press Review, Coin Calendar and Trading Analysis. Enjoy!
The price of Bitcoin (BTC) is facing its final resistance zone until the bull market is on fire. However, will it break through this resistance zone in one attempt? The charts suggest that the $11,600-12,000 area is a crucial level to break if the price of BTC is to continue moving higher.
As the price of Bitcoin couldn't break through that resistance zone, a slight drop occurred on Friday from $11,900 to $11,350, after which BTC has managed to pare most of the losses since.
Bitcoin faces resistance at $11,800-12,000
BTC/USD is still fighting at the resistance zone at $11,800-12,000. Unfortunately, no breakout just yet, while silver and gold have been showing more strength recently.
All the speculative capital invested in Bitcoin (BTC) at the moment totals just a few billion dollars shy of Bank of America's market valuation.
Bitcoin's current market cap sits just over $217 billion, according to Cointelegraph data at press time, while Yahoo Finance shows Bank of America's market cap holding slightly over $226 billion — a comparison introduced in a recent article from The Next Web.
Bitcoin's market cap climbing in comparison
Although it has endured its fair share of dramatic price fluctuations, Bitcoin's price has grown substantially in 2020, rising past several different wealth comparisons along the way.
Hello HODLers and HOPErs,
2 days ago, I posted an article named How do I earn cryptocurrencies through Blogging ?
.
I mentioned UpTrennd

https://twitter.com/JeffKirdeikis/status/1292129025800826881?s=20
Full Article here
Chainlink (LINK) price continues to set new records as the DeFi-related token surged 52% to reach a new all-time high at $13.8799 today.
Over the last 24-hours, LINK has surged by 52%, rallying from $9.05 to as high as $13.8799 on Binance exchange.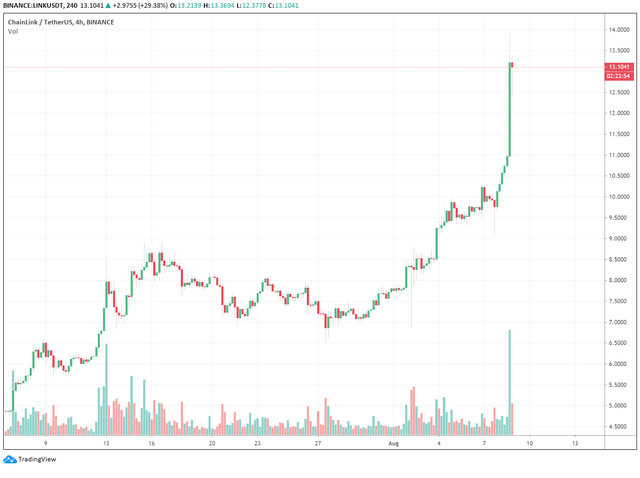 What's behind the Chainlink rally?
The sudden uptrend of LINK was likely caused primarily by the squeeze of short contracts in the futures market. As LINK was continuously rising, its funding rate stayed below 0%, hovering at -0.02%.
The cryptocurrency futures market employs a mechanism called "funding" to ensure the market is balanced. When the market is heavily swayed toward buyers, then buyers have to incentivize sellers and vice versa.
Ben Goertzel is founder and CEO of SingularityNET, a blockchain-based AI marketplace project.
The global need for scalable, usable decentralized information technologies has never been more acute than right now, mid-pandemic.
Forced digitalization is driving most of the world's population further into the grip of big tech companies. As more of life goes online, more of the world's data goes into their hands, and a higher percentage of human thoughts and behaviors are guided by their self-serving algorithms.
🗞 Daily Crypto News, August, 9th💰
Aave (LEND), Blockstack (STX), Cartesi (CTSI), Chainlink (LINK), General Event (CRYPTO), DFOhub (BUIDL), Dimension Chain (EON), Ethereum (ETH), Ethereum Classic (ETC), Golem (GNT), Loopring (LRC), Nervos Network (CKB), POA (POA), QANplatform (QARK), iExec RLC (RLC), Streamr (DATA), Travala.com (AVA), UMA (UMA)
Community Ethereum Development Conference online from Aug 9-11.
"Bilaxy will list PAC Global (PAC),details as below... Trading: August 9, 20:00, 2020(UTC+8)"
EOS (EOS), Ethereum (ETH), IRISnet (IRIS), Neo (NEO), Nervos Network (CKB), Tezos (XTZ)
"BSN will begin offering permissionless services with 6 public chains, they are Ethereum, EOS, Tezos, Nervos, Neo and Irisnet."
"Swipe will release the SwipeFi white paper and governance details by August 10, 2020..."
Last Updates
➡️ Be paid daily to browse with Brave Internet Browser
➡️ A secure and easy wallet to use: Atomic Wallet
➡️ Youtube
➡️ LBRY
➡️ Publish0x
➡️ UpTrennd
➡️ Read.cash
➡️ Minds
➡️ Hive
➡️ Twitter
➡️ Facebook