Beginning of Massive Sell-Off or Just a Temporary Dip in Cryptocurrencies?
I was fast asleep last night when bitcoin supposedly touched $5000 (I never saw it live) but woke up this morning and realized that it has retracted by 10% and $13 billion has left the crypto-currency market cap. I'm not panicking as I am a LONG TERM investor in Bitcoin, Ethereum, and Steem. I see IOTA and EOS belonging to a speculative portfolio.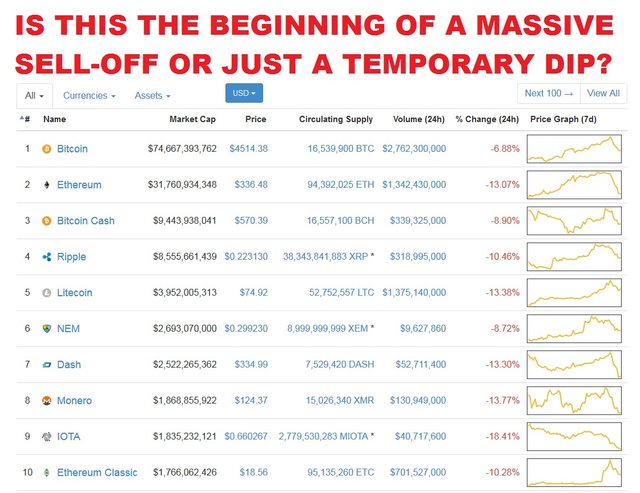 Looking at the Top Ten Cryptocurrencies today, I see that all 10 currencies still belong in the $1 billion market cap (as of the time of this writing) but each has suffered between nearly 9 to 19 percent drop. IOTA was the worst loser with nearly 19% so far. I'm watching IOTA closely as I've been trading that token between 80 to 90 cents in the past week, now dropping to 65-68 cents.
We have seen this before in June when I remember bitcoin dropping to the $1900s and ethereum in the $180s but they promptly shot back up to $5000 and $380 in less than two months. So this is a good opportunity to add more tokens to my long term portfolio however I'm just wondering about the timing.
Steem lost 16% to $1.32. Will we see Steem price drop under $1 so that we can buy more at a bargain? Only time will tell, but one thing is for sure: this is another opportunity to start accumulating more Steem Power.