Donations for Notre-Dame Restoration Rewarded by BlockShow
BlockShow, one of the world's biggest blockchain conferences, has launched a donation campaign in response to the #NotreDame fire.
All donors receive free tickets to #Blockshow 2019
Press Release for Blockshow 2019 - Raising Cryptocurrency For The Notre Dame Cathedral Reconstruction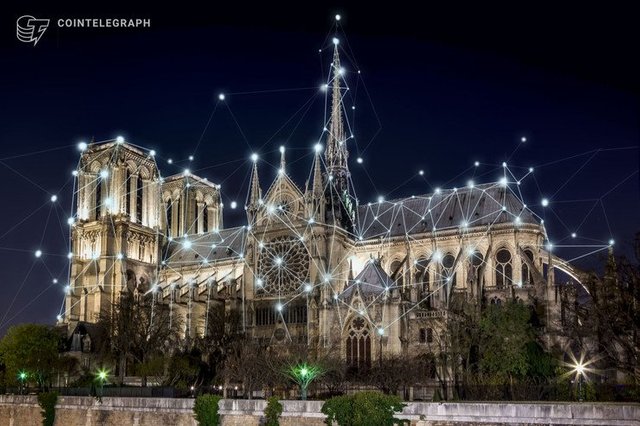 Source: Cointelegraph
The tragic fire that engulfed #NotreDame cathedral has led BlockShow, one of the world's biggest blockchain conferences, to launch a donation campaign in an effort to raise funds for the building's restoration. Anyone who donates will be able to claim tickets to BlockShow 2019, which takes place in Singapore later this year.
The world is united in mourning the damage caused to Notre-Dame cathedral in Paris, France. In the face of such a tragedy, it is important to look to the future and work to restore the cathedral to its former glory. Therefore, organizers of one of the world's largest blockchain conferences, BlockShow, have launched a donation program to support restoration efforts.
As covered in a CoinTelegraph article published yesterday, the initiative was first announced over social media, with BlockShow reaching out to its followers with an "SOS" message. The organization has called for people to unite under a common cause, to address a disaster that could take many years to rectify.
A Kindness Rewarded
To encourage people to donate, BlockShow has offered free tickets to BlockShow Asia 2019, taking place in Singapore this November, to anyone whose name appears on the official donation list or who contributes to Bitcoin, Ethereum or Bitcoin Cash addresses set up specifically for this cause. These addresses were published directly to BlockShow's Twitter account and, thanks to blockchain technology, offer full transparency to ensure the money goes directly to the restoration fund.
Addy Crezee, BlockShow's CEO, gave the following statement regarding the Notre-dame disaster:
"It is heartbreaking to see such an important cultural monument, which has represented so much to so many people for over 900 years, destroyed so rapidly. In the age of technology and prefabrication, it was one of the finest examples of historic architecture which remind us of the inspiration, craftsmanship and artistic drive which shapes humanity."
Money for Good
This is not the first example of a blockchain company rallying its supporters behind a good cause. The blockchain community has launched many charitable campaigns in the past, with Binance Charity raising over a quarter of a million dollars across all its projects. Since BlockShow's announcement, Binance Charity has also launched a fund for the Notre-Dame restoration.
Other projects supported by the Blockchain community include GiveCrypto, set up by Coinbase's Brian Armstrong, Bitgive, and the Pineapple fund, an initiative which has contributed a staggering $55 million across 60 projects, including the Internet Archive, which supports access and long-term preservation of digital knowledge, The Water Project, which provides clean drinking water to African communities, and the Institute for Justice, which supports individuals who are denied their constitutional rights.
United for a Cause
What happened to Notre-Dame will be mourned for many years to come. It is, however, important not to dwell on the tragedy but to act now and work together to restore the cathedral to its former brilliance. As Mr. Crezee stated,
"One of the world's most important gothic buildings has been lost and, with it, some of the most prized treasures of the art world. While restoration could take decades, with enough support from across the world, it will be returned to its former magnificence."
Each of us should take the time to appreciate the rich history which surrounds us and to appreciate all that humanity has achieved. Together, we can ensure that the bells of Notre-Dame will rejoice once more.
To claim your tickets to BlockShow 2019, which takes place on November 14th-15th, at Marina Bay Sands Expo and Convention Centre in Singapore, simply donate to one of the addresses listed here, or, if donating in fiat, use the official donation portal here. Once you have donated, send a screenshot of your transaction to [email protected] to receive your ticket.