A look at Bitcoin performance from mid November 2017 till date.
Bitcoin rallied from around $6000 range in mid November 2017, good luck to those who bought at that price and held till it went straight up and sold at $19,000 on mid December 2017.
It then when through a correction phase from $19000 to $6900 the last deepest dip before a bounce to $11000 to start first Elliot wave and then retraced from $11000 to $9000 to form wave 2. Wave 3 is about to commence with a breakout and in most cases, Wave 3 is usually the longest of the 5 wave theory.
I believe this is a good and final buy opportunity so as not to miss out in the upcoming rally. BTC is at the breakout point form the wedge and buy before $11000 is recommended.
Good luck and happy trading as we anticipate on a moon shot to $19000 again. that feeling of Euphoria. Haha!!!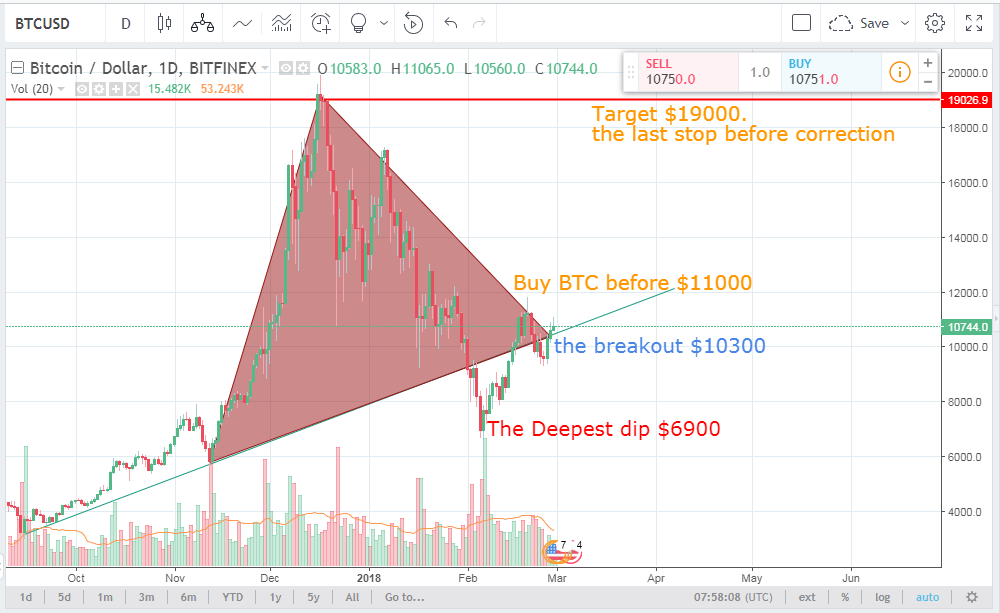 Fig1. BTC/USD
Your Comments, suggestion and questions are highly welcomed
If this blog post has entertained or helped you to profit,
Please UPVOTE, FOLLOW, RESTEEM and/or consider giving some donations:
BTS Wallet - trizle1
BTC Wallet - 1AxEcPUi6nNQDaaT8CKTohmBKeYFhUJyFE
ETH Wallet - 0xDFf7E134291E1C82F98E3976be47BC3484F595B9
LTC Wallet - LbpwNMUYPj2uPMXh6RiDwvzap7UBtQGiAS