TRIBTC Launches BTC P2P Crypto Options Platform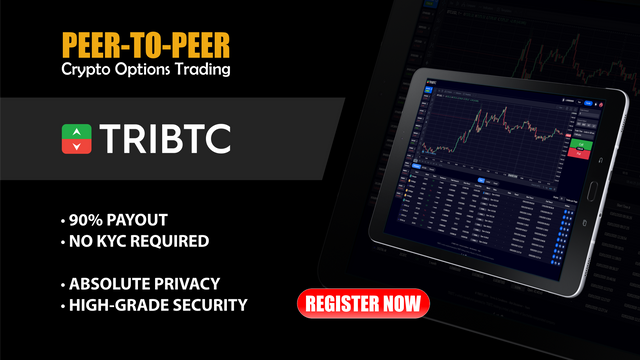 TRIBTC.com offers crypto options trading between peers, eliminating the possibility of foul play that can happen on traditional binary options sites where trading is done against the broker.
Why Peer-to-Peer?
While binary options platforms may be used in theoretical asset pricing, they are prone to fraud and hence banned by regulators in many jurisdictions. Many binary option outlets have been exposed as fraudulent.
Classic binary options sites, where traders bet against the broker, use their own index price while also manipulating it to their own advantage. Those binary options systems also drastically reduce payouts with predatory fees and practices.
It is estimated that scammers steal $10 billion annually worldwide. The use of the names of famous and respectable people, such as Richard Branson, to encourage people to buy fake "investments" is frequent and increasing.
A New Paradigm: P2P BTC crypto options trading
TRIBTC's platform and trading engine are built by industry veterans from the crypto and finance industries. We have been building out our platform throughout 2019 and we are proud to finally release this beta version to the public, but there is much work to be done!
We aim to offer market participants worldwide access to safer and more reliable crypto options through peer-to-peer matching, cutting-edge features, and the power of Bitcoin. We will not rest until the market can fully realize this new paradigm.
Affiliate Referral Program
Take advantage of our referral program by getting other traders to try TRIBTC.com, and earn a 2.5% from all of their trades, paid in BTC automatically.
Modern Features Coming Soon
TRIBTC supports multiple order types and execution options to facilitate any trading strategy. Our dynamic fee schedule provides an incentive-based trading experience, all within a high-grade matching engine.
After our beta is complete, we have some innovations in the works that we think you'll love, including new order types and advanced features.
TRIBTC supports BTC only for deposits and withdrawals.
TRIBTC's simple and intuitive interface offers multiple types of trading and transaction execution options to facilitate any trading strategy.
Our platform provides the following crypto trading pairs: BTC/USD, ETH/USD, LTC/USD, EOS/USD, BNB/USDT, XMR/USD, ZEC/USD, ETH/BTC, LTC/BTC, XRP/BTC, BNB/BTC, XMR/BTC, ZEC/BTC and EOS/BTC.
Trading can be executed on timeframes of 1, 5, 15, 30 minutes, 1 or 4 hours, 1, 2, 7 or 15 days, a month or a custom interval, with the possibility of earning 90% of the traded amount in the case of winning trades.
Price indexes are averaged from Bitfinex and Binance exchanges. The funds are stored in a multisig cold wallet, the withdrawals are manually checked and processed every 24 hours.
User accounts are protected with 2FA feature, as well as other security features designed to provide a more secure trading environment.
Join our public beta testnet, we would love to hear your feedback and comments. Users are encouraged to post on the Telegram channel written down below, or reply on this thread.
Thank you,
TRIBTC Team.
Website: https://www.tribtc.com
Telegram: https://t.me/TRIBTC
Twitter: https://twitter.com/TRIBTC
Facebook: https://www.fb.com/TRIBTC