Buckle Up Buttercup Because the Bitcoin Price is in Uncharted Territory
Get a comfortable seat and strap in because this is going to be one heck of a ride!
The underlying Bitcoin economy is incredibly strong and the price is rallying towards all-time highs. What is driving all of this? Do transactions fees play a role?
As I tweeted earlier, the best performing currencies over the past six years have been:
2011 - Bitcoin, +1,500%
2012 - Bitcoin, +299%
2013 - Bitcoin, +5,400%
2014 - USD, +13%
2015 - Bitcoin, +37%
2016 - Bitcoin, +130%
The 200 day moving average is a great metric because it filters out all the daily noise to reveal the long-term trend in the price of an asset. The 200 DMA for Bitcoin has been powering along in a fourth great bull run and adding nearly $25m per day to the 200 DMA market cap. 2013's bull run by comparision added about $1m per day to the 200 DMA market cap.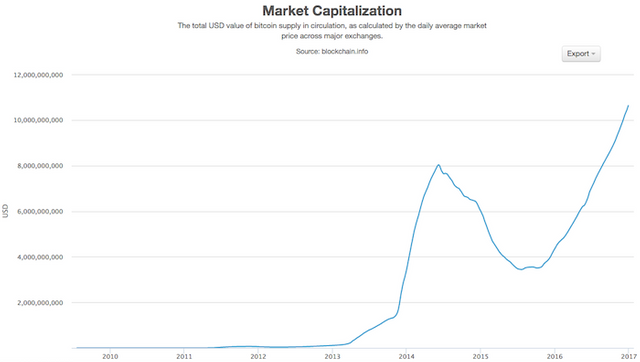 The underlying Bitcoin economy is doing great with hundreds of exchanges, thousands of businesses and millions of users. There are a myriad of services ranging from buying bitcoins, to Bitcoin debit cards to Bitcoin mining equipment and so much more.
And all this daily use results in Bitcoin transactions. To send Bitcoin transactions requires fees to be paid. So an excellent way to see how much value the Bitcoin network adds to society is to gauge how much people are willing to pay to use it. How much? It has gone from about $5,000 per day to around $50,000 per day!
And what does the 200 day moving average of transaction fees in USD reveal? All time record amounts being paid to use Bitcoin. This means people find Bitcoin incredibly valuable and are willing to pay to use it.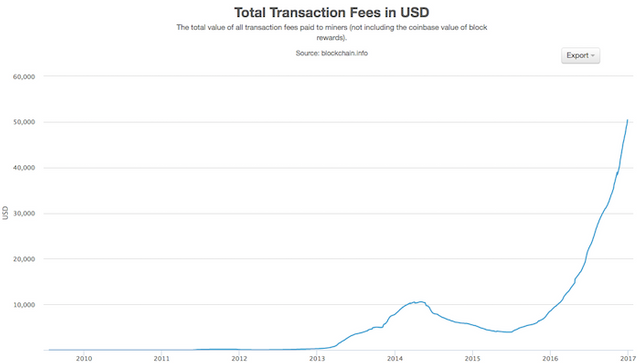 So, what do you think? Are transactions fees important to the price of Bitcoin? The higher the better? Or is actually chasing the rabbit too much more fun than thinking about why?