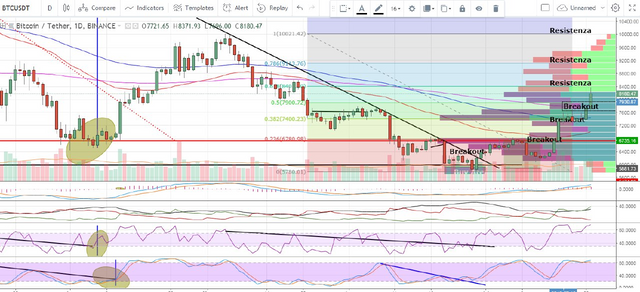 Welcome Back to bitcoin and cryptoworld, the positive news coming one after another.
Let's start with G20 in Argentina that's moved crypto to october, so no adding regulations/restrictions
Youtube and google... coinbase advertising so probably not anymore ban for crypto
Bitcoin dominance over 45%
Breakout of trend lines
Now what's happen, how that raise so much????
At breakout of trandline we had another breakout on previous support/resistance of 6735, at this point the bears has to close the open position plus the stop loss that close the positions...
this bring more pression to buy market and made it a nice 30% in less then 10 days..
in the chart we can see the breakout
1 trenline
2 previous resistance
3 ema 50
4 ema 100
5 ema 200
1st resistance 61% Fibonacci
2nd resistance 78% fibonacci
3rd resistance 100% fibonacci (likely we go there if we pass 8400)
Waiting for trend lines to cross for a confirm of strong uptrend.. for now we enjoy the positive bull..
happy trading