Let's say you own some Bitcoins and you want to get some more doing nothing and taking completely no risk.
Here comes Poloniex Lending.
Just to clear the air before we start: I know that any centralized exchange is generally not the safest place to leave your BTC on. From the other hand, I do not believe that such a big exchange, having constant checks will not give you money back in case of exchange hack. Especially if it's an American exchange.
Let's begin
How to lend someone your BTC?
First step: Get to TRANSWER BALANCES on the top right corner. In case of lending someone your BTC, you have to transer your balance to lending.


Moving on:
set the amount you want to be lending
set from exchange to lending and click Transfer

When you are ready, get to LENDING on the top left corner. You should see this: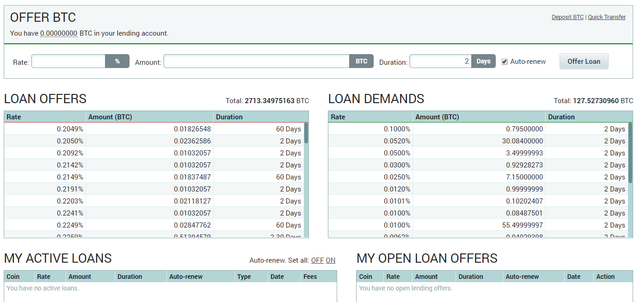 From here it works like a standard exchage offers.
If you do not enjoy thinking too much or you are in a hurry, simply pick the offer from the top of LOAN DEMANDS.
Having more time: take a look at LOAN OFFERS and see the lowest rate. You can set your rate and all the other details. The minimum lending time is 2 days.
If you have some Bitcoins left on poloniex and you do nothing with them it's always a good idea to lend someone for margin trading.
You take no risk because the borrowing one must provide a security deposit.