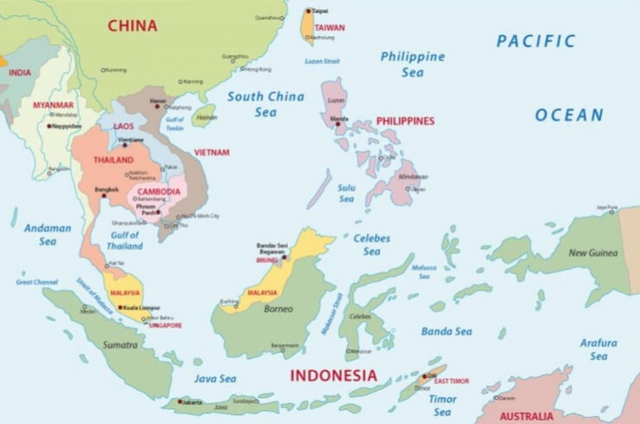 This year, many Asian central banks have sought an appropriate response to the emergence of cryptocurrencies.
With soaring Bitcoin and growing interest in digital currencies, Asian central banks appear to have raised the tone in 2017.
The region plays a decisive role in the ecosystem, since it is estimated that 60% of the crypto-currency exchange volumes come from Asia.
Whether in Southeast Asia, Central Asia or East Asia, many regulators have launched the alert on digital currencies, prompting savers to show great caution before turning to these markets.
Here is a brief overview of the initiatives taken this year by some Asian central banks, which are looking for an appropriate response to frame the craze aroused in the continent by crypto-currencies.
Note that the proposed translations are approximate.
In China
Pan Gongshen, deputy governor of the People's Bank of China, told a conference in Shanghai that Bitcoin was about to die. This one was going to be wiped out by hackers, or buried by the prohibitions that many governments would pronounce.
According to the site sina.com, here is what he would have said:
"If we had not shut down bitcoin trading platforms, or adopted repressive measures against ICOs several months ago, if China still accounted for more than 80 percent of global trade Bitcoin and fundraising through ICOs, what would have happened? Just thinking about it terrifies me. "
In India
As reported by Times of India, the Reserve Bank of India (RBI) said the government was working on rules on Bitcoin and cryptocurrency trading platforms. She recently told investors that they should be extremely cautious about this ecosystem.
The RBI reminded the public that it had alerted at the end of December "users, holders and traders of virtual currencies, including Bitcoin, about the potential economic, financial, operational, legal risks, but also risks related to consumer protection and security, to which those who interact with these virtual currencies are exposed ".
She also said that she did not give any permission to any company to set up such schemes, or to use Bitcoin or any other virtual currency.
In Indonesia
This month, the Indonesian bank announced that it was preparing a new regulatory framework to ban all use of cryptocurrencies - both their exchange and their use as a means of payment.
Beyond the desire to protect the Indonesian rupiah, the governor of the institution, Agus Martowardojo, said he was concerned that these crypto-currencies would be used to finance terrorist acts or to launder money. money.
Last October, Martowardojo issued a harsh warning, stating that the government would "take care" of all citizens who use Bitcoin as a means of payment.
In Japan
On December 19, Japanese Finance Minister Taro Aso declared that Bitcoin was not yet "a credible currency", adding that he intended to monitor its progress closely:
"There is no fixed and precise definition of whether Bitcoin is a currency or not. This question is very complex. He has not yet proved that he has the credibility to qualify as a currency. Therefore, this case must be the subject of a long reflection ".
In Malaysia
Malaysia plans to introduce a regulatory framework around cryptocurrency transactions in the near future.
Muhammad bin Ibrahim, the governor of Bank Negara Malaysia (BNM) revealed at the end of November that the regulations will focus on the fight against money laundering and terrorist financing.
"The aim is to prevent criminal and illicit activities from being able to use the system, and to ensure the stability and integrity of our financial system".
He said that as of next year, entities that convert cryptocurrencies into "classic" currencies will be considered "reporting institutions" subject to the Anti-Money Laundering, Anti-Terrorism Financing and Proceeds of Law Act. Unlawful Activities.
In Singapore
The Monetary Authority of Singapore (MAS) has recently alerted savers, encouraging them to "act with extreme caution" with Bitcoin, and to "understand the significant risks" associated with investing in cryptocurrencies.
Whileshared his fears related to the surge in the price of digital currencies, MAS reminded the public that Bitcoin and other cryptocurrencies were not recognized by the government as legal currencies. She added that she could not guarantee the security of the digital currency ecosystem in the country, as these markets were not regulated. Finally, she warned about the risks of piracy, and about the fact that the anonymity that prevails in most cryptocurrency transactions could favor the continuation of illegal activities: "Digital currency transactions are generally anonymous, and they can therefore be used in the context of illegal activities. If a trading platform starts using cryptocurrencies for illegal purposes, it could be closed by law enforcement. There is also a risk that these platforms will be hacked, as they have not put in place sufficient security features. "In South KoreaSouth Korea also does not recognize Bitcoin and crypto-currencies as legal currencies. It has also recently declared that it could tax the gains generated through cryptocurrency exchanges. The exchange platforms are authorized in the country, but they have the obligation to guarantee the security of the investors, and must transparency by posting all orders placed by traders.Choe Heung-sik, the governor of South Korea's Financial Supervisory Service (FSS), said he did not recognize cryptocurrencies as This is what he said: "All we can do is warn the public, as we do not believe that virtual currencies are really currencies. Therefore, we can not, for the moment, put in place a regulatory framework around these ".