BTC/USD 01/02/2018 UPDATE 2 COMPLETE TA + FA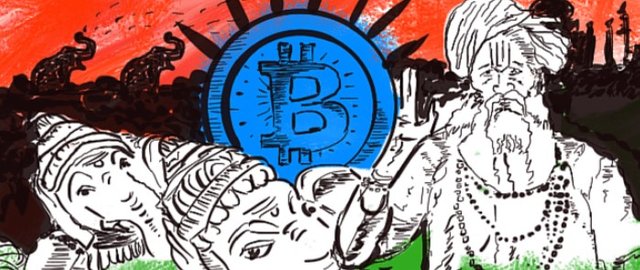 Fundamental Analysis
Real FUD?
Thether
Tether is backed by USD and other currencies in some bank account. Whether this is or not, it only matters if you are using Tether. If it is determined that Tether is not backed by USD, then definitely a sequel to the Tether market, along with numerous investigations and probably also some arrests, but we are making an assumption, and how it will affect the market, even if it is true.
1 Bitcoin is not the only currency traded in Tether. Therefore, this statement is misleading, to say the least. About 60% Tether of the market is marketed along with bitcoin ', but the other 40% is among a basket of other currencies. I'm sure it fluctuates from exchange to exchange, but its bottom line that is not traded paired with Bitcoin only.
2 Tether is simply an encrypted coin "pegged" or supposedly backed by the dollar.
3 Tether is 0.4% of the overall cap of the coded market and 0.7% of the maximum market limit for coins with a cap of 2.2 trillion dollars.
4 It works like any other fiduciary currency in which it is simply a median of change.
So,
Suppose now that Tether is a complete scam and that there is no $ 1 in any bank account to back it up.
Tether would lose 100% of its market capitalization of 2.2 billion dollars instantly. Does this mean that Bitcoin is doomed? I do not think so.
India
More rumors of another country that will go to BAN Bitcoin?
Arun Jaitley (the Minister of Finance) stated: "Through multiple notifications, the two parties (the government and the RBI) have notified the public over and over again that bitcoins will not be considered legal or legal tender in India"
The Government of India has formed a committee to regulate cryptocurrency currencies.
So,
"Legal tender versus being illegal"
Being "illegal" and not being considered "legal" are two completely different things. Cows are not "legal tender" in India, but are used for trade and barter. The fact that a government does not consider it "legal tender" does not mean that it is "illegal" to use or possess. But they try. India and China tried to ban gold at 0.01% a few years ago, and even the United States banned gold at 0.01% in the 1930s, all it did was force people to accumulate. The best they can do is try to "scare" people and accumulate the underlying assets they have made in 0.01% gold and probably also in Bitcoin.
The shadow of Ethereum
We are aware of a change. The ETH bots are buying in the market at ETH in weak BTC to further favor the bulls, and perpetuate what I feel is the inevitable change in market capitalization to put ETH in the No. 1?
I'm seeing signs that I have not seen before with the order book.
That is why we have played mainly ETH during the last weeks.
Buying ETH in weak BTC continues to pay off, and it will be the game if we get a climax of less than $ 9k for BTC.
If this happens, we will see every hour, every 4 hours and even every day, overdone RSI levels.
So,
ETH is likely to outperform BTC in CMC amount?

source: coinmarketcap.com
The other topics, news and rumors I see them totally to be addressed by interests to generate more FUD and I will not quote them.
Technical analysis
On the technical analysis I do not see big and significant changes of my recent post.
https://steemit.com/bitcoin/@thomasawa/btc-usd-update-01-02-2018-multiframe-analysis
I still maintain that the BTC is weak 8.6 / 8.5k will be for me levels to take into account and critics.
And if that trend continues the 8K will be a bounce that we will never see again.
Below the 8K we start running
EMA 200 / DMA 200
For those of us who use moving averages. Attention that it is the first time that the 200 DMA has been reached since March 25, 2017, where it went down to
USD 895.
The fall continues but more attenuated, that does not mean that finished.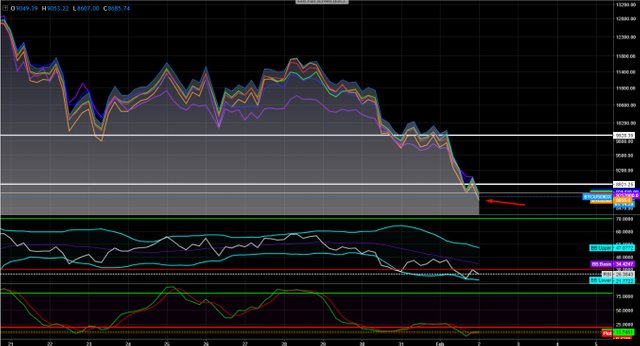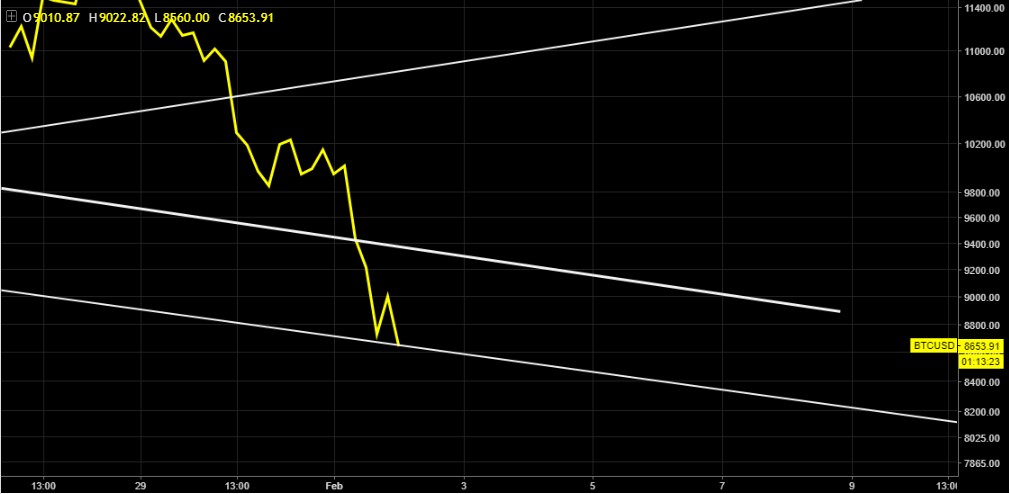 Thanks for your time and reading!
Specially to:
@hendrikdegrote
@hr1
@pharesim
@liberosist
@curie
@roelandp
@bue
@rbreauxfl
For your support and believe in me.