Bitcoin on CNBC and Bloomberg
Bitcoin has been in the news for a while now, and it seems to me like most of the people who are able to voice their opinion about crypto are undereducated about cryptocurrencies as a whole. Bitcoin was a featured topic this last week on CNBC and Bloomberg.
Here are a few videos on the subject starting with Tom Lee:
Tom Lee seemed to get destroyed in this interview because he didn't seem able to articulate the main value that Bitcoin and other cryptocurrencies can bring to the world. Tom Lee also said that he thought PayPal had a $20-$30 billion market cap, but a quick google search lists PayPal's current market cap at roughly 95 billion. And instead of admitting his mistake he went on to say that Bitcoin had a $1.3 trillion dollar market cap (not yet). The one thing he said in this interview that I think is true is that the price of Bitcoin or Ethereum, etc. does not mean that the value or uses behind these cryptos are gone. Bitcoin and Ethereum will both be useful currencies regardless of their price. I wish we could have replaced him with someone else like Charles Hoskinson, the founder of Cardano (ADA) who would have been able to explain the real value behind these currencies on a much deeper level.
Bart Smith on Bitcoin:
Bart Smith seemed to me to have a more knowledgeable view on the actual value Bitcoin and other cryptos have as a peer to peer form of currency that is generally not centralized. He believes that the price of Bitcoin has nothing to do with it's actual use case and he also seems to believe that the users haven't abandoned the crypto market, and that the users of Bitcoin and other currencies continue to grow. Smith also focused on the fact that it is still difficult for the average person to buy and manage their stored digital assets in a secure way.
Chris Burniske:
Chris Burniske in my opinion had a good argument for the growing use case of Bitcoin and other cryptos as a whole with over $6 billion of Bitcoin processed in just the last 24 hours, even in this market. He also explains how the Bitcoin Cash hard fork lead to more turbulence in the market, but that this is probably temporary.
Honestly, I think it's helpful sometimes to see what the mainstream media is saying about Bitcoin or cryptocurrency as a whole, but it's also important not to get caught up in their opinions. If you believe in this space and contribute by developing, promoting, or educating others on the space then I still believe we will see Bitcoin rise again.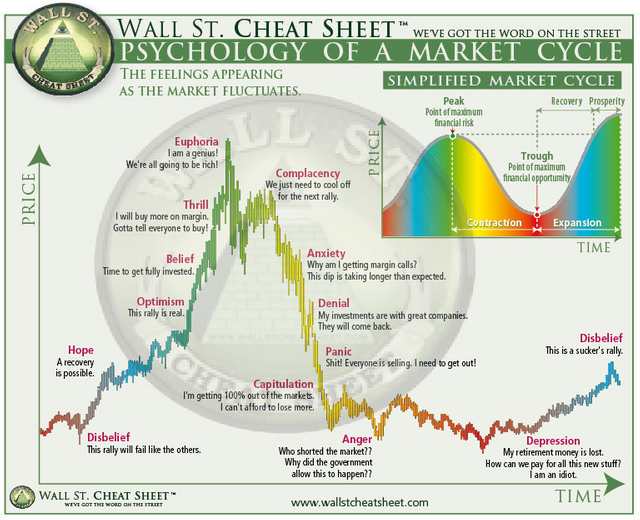 This chart is meant to sum up the rise and fall of the stock market, but I think this chart also does a great job of summing up what's been happening with the crypto space as well. The largest Bitcoin investors sold near the top of the last crypto rally in December, and most of them are buying back into Bitcoin now or waiting for another small rally. Bitcoin will continue to rise and fall in cycles for the time being. According to this chart, Disbelief will happen right before Hope, and then Hope will lead to more Optimism which could spark another return of a bull market. It's hard to say when this will happen. Of course, there is also the argument that the Bitcoin halvening (this will cut the Bitcoin mining reward in half) which is expected to happen in May 2020 will probably also boost the price of Bitcoin as well as it has done in the past.