What is the inflation rate of Bitcoin? How does it compare with gold?
The value of any currency is depreciated if it is printed. Ever since money was invented, the rulers have tried to spend more than they could collect in taxes. They only had two choices: borrow it, or print it. Sooner or later, the currency ends up getting printed.
Borrowing is just deferred printing. It's kicking the can down the road. Sooner or later you can't borrow any more, so you end up printing more to pay off your debts.
Very few currencies survive the long term. Most end up worthless.
In the long run the currency ends up worthless as it is replaced by a new one with the promise "We'll never let this happen again."
A currency reset is a great way of wiping the slate clean.
Bitcoin's "Halving*
Bitcoin is known for its "Halving". every four years the production of bitcoin will halve. Right now, the rate of production is 12.5 bitcoins approximately every 10 minutes. There are around 1800 new bitcoins every day.
In a year-and-a-half on approx 21st May 2020, the production will drop to 6.25 bitcoins every ten minutes. Will the bitcoin price increase when the production halves? It seems likely.
If you wonder why your house costs more than your parents would have paid 30 years ago, it's because the money is worth less. Same thing for just about anything you buy. It costs more because the money is worth less.
Gold and Swiss Francs
One currency which has withstood the test of time is gold. Gold is very hard to mine. It is outside the control of government. Another successful currency is the Swiss Franc. The tiny country has the second largest reserves in the world and almost no debt.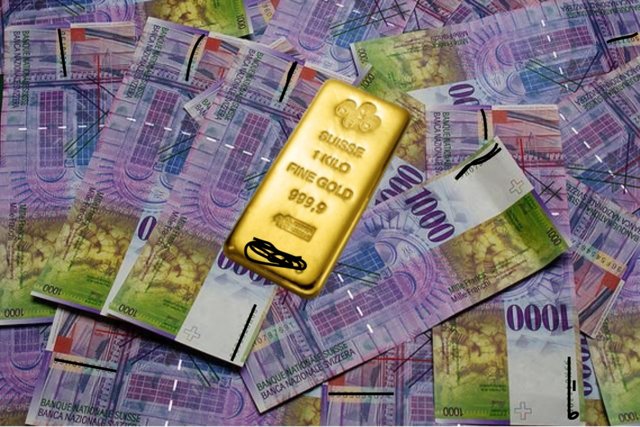 Hard to mine, impossible to print
Bitcoin is hard to mine. It's going to get harder and harder until is nearly impossible. The new supply will diminish in a way which ensures we will never have more than 21 million bitcoins. Put another way there will always be more millionaires than bitcoins. They can't all have one.
Bitcoin's inflation rate:
Like all currencies, bitcoin has an inflation rate. You can work it out very roughly. Currently it is just under 5% per annum. You can work it out like this. There are roughly 17.4 million bitcoins already mined. With 1800 mined per day, that's an annual rate of 657'000 new coins per year. 657'000/17.4 million = 3.8%. That's a low rate and one which is set to soon halve.
Here are the recent numbers: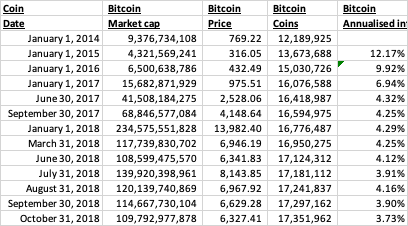 How does bitcoin's 3.8% inflation rate compare with gold's?
According to the World Gold Council, there are approximately 190 tonnes of gold already mined. Around half of that is held in the form of Jewellery. Much of the rest is held as Central Bank reserves or Private investor hoarding and simple investment.
As for the annual production from mines, they say there are 2500 to 3000 tonnes produced each year. That gives us a roughly 1.5% inflation rate. For now gold beats bitcoin. That's because the gold inflation rate is lower.
The amount of gold mined each year is worth around $100 billion. The amount of bitcoin mined each year is worth about $4.2 billion.
How much gold could the average millionaire own?
If all the gold ever mined was to be shared equally between the world's 34 million millionaires, then each one would own 5.5 kilos, worth around $200'000.
How many bitcoin could the average millionaire own?
If all the bitcoin ever mined was to be shared equally between the world's 34 million millionaires, then each one of them would get about half a bitcoin worth around $3'500. Put another way, if bitcoin was as desirable as gold, then the price would be $400'000.
Conclusion
Whilst gold has a lower inflation rate - at least until May 2010, it is clearly bitcoin which is the rarer asset.
Other Bitcoin facts
Total Bitcoins in circulation: 17,359,725
Total Bitcoins to ever be produced: 21,000,000
Percentage of total Bitcoins mined: 82.67%
Total Bitcoins left to mine: 3,640,275
Total Bitcoins left to mine until next blockhalf: 1,015,275
Bitcoin price (USD): $6,478.00
Market capitalization (USD): $112,456,298,550.00
Bitcoins generated per day: 1,800
Bitcoin inflation rate per annum: 3.8%
Bitcoin inflation rate per annum at next block halving event: 1.80%
Bitcoin inflation per day (USD): $11,660,400
Do you need to know the inflation rate of another crypto?
Let me know. I may have the answer already.