Everybody is hooked on to Amit Bhardwaj's latest Book, "Cryptocurrency for Beginners"
About Amit Bharadwaj:-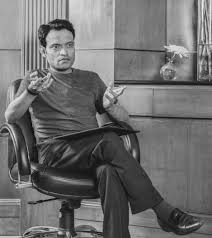 He is the founder of MCAP Labs, an organisation built to promote standard practices in the field of ICO and crypto currency. The organisation aims to achieve this by extending support and services to the community in ICO evaluation and research in the field of mining and cryptocurrency investment.
He is building an ecosystem of products on Bitcoin, Blockchain and Cryptocurrency. He is one of the early believer of Bitcoin in India and have also invested in many first generation entrepreneurs here. Being an optimist he always strains more on the journey than the target and changing lives while doing so.
According to his LinkedIn profile, Amit Bhardwaj is the founder of GBMiners, which he founded in October 2016. He is also the founder of AmazeMiners, an alt-coin mining company, since December 2016. Gainbitcoin is another firm where Bhardwaj is the CEO and operates a cloud mining service, according to information on its website. HightKart, one of India's first Bitcoin-based e-comerce sites, was also founded by Bhardwaj, but it shut shop in early 2016.
Bollywood is really excited with Bitcoin
Celebrities have found the new age currency quite fascinating. Shilpa Shetty, Raj Kundra, R. Madhavan, Huma Qureshi Neha Dhupia, Vir Das, Nargis Fakhri, Prachi Desai and many others have joined the bitcoin bandwagon. Looks like they all want to grab the opportunity to learn about Bitcoins, as they have been quite busy reading the recently launched e-book from Amit Bhardwaj – Cryptocurrency for Beginners. What's more? They have gone ahead tweeting about Amit's e-book on social media.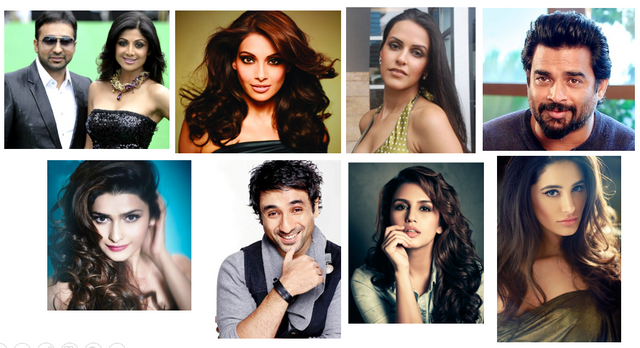 Some of the highly trending tweets from the Bollywood community are: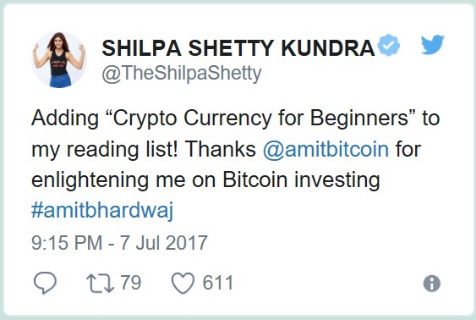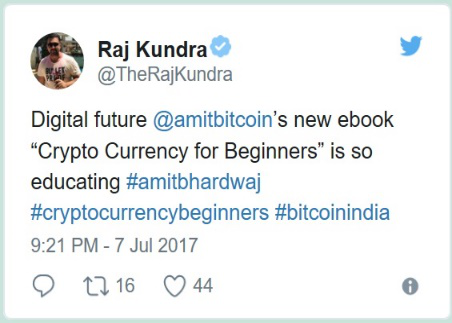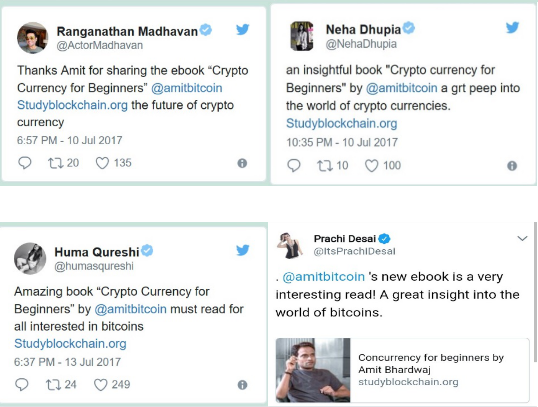 Is it not exciting?
Do you want celebrities to join Steemit soon?
---
source :- http://indiasoftwarebrief.com/27651-it-s-raining-bitcoins-in-bollywood-and-how?utm_source=taboola&utm_medium=timesofindia-timesofindia
http://amitbhardwaj.com/
https://factordaily.com/amit-bhardwaj-gbminers-bitcoin-ponzi-scheme/