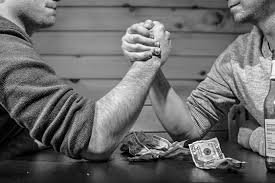 Bitcoin Wins!
This will be a short inspirational post for all those still believing and/or hodling Bitcoin, Steem and other cryptocurrencies.
Bitcoin seems to be holding the line at around $6000, and is now building or consolidating its base at this level.
Don't be surprised if the whole market goes sideways for a while.
There will be some winners and losers, but overall Bitcoin is and always will be the "Grand Daddy" of them all.
Bitcoin's fate will generally affect the rest of the market. So goes Bitcoin, so goes the rest of the cryptos.
But in the end, Bitcoin wins.
Bitcoin Always Wins!
Anyone have a reason why?
09/13/18
Full Steem Ahead!
@streeststyle
img src:
Pic 1