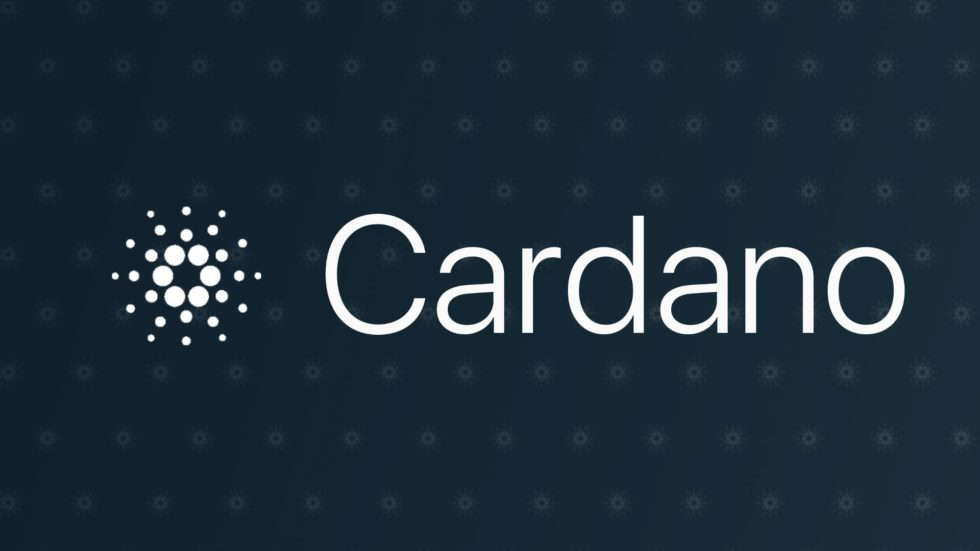 The prospect of the arrival of new futures on Bitcoin, proposed by the CME, has propelled cryptocurrency beyond 20 000 dollars on some platforms of exchange. According to the data provided by CoinMarketCap, the first digital currency reached a new historical record of $ 20,089 (just over € 17,000) yesterday at 1:19 pm. But, unlike in recent months, most "altcoins" have not suffered from this rise, and are appreciated against Bitcoin. This is the case of Cardano, whose course has soared in recent days.
Cryptocurrency Cardano has appreciated strongly in a short time. If some Westerners refer to NEO as the "Chinese Ethereum", ADA can similarly be described as a "Japanese Ethereum".
In the space of less than a week, this project, which until then was rather confidential, found itself in the spotlight.
The value of the currency has thus increased from 11.4 to more than 55 cents in the space of a few days: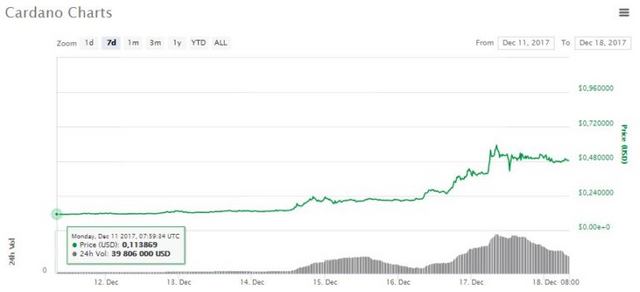 Sixth place in the ranking
Logo CardanoWhen writing this article, Cardano's capitalization was over $ 12 billion. She found herself in sixth place in the ranking established by CoinMarketCap, ahead of IOTA and just behind the Litecoin.
After close to $ 1 billion over the last 24 hours, transaction volumes remained high at over $ 370 million.
It is Bittrex which concentrated the majority of these exchanges, with nearly 60% of the activity, followed by Binance:

But what can be attributed to this increase? In addition to the factors we presented to you a few days ago in this article, Forbes recently released an interesting comment.
The site explains that many crypto-currencies, whose unit value is less than 1 dollar have increased sharply in recent days. It could be a psychological bias: some investors would not take into account the supply of coins (and therefore, by extension, the capitalization of a currency), and focus on the price. Seeing that a digital currency is worth only a few cents, they could have the impression to necessarily achieve "a good deal".
Moreover, more generally, this increase echoes that of many other "altcoins": ETH, NEM, IOTA, XRP, LTC, ...
An Ethereum-killer?
EthereumInput Output logo Hong Kong (IOHK) is the company behind the Caradano project. Its co-founder, Charles Hoskinson, also participated in the creation of Ethereum, before joining the Ethereum Classic teams.
Cardano aims to develop a kind of "extension" of Ethereum, which can solve the scalability problems encountered by the network.
Like Ethereum or NEO, this is a project that will allow the deployment of decentralized applications (dApps) and smart contracts. The platform will be based on a layer system, which will give it greater flexibility. It can also be updated regularly, which can be implemented through "soft forks".
Here is what we read on the official website of Cardano:
"This is the first blockchain project to have been developed from a scientific approach, and the only one that was designed and designed by a team of renowned academics and engineers. It is essential that the technology is secure, flexible and scalable so that it can benefit millions of users. "
Although Cardano's potential is undeniable, some are sounding the alarm after the dramatic rise in just a few days.
This is the case of Charlie Lee, the creator of Litecoin, who believes that such a sudden rise may not be justified for such a young platform: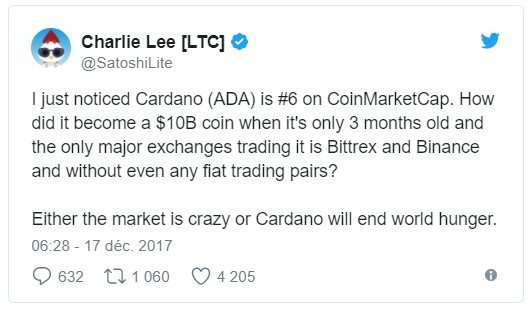 "Either the market has gone crazy, or Cardano is able to eradicate hunger in the world,"