UPDATE: BitcoinCash at 26% of BTC's Mining Difficulty - 60 Blocks Mined since Fork
Hi all!
I wanted to follow up with a post on the current statistics of the mining Hashrate on the BitcoinCash network and my thoughts on where we are headed.
Apparently ViaBTC's pool stats are lagged, manipulated or calculated oddly but they show a substantial difference in BCC Hashrate than what is listed elsewhere.
Here is a screenshot taken from coin.dance @ 5AM CST on August 4th.

and here's a screenshot from the statistics on Suprnova: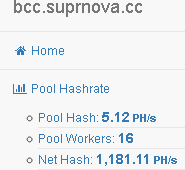 This would seem to show that BitcoinCash is running at about 25% of the hash power of the legacy version of Bitcoin. Anyone mining BitcoinCash will notice that estimated payouts have increased substantially (although Bitcoin is still "currently" the most profitable coin to mine). This means you will make 4x as many BitcoinCash as you would BTC but the price of BitcoinCash is roughly 1/8th of the price of Bitcoin, meaning its twice as profitable for you to mine Bitcoin Legacy currently. If you are going by the current rate, which most miners do.
I prefer to look to the future, and see past this giant selloff we are seeing -- I see things like Jaxx and Coinbase announcing BCC support and places like the viabtc.com website being under ddos attack for hours today.
I see these all as positive things for BitcoinCash, and proving it has a future with community support.
I am very proud to see the community come together in the name of freedom, to support a coin which has the well-being of the people in mind (BitcoinCash) as opposed to the will of the globalists (BitcoinCore)
If BitcoinCash reaches the 700-900 Price range threshold, the tides would turn and it would become more profitable for people to mine BitcoinCash-- then we would see a lot of people switching.
I believe we are still seeing the remnants of a selloff and once people realize how scarce the BitcoinCash really is, the price will go up and the miners will follow.
We are still only in the beginning of this rollercoaster ride. We had the privilege to bear witness and be a part of the birth of a new crypto-currency -- and not just any -- but one that attempts to give the power back to the people, where it belongs.
Now we get to watch it grow :)
Also, here is something else I found that is interesting, check this out;

Why is Suprnova hating on BCC? Thoughts?
More to come!
www.thebestbitcoin.website