Yes, this latest crash in the cryptocurrency markets was scary, in fact it was down right terrifying!
However, not only was it not the worst these markets have ever seen, but it actually looks quite normal when looking at some of the other price corrections over the years.
I am sure we have all seen the January effect in regards to Bitcoin and other cryptocurrencies.
Basically it shows how bitcoin and others tend to be weak in the middle and end of January, only to rebound quite strongly over the next couple months and go on to make new highs afterwards.
While that is mostly true, I stumbled upon another chart that I think is just as applicable.
I stumbled upon a compilation of some of the worst drops seen in bitcoin since 2012 and was pleasantly surprised by what I saw.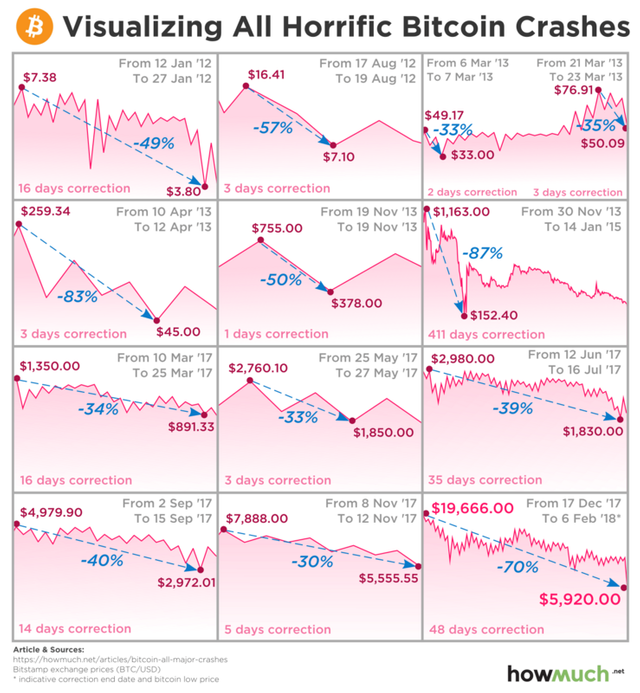 (Source: https://www.marketwatch.com/story/heres-proof-that-this-bitcoin-crash-is-far-from-the-worst-the-cryptocurrency-has-seen-2018-02-09)
As you can see there have been numerous sharp drops in bitcoin over the last 5 years.
Some of the them steeper and some of the faster than what we currently witnessed.
The only thing they all had in common was that prices went on to make new highs afterwards.
Just remember, just because it happened the last 11 times doesn't guarantee that it will happen again, but it is a decent trend to pay attention to.
Especially when we can see that this most recent drop wasn't really anything bigger or faster than other crashes we have seen in the past 5 years.
The only difference this time was that it happened from a higher level and there are a lot more people paying attention to it now.
Other than that, to me, business as usual.