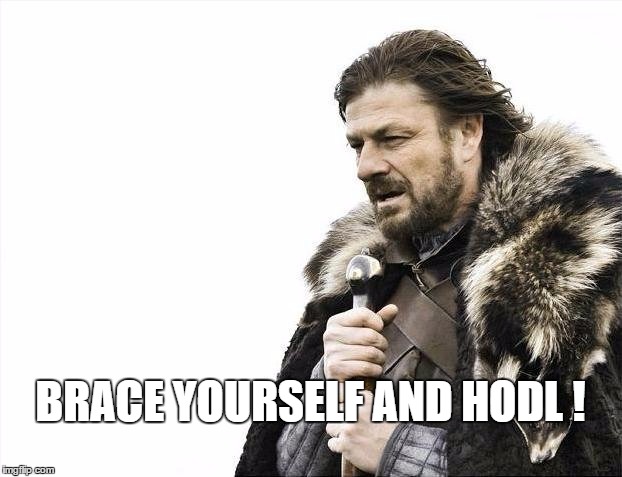 As the community approaches 2000, (SYNX) stabilises around the $0.30c mark, which after the original pump this is nice to see as it shows the coin has become less volatile. This means with a more stable market there is less chance of having such big jumps in price, which inevitably means there won't be any major drops in price either, a stable price gives a good foundation to build from for the future...
For those that don't know (SYNX) is a MasterNode coin, so for 5000 coins you can set up a MasterNode for a passive income of 20-40 coins per day. Here is a chart from the slack channel: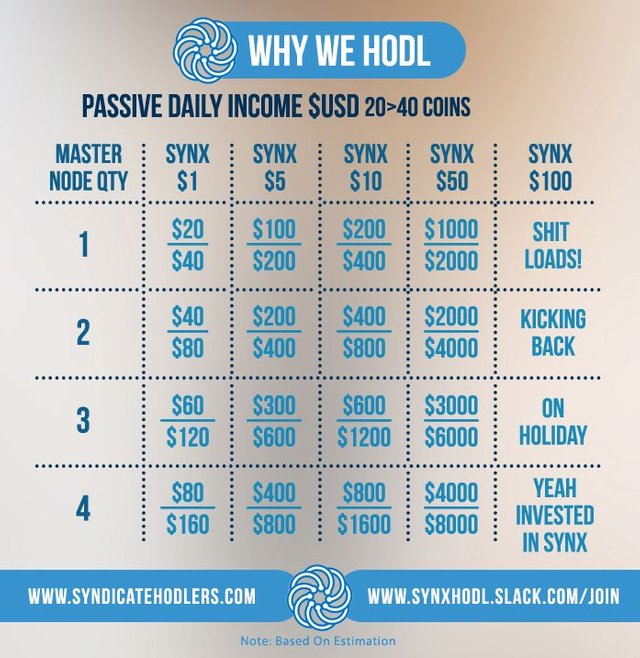 But if like a lot of people you don't quite have enough for a MasterNode you can stake the coins you have, i.e if you have 1000 coins you can stake those coins & make 5 coins per day, so you make returns on your investment even if you can't afford a MasterNode.
This is the beauty of this type of coin & a lot of people are really hyped about the future of (SYNX) and MasterNode coins in general such as (CHC). (CHC) was the first to experiment with the buy to HODL idea when a community called 'HighOnCoins' banded together to buy as many MasterNodes as they can to just sit on as a passive income, (CHC) has had a high of around $6.50 but stands at around $2.50 as I write this, but before 'HighOnCoins' bought into (CHC) it stood at around $0.70c, so even with it being only $2.50 today, just think of the gains that could have been made had you got in on time...
With the (SYNX) community only 5 days old & with the coin at $0.30c more and more people are seeing it's potential, the community grows by 100+ each day and at this rate of growth it won't be long before 'SYNXHODL' becomes the majority holders of the coin, when that happens the only way is up for the market price is up as they are all HODL's so this will create demand for the coin...
The community Admins continue to be in daily communication with the developers, so updates on what is happening will be announced on slack as they are available...
With the 1st August pending & the BTC segwit upcoming the market seems to be in a bit of uncertainty so the price of most cryptocurrency is down but once this has all blown over I can see the prices begin to rise again, so now would be a great entry point, once the bullish trend kicks off again who knows where this is going...
LINKS:
Website: https://syndicatehodlers.com/
Slack: https://join.slack.com/t/synxhodl/shared_invite/MjE0MjM4OTIyMzc1LTE1MDAwODUxMDMtZmEzMmJiOTMzYg
Facebook: https://www.facebook.com/groups/SYNXHODL
Reddit: https://www.reddit.com/r/SYNDICATECOMMUNITY
Twitter: https://twitter.com/project_synx
MasterNode HODL: http://masternodehodl.com/masternodehodl-network/
Please Re-steem, up-vote & subscribe for updates :)