Bitcoin - 10/9/19 - Yess! Targets reached!! Time to short?
Once again I've been long for a few days. Instead of settling for a 3% gain I decided to wait it out for another 3%. Didn't have to wait to long! As first and second target were reached!! I worked last night and went with the first target, just in case we came up short. As I'm writing the blog post the second target was reached as well.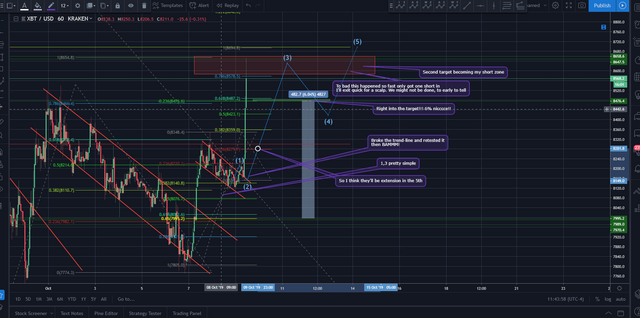 https://www.tradingview.com/x/1zsULkSr/
Old charts with new notes. Love using old charts, it means I wasn't to far off!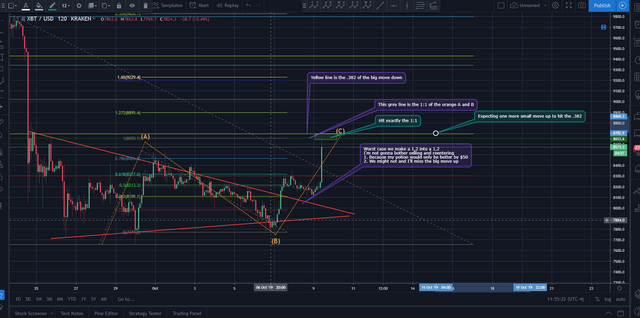 https://www.tradingview.com/x/qiz03LLc/
Just closed a short I had open for a break even. That was an impulse move and it's best to get out and let's wait for a better set up. Here is one more chart of what I'll be looking for in a better set up.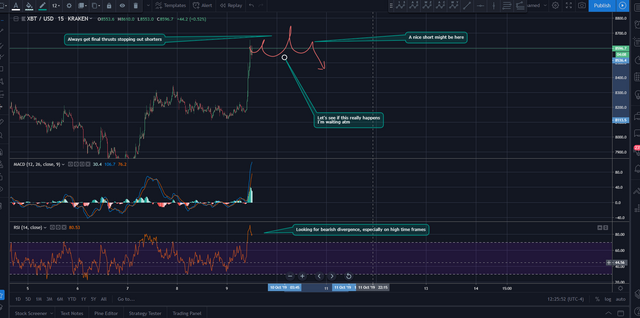 https://www.tradingview.com/x/uJNzo8M7/
Long term we are looking for one more dip down. We have to watch in case it's truncated. So if we get profits from a short it's best to take it and run. 5th waves can be disappointing. This is not financial advice, this is mt trading journal! Good luck and good day!