Bitcoin - 10/21/19 -I've been gone a week, but not much has changed!
I canceled my shorts from last blog. Been one stressful week for me, it's no surprise my TA was put on hold. I still do watch day to day movement, even under stress. Couldn't see anything to get excited about, so stayed on the sidelines. A good strategy when you are unsure. Getting back on the computer I have noticed we still might be in a "1,2" on our way down. Which I was talking about last week. People are saying the bottom is in, but idk, I still like the golden zone. Which we are far from, meaning lower prices. BUTTTT atm we are in an uptrend, finally putting in are wave "2". So I will be going long and then short and see what happens. Here is the old chart, new notes are in blue!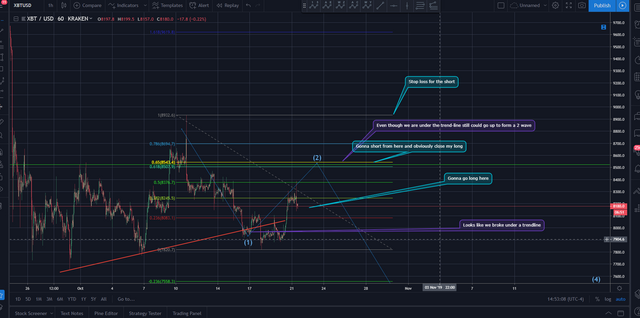 https://www.tradingview.com/x/HYJiRxnU/
So yea that's where I'm at for now, more upwards, but still see things breaking down lower before moon! LOL This is not financial advice, this is my trading journal. Good luck and good day!