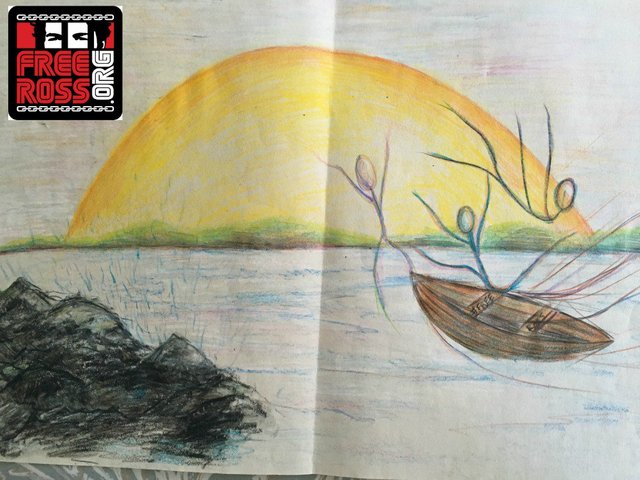 Drawing sent to Ross by supporter
After posting on steemit I sent Ross a print-out of it and all the wonderful, supportive comments. I knew they would lift his spirits. I wanted to share with you what he wrote me back:
Dear Mom,
Wow…thanks for sending so many encouraging, supportive and interesting comments. I feel the love :).
As many people pointed out, you've been incredible in your fight for my freedom these last few years. It's been amazing to see your bravery and tenacity. I'm so proud of who you are and all you've done.
Very soon, October 1, will mark the third year that's passed since the cuffs first clicked around my wrists. It's a long time to be cut off from the free world. You and others often remind me of how much support I have out there, but it's still easy to feel forgotten, just lost in limbo. Even after all of this time though, it warms my heart to know people are still pulling for me.
Unfortunately it's more -- much more -- than many of my neighbors have. The hardest thing to see is the slow erosion separation inflicts on some of these men's closest relationships: wives, girlfriends, mothers, fathers, siblings, life-long friends. I can only imagine how crushing this experience could be without my family, friends, and supportive folks like those on steemit.
I do what I can to pay forward the generosity and kindness I get to the guys in here. Everyone's support to me ripples out to some of the most downtrodden. Please tell people they should be proud of that and how important even the smallest kindness can be.
Love, Ross