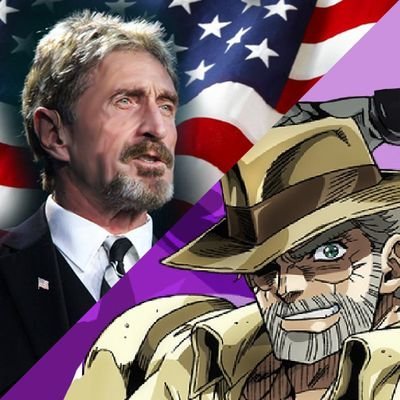 There is a popular belief that John McAfee the antivirus tech' pioneer is running for president in 2020 to become president of the United States of America. However, McAfee is trying to make it very clear that he is not running to become president of the United States but in fact, he is running a campaign to bring awareness to cryptocurrency on a national stage.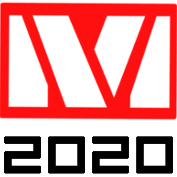 McAfee has stated that he believes that there is no possible way that he can become president. Mcafee says he does not believe that any third party candidate has "a rats chance in hell" to become United States president. McAfee believes that democrats have a 50/50 chance to win, and Republicans have a 50/50 chance to win, but a third-party candidate has no chance to win the presidency.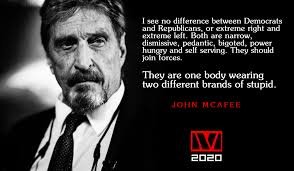 Mcafee is running as a third-party Libertarian, a race that he believes he has no chance at winning; and he doesn't care about winning because his end goal is not to win the race for the presidency of the country but to win the crusade of bringing as much attention to cryptocurrency as possible. In fact, Mcafee's campaign slogan is " DON'T VOTE MCAFEE ".

Mcafee can be considered a millionaire vagabond who has been on the lamb from more than one government. McAfee has been accused of many offenses in varying countries including failure to pay income taxes in America in which McAfee believes he's really being indicted for promoting cryptocurrency and decentralized exchanges. McAfee argues that income taxes are slavery because "we are beaten with the clock for the benefit of corporations" McAfee points out that during the week we dread going to work and on the weekend we thank God that we don't have to go to work. Stating that in America we are a part of a "slave workforce". "We are slaves to the government and businesses that work with the government" and along with his basis to raise awareness of cryptocurrency he also wants to raise awareness of what he believes to be a "broken American system".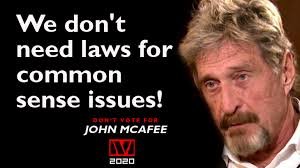 I believe in McAfee's crusade for awareness and liberation. I admire McAfee for his courage to stand up against the government, first for his fight against the unlawfulness of taxes and now for his belief in liberty for all, through cryptocurrency. There is nobility in McAfee's stance for liberation through cryptocurrency because McAfee is not just taking a stand for one nation, but all nations. McAfee says "Crypto is important for personal freedom" because "government can't control crypto". The most that the government can do with crypto is to make laws against it but real crypto is decentralized and has no head but is governed by the masses which makes it impossible for the government to come in and harass, threaten, and arrest someone. As McAfee has said a law without a way to enforce it "is just wind in a storm".