The Biggest Bitcoin News You've Ever Seen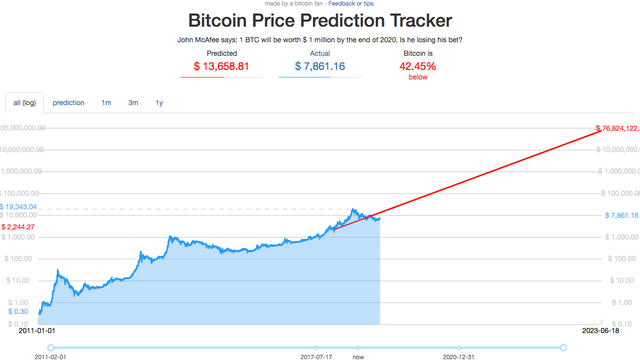 The red number at the top right is $76 million.
John McAfee, the creator of McAfee Antivirus, is predicting that Bitcoin will be worth $1 Million in just a few years.
This guy has been right about every single Bitcoin prediction that he has made.
Bitcoin was just .30 cents per Bitcoin in 2011 and now in the year 2018 it's worth $8,400.
If you look at the chart, Bitcoin has been on target to hit $76 million per Bitcoin by the year 2023 every since it came out.
This is big news but a lot of people know about it. It's certainly not new news.
Many big time investors are already calling it.
Investing in Bitcoin while you still can is a once in a lifetime opportunity.
This shows that Bitcoin's decreasing-supply algorithm is one of the most genius things every invented in history.
If you purchase just 1/10 of Bitcoin right now for $800, you'll have $4 million in 5 years from now.
So buy it while you still can. As usual, I wish you guys the best of luck in all of your endeavors.