Bitcoin İçin Piyasa Döngüsü Psikolojisi [Güncelleme 15.07.2018] / Market Cycle Psychology for Bitcoin [Update 15.07.2018]
Merhaba Arkadaşlar;
Burada yer alan bilgi, yorum ve değerlendirmeler Yatırım Danışmanlığı Kapsamında DEĞİLDİR.
Dört ay önce yayınlamış olduğum yazımda lineer grafik üzerinden "Depression - Disbelief" safhasında olduğumuzu düşünmüştüm ve piyasanın hangi yöne gideceğine paranın karar vereceğini belirtmiştim. Para maalesef tercihini düşüş yönünde kullandı. Düşen trend yerini yükselen trende bir türlü bırakamadı. Şimdi paylaşacağım grafiği daha da ayrıntıları ile ele almaya çalıştım. Fakat bu piyasanın bizleri yeniden yanıltmayacağı anlamına gelmiyor. Piyasayı daha iyi anlamak için mutlaka temel anlamdaki gelişmeler takip edilmelidir.
Herkese bol ve bereketli kazançlar dilerim.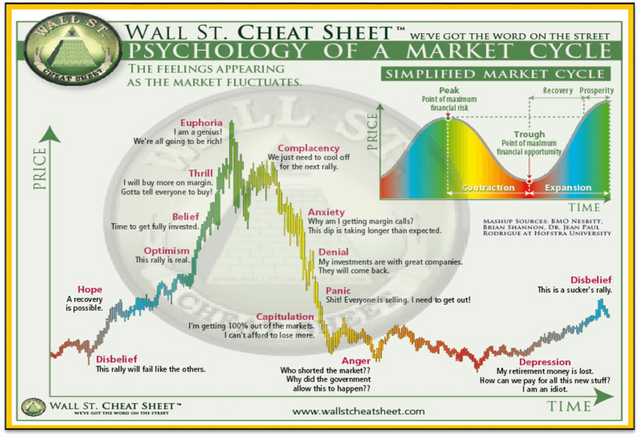 Resim kaynak/ Photo Source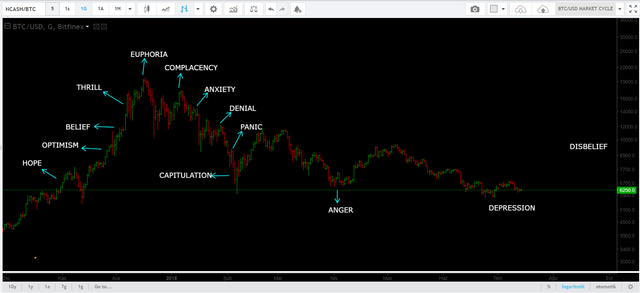 English
The investment information, comments and evaluations contained herein are NOT IN Investment Advisory.
In my analysis I published four months ago, I thought we were on the "Depression - Disbelief" stage, and I mentioned that the money will decide which direction the market will go. Unfortunately, the money used the choice in a downward direction. Falling trend was not able to leave its place in a rising trend. Now I will share the graph with more details I tried to handle. But that does not mean that the market will not mislead us again. Developments in the basic sense must be followed in order to better understand the market.
I wish all of you fertile earnings.
---
Önceki Yazılarım / My Previous Writings
1- Bitcoin İçin Piyasa Döngüsü Psikolojisi / Market Cycle Psychology for Bitcoin