Bitcoin Cash/ABC/unlimited/BCC/BCH/fBTC - why not?
Yesterdays fork is know under many names:
In my last post about it I mentioned, that we don`t know real hashing power standing for this fork. 
Watching blocks popping on explorer blocks we can easily calculate power compared to BTC as number of blocks mined by ABC and number of blocks that should be mined in same time (10 minutes per block).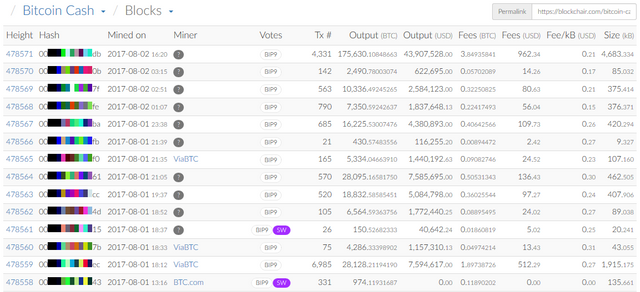 Block number 478558 is last block that is compatible witch BTC, so we should use it as start point. 
As we can see, for now it is very unreliable coin. Blocks are showing even 12hours one after another. As we can read in coin code, mining difficulty will be reduced by 20% every block, if last 6 blocks are mined over 12hours. Even if this tick is active from few blocks, looks like this coin have around 5% of BTC hashing power. This means, that any attack is 20x easier and it means that coin is 20x less secure than BTC.
My recommendation: if you use this coin, and you want have same security as in BTC, if you wait 1 confirmation on BTC network to finalize transaction - you should wait 20 blocks using ABC.
Even if magic trick that lower mining diff to level, where blocks will be steady, it is still around 5% of BTC.
But what we see on market? This coin was even 50% value of BTC! 

For what? I can only imagine tears everyone that buy it on this level, because it should be priced at most as 5-10% of BTC. There is no value backing it, it is pure speculation.
I hope this short article helps you to choose what Bitcoin you want to use.
If I miss anything, please comment :)