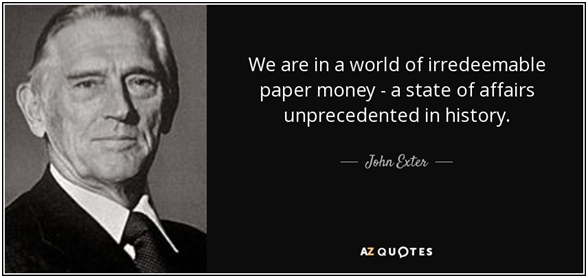 "Exter is dead. His pyramid is defunct."
The idea of Exter's pyramid does not require him to be alive nor is the idea deprecated. Exter's pyramid is simply the end of the line financial asset in which no other assets leap frog as a store of value. For instance, if someone believes the bitcoin market has topped out and the gold and silver market have topped out as well, NOBODY is going to hold bitcoin and will immediately dump the bitcoin for metals because bitcoin inherently will always have a vastly higher risk profile.
Just like Theymos said the other day, people just assume SHA256d might be secure. Metals do not give a fuck about if SHA256d is secure or not. It requires a black hole hitting the planet to black swan metals. Bitcoin has too many black swans that can blow it up to count. This is why bitcoin shills hate the word Exter's pyramid; they know bitcoin cannot compete on Exter's pyramid, thus making bitcoin just a pump and dump - a place gamblers go trying to get yield from imaginary, valueless tokens by scamming others into accepting their imaginary IOUs.
Just like I said a thousand times before, the further you abstract money away from barter, the bigger a scam it is. Using a physical commodity as money is the closest thing you can get to barter without being barter. The fact bitcoin doesn't even exist except in people's imaginations - an imaginary commodity, obviously makes it trash compared to real commodities or precious metals.
Image Source: AZ Quotes