Is it TOO LATE to mine Bitcoins NOW?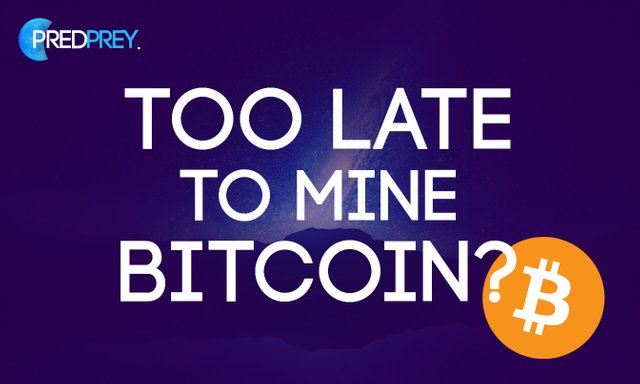 The crypto market is surging.
Want a seat on this unstoppable rocket ship?

I first heard about Bitcoin shortly after its launch in 2009.
Back then I could not fathom the idea that something "created from thin air" with no apparent intrinsic value could be of any use, so I disregarded it as a "joke" like at that time, probably 99.9% of the population.
It took me about 8 years to notice that although there has been an immense volatility in the past, in the long run the only way for Bitcoin is
UP
!
So now that Bitcoins rushed from a value of a fraction of a cent in 2009 to about $2700 in june of 2017, what are your options to participate in this growth?
🔵 1. Buy Bitcoins and trade
Sure, this seems to be an option a lot of hardcore crypto folks are putting to use. Trading stocks for many years, my personal take is that constant trading is almost pure luck unless a lot of time is invested in research and analysis, which for me, is not practical.
🔵 2. Buy Bitcoins and hold
A solid option. Start off with investing a bit and continue buying the dips that will almost certainly come along the way. Some exchanges like
Coinbase
offer the option to automatically buy a certain amount of a cryptocurrency in set time intervals (using the cost average effect).
🔵 3. Setup a rig and start mining
Certainly a "romantic" idea to equip your own hardware rig with a bunch of
Radeon Rx 480
graphics cards, joining a mining pool and start mining those coins in the comforts of your own home!
However, be aware that there can be a few pitfalls in this endeavor, namely: Hardware cost and supply (the most efficient graphics cards and needed high power PSUs are constantly sold out), power costs (can be pricey depending on your location), the setup can be difficult depending on your level of expertise (there are lots of tutorials on this, but this also adds to additional time invested on your side) and finally there is the problem of noise and heat generation (not everyone has a cool basement).
🔵 4. Use a cloud mining service
Wait, what?? There is actually companies that supply mining power so you can earn precious Bitcoins? Why don't they just keep all those mined Bitcoins for themselves?
That's certainly a question that needs a solid answer and the common consensus amongst crypto enthusiasts seems to be that there is only a few of those cloud mining companies that are NOT a scam.
One of those companies is
Genesis Mining
which I stumbled upon after watching a TED talk by their CEO Marco Streng:
Genesis Mining actually shows videos and even live feeds of their mining farms (checkout their YouTube channel
here
.)
Great! So
Genesis Mining
seems to be legit, but the question remains if its PROFITABLE to mine Bitcoins with them as opposed to just going with a "buy and hold" strategy as a long term investment strategy.
Is Bitcoin mining with Genesis Mining profitable?
In order to answer this question there is a number of variables that need to be considered:
🚩 1. Initial investment & fees
Bitcoin mining starts at $30 for 200 GH/s and can be upgraded to almost any scale! They do charge a maintenance fee that comes out to be around 28% pool fee in mining calculator (I will show this below!).
🚩 2. Projected mining difficulty increase
The bitcoin algorithm has an inbuild hard cap of roughly 21 million BTC. With about 16.4 million BTC already mined, the mining difficulty increases over time, requiring more and more hashpower to mine 1 BTC. The
current mining difficulty
is rated at ~711 G.
🚩 3. Projected bitcoin price development
Well... let me look into my crystal ball: "TADAAAAA" In 2 years Bitcoin will be worth at least $20.000.
On a serious note, of course no one knows how the price of Bitcoin will develop in the future. However, there are STRONG indications that believing in a decentralised blockchain-based currency is not so delusional as I and many others thought back in 2009. Even though, the USD value of BTC has been a roller coaster ride since 2009, the longterm trend has been going nowhere but up, with a current market capitalization of over 45 BILLION USD.
With lots of capital flowing into Bitcoin and other crypto currencies like Ethereum, the
total cryptocurrency market capitalization
is now at 114 billion USD, which in the grand scheme of finance, still amounts to a small percentage of global currency value.
Now just imagine Bitcoin becoming truly mainstream, with everyone around you actually using it as a means of payment on a daily basis...
Example calculations and my current setup on Genesis Mining
Lets just assume you want to join the cloud mining business with the smallest Genesis Mining contract for $30 which gives you 200 GH/s of Bitcoin mining power. Bitcoin mining contracts on Genesis Mining are paid in the form of one time fees (+pool fees deducted from your mining profits) and are "open end", which means they run as long as mining with your contract stays profitable.
On
http://www.mycryptobuddy.com/BitcoinMiningCalculator
I found a Bitcoin mining calculator that takes into account an assumed difficulty increase over time.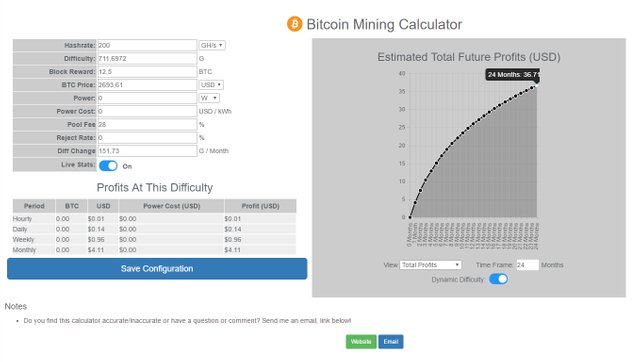 Punching in our values of 200 GH/s hashrate and a pool fee of 28%, over a period of 2 years and the total income will amount to $36,7. That means we made a whole $6.7 of profit in 2 years with an investment of $30.
How the Bitcoin price develops in 2 years is up for speculation. In addition, the mining difficulty increase is speculation as well as it depends on how many miners join the show in these 2 years.
Another factor is the hardware advancements in the GFX card segment which will allow miners who invest in the latest hardware to mine more efficiently.
This leads to my conclusion that the more mining power we input RIGHT NOW, the better, as this will make the most out of the difficulty increase over time.
Now lets look at the investment I personally decided to go for with Genesis Mining: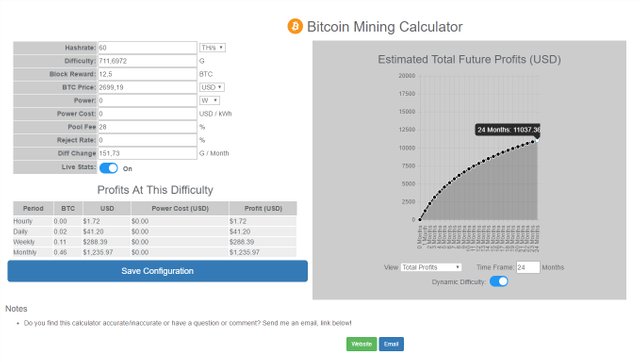 60 TH/s of mining power cost me roughly $7.500 of initial investment. Yes, this is a lot! But lets look at what comes out after 24 months of mining, assuming that the price of BTC does NOT change one bit:
Projected earning of about $41 DAILY (This currently seems to be closer to $46 daily in reality), $1.234 monthly and with the dynamic difficulty increase (which is just an estimation) $11.038 of total earning over 2 years. That's a whopping ROI of $3.538 over 2 years, again not taking into account ANY increase in Bitcoins value! Not to shabby huh?
Another advantage of cloud mining that I discovered for myself is a purely psychological one: As opposed to a "Buy and hold" strategy I'm not tempted to start TRADING or even PANIC SELLING my Bitcoin holdings with a daily payout pouring in nicely in form of a passive income from Genesis Mining.
Phew! That sounds pretty cool, how do I get started?
In order to get started with Genesis Mining you will need a "wallet" to hold your mined Bitcoins. There is lots of different wallet solution ranging from online, smarthpone based, desktop based, hardware based to even "cold storage" paper based solutions.
I suggest getting a hardware based wallet that will store your personal keys (essentially your VALUE):
Trezor
Ledger
Keepkey
As lots of these hardware wallet are currently sold out (I could still get a Trezor with a 1 week delivery time), you can use an online exchange as a temporary solution as you won't be holding large quantities of bitcoin in the beginning.
My definite suggestion here is
Coinbase
. "REALLY?? COINBASE?? They had tons of problems lately with hours of downtime!" True that, but consider that there is a BOOM in the crypto currency market right now and a high demand on all exchanges. Coinbase is one of the few regulated crypto exchanges with a deposit guarantee.
Personally, I had no problem doing several €5.000 bank transfer deposits on Coinbase which took only 1-2 working days. Then I purchased Bitcoins to buy hash power on Genesis Mining.
If you use my Coinbase referal link to sign up, you AND I will earn $10 USD in Bitcoins if you buy at least $100 USD worth of crypto currency.
🔗Coinbase Signup
On
🔗Genesis Mining
, you can use my referal code
💳"7DkIcf"
to get 3% OFF every Genesis Mining purchase. In return I will also recieve a small upgrade to my mining power. Let me know in the comments if you used my referal code.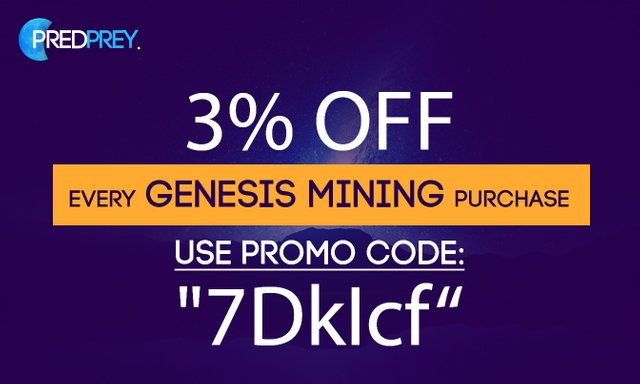 Please note that the view expressed here is not the view of Genesis Mining or any other entity. I am not a financial expert or advisor and purely sharing my personal experience, so please do your own research. No income is guaranteed with genesis mining or any investments I mention. Do not invest more then you can afford to lose.
WOW! That was my first post on Steemit ...
and I hope that you enjoyed reading it as much as I enjoyed writing it. If you feel like supporting me, please consider using my referal codes above and
like & follow
my
Facebook Page
.
Have a good day, fellow Steemians!
---
Also checkout my other related posts: