Peercoin community. Almost 5 years strong. Why that is important.
Peercoin has built a community since 2012 that has many members for multiple years. I can explain that significance to you.
.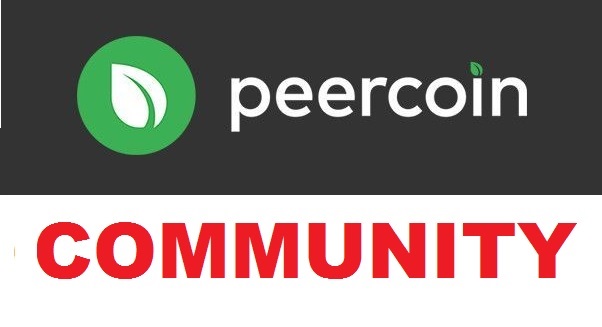 .
Bitcoin is going through a growth change. So is Peercoin. If Bitcoin forks and you need a second trusted coin to run your transactions, I recommend Peercoin now read the reasons why I say that...
.
In the crypto space, people come and go. Investors buy and sell. There is a lot of churn with how long people hold a certain coin, or go long or short.
With Peercoin, that community is different. To prove it, go through the Peercoin forums and pick any user that has more than 50 posts. You'll probably see the majority of these people date back to 2014 and prior.
Question #1: Why would a Peercoin community member hold a coin for 3 to 5 years unless the technology was sound?
Answer: Because it is sound.
Question #2: Why do people gravitate towards Peercoin and hold it in their portfolio for so long?
I can tell you why.
The Peercoin Community is diligent. They ask questions. They investigate the technology. They look at all the features and the potential of the Peercoin chain.
The vast majority of Peercoiners know:
Why Peercoin was developed
How Peercoin was fairly distributed
The need for Peercoin
How Peercoin as a non-ICO, non-premined chain, brings value to the entire crypto currency space.
The long term community and supporters of Peercoin is proof of these facts.
If you own Peercoin, have you ever done these things:
Logged into the forums at https://talk.peercoin.net
Logged into chat (even more conversations than appear at the forums) at https://peercoin.chat
Logged into the Peercoin telegram group at https://telegram.me/peercoin
If you do, you'll find all kinds of up-to-the-minute discussions about Peercoin, trading price, developments, and the latest news and updates.
There are some very special projects about Peercoin that are going to be news worthy in the coming months.
Want to know about them before every one else does? Get involved in the Peercoin community.
...the information is there. You just have to join up and see it for your self.
TRIVIA TIME
Ever heard about PeerAssets? Indicium? Peercoin's latest upgrade coming out? No? You can, if you join the Peercoin community and find out before every one else does...