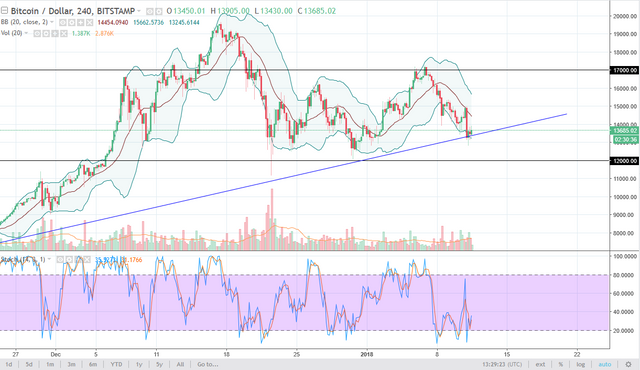 Combined crypto market cap reaches $800 billion
We know that 2017 was the year of virtual currencies, and we're not just talking about price growth, although that was phenomenal. Last year saw an increase in overall awareness and interest in the industry, including blockchain technology.
However, if we are going to mention price, we need to talk about the world's most popular digital currency. Bitcoin saw a spectacular upward surge in price. Starting last year at just under $1k, the crypto climbed all of the way to $20k before correcting last month.
Altcoins such as Ethereum, Litecoin and most recently, Ripple, also had reason to celebrate. All of these currencies also grew in awareness and price. In fact, Ethereum recently broke the $1k barrier and looks set to continue its upward climb.
All of this growth and high trading volumes resulted in the combined market cap of the industry growing exponentially as well, reaching milestones of $500 billion, $600 billion and even $700 billion last week. It increased by $64 billion in just 24 hours. At the time of writing, Coinmarketcap had the combined market cap set at just over a record-breaking $800 billion.
Bitcoin may have had something to do with this recent surge as the currency managed to move passed the $15k mark once again. Its price correction last month saw the currency drop as low as $8k on some exchanges, but it seems to have recovered quite nicely. In fact, at the time of writing this article, it was trading at over $17k on some exchanges, with its own market cap set at just over $290 billion.
Because of its inherent volatility, its sometimes tricky to pinpoint the exact reason for its dramatic increases. However, in this case, Peter Thiel's announcement last week may have played a part. His firm, Founders Fund, recently announced that they are holding hundreds of millions of dollars' worth of bitcoins, making investors hungrier than ever to be part of the market.
Second place in the crypto market cap race is Ripple, accounting for just over $120 billion of the combined cap. It continues to increase in price, currently trading at just over $3 on some exchanges. Even though Ethereum has seen positive growth, it is stuck in third place, responsible for just over $100 billion of the cap.
The remaining two in the top five are Bitcoin Cash and Cardano, accounting for just under $47 billion and just over $25 billion respectively.
Bitcoin may be trading at high numbers, but it only accounts for about 36% of the market, with altcoins responsible for the rest.
in 2018 will be good year crypto market cap even right little down but in cryto world it's can goes up 1000% tomorrow no one can predict it .
souce bitconnect : https://bitconnect.co/bitcoin-news/911/combined-crypto-market-cap-reaches-800-billion/
Register Bitconnect : https://bitconnect.co/?ref=reachsey