The best way to track your crypto-portfolio - Review 2.0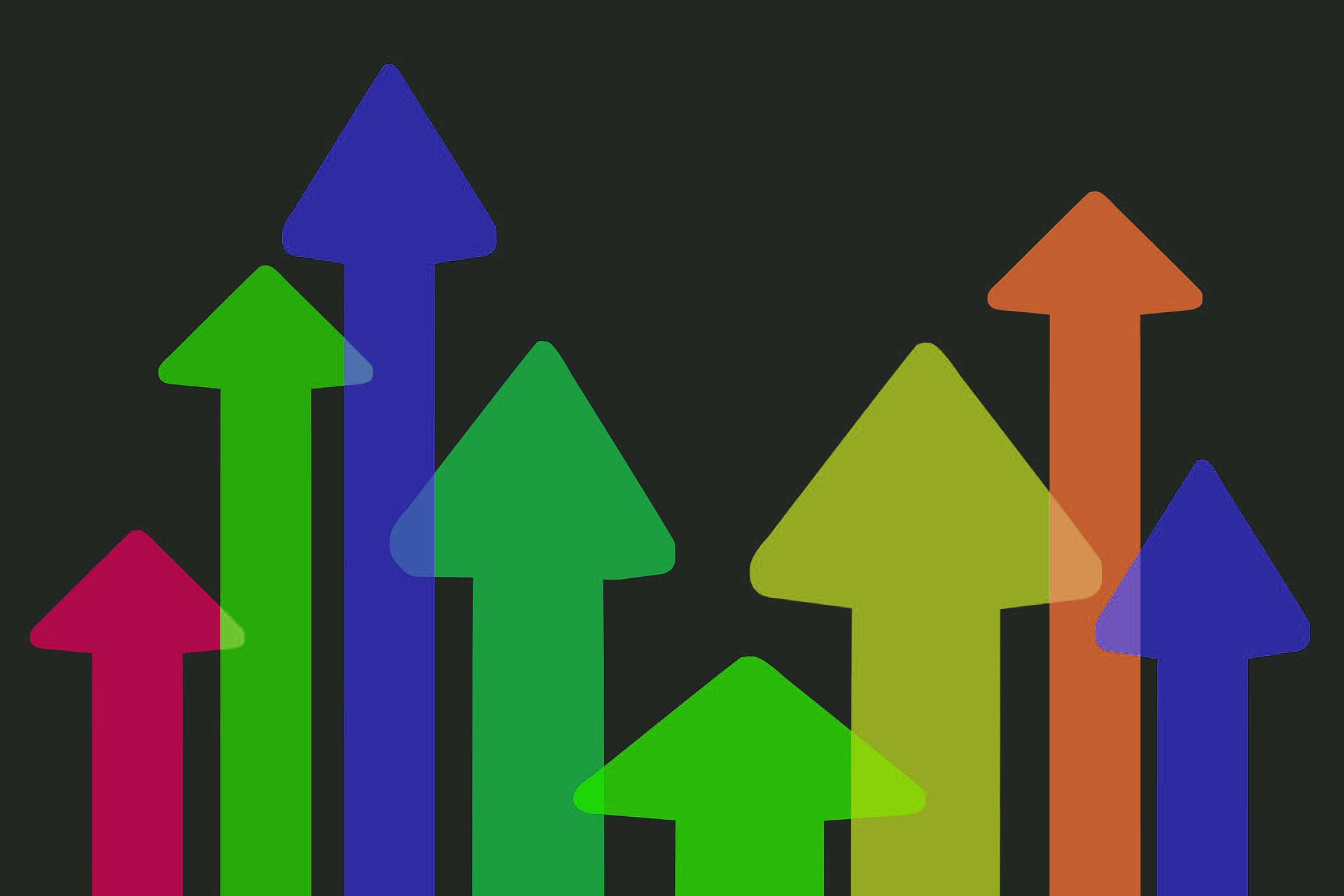 The best way to track your crypto-portfolio !
All right all right. Happily I've had a lot of responses to the first post The best way to track your crypto-portfolio.
Unfortunately though, it became obsolete very quickly ! The crypto world has changed at an amazing pace in the last few months. Clearly our community needs more content curators to navigate through the myriads of options that we have out there.
Every crypto investor or enthusiast is surely facing a growing number of crypto coins, crypto tokens and cryptoeverythings. The one thing we have to do in order to keep profiting is to be organized. With this post, I aim to give the average person (who doesn't have the time to go through all that) to find the right tool to keep their records. I received warm feedback from the last post and I hope to help the community further with this one.
For this list, I've ruled out all the platforms reviewed in the last post, except for the most functional and known tools, while including new ones. Due to an active community we've had a lot of responses with new alternatives and new features among our known alternatives. Gladly, a lot of community members have developed their own tools and made it publicly available. That surely requires a review to keep us up to date about the best products out there and to help us keep track of the growing number of cryptos, tokens and platforms out on the wild!
Fasten your seatbelt !
PS: I've separated them into Desktop and Mobile only apps
Desktop Apps
#1 Cointracking.info

Cointracking.info didn't change much, still the one to be beaten. I honestly can't say what they could do to improve other than getting cheaper, which they didn't. Although I've heard a few complaints about them not delivering their promises, I've never saw myself any of those shortcomings. Anyhow, here's what I wrote last time:
Cointracking.info is the perfect solution ! I knew at some point I would find something like that. They integrate with exchanges, they have API importers, all kinds of dashboards and charts and all you could want. Definitely the tool to get the job done. I mean they have IT ALL. More than I could figure from myself, like a dendrogram of currencies. They even help you get your taxes done.
Except that... well... for more than 200 trades it is not free AT ALL. It is quite expensive actually. A lifetime signature is half a BTC and a one year signature is 0.08 BTC (Currently approximately $200).
Well, not for me.
#2 CryptFolio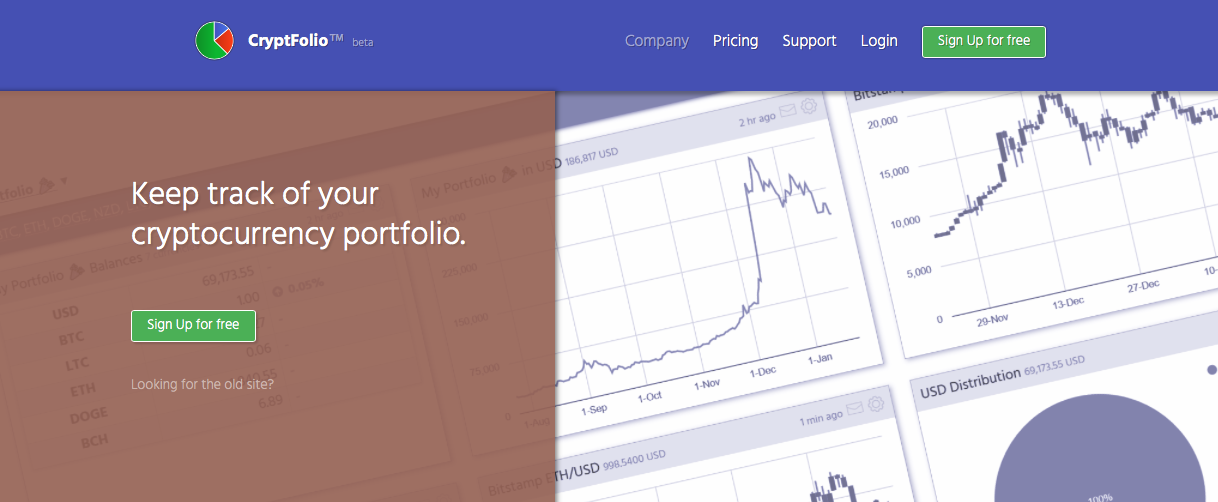 CryptFolio is a good looking well-designed website. They give some focus on data security. Even though most apps use read-only API keys, it is still nice to know that they won't be tracking your portfolio and making market movements along with you. They have nice notification preferences possibilities. You can get notifications about price jumps, incoming and outgoing transfers. They claim to be still in beta version but are doing a fair job. They integrate with a lot of exchanges and claim to be always expanding, sounds good (Binance, Bitfinex, Bitstamp, Bittrex, Coinbase, Cryptopia, Ethexplorer.io, HitBTC and Kraken, for instance).
Their pages lack a bit of explanation of the platform, to my opinion. And it is not yet totally intuitive.
Overall I like their simplicity and extensive integration. Their price is about 14 USD/month.
#3 CoinTracker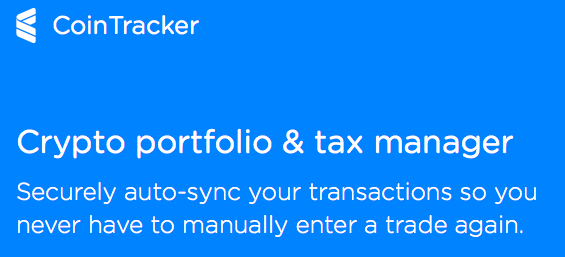 CoinTracker aims to never make you manually import a trade again. So far they integrate with Binance, Bitfinex, Bitstamp, Bittrex, Coinbase, Cryptopia, GDAX, Gemini, HitBTC, Kraken, Kucoin, Liqui and Poloniex. Also they let you input your wallet addresses (in case you want to track resources that are not on an exchange. Lastly, they let you manually input trades. They certainly succeed in their goal. They have limited visualization options and no pie charts, but they have tables with all your holdings and position sizes. Their tool looks extremely good and it is all for free.
Unfortunately I believe I have located a bug. I believe that they do not account for your lended assets. At least when using poloniex. So I've lended out all my BTC and it shows up as a 0 and a huge loss. This tool was developed and indicated by our friend and comenteer @chanfest22. Whenever they get this bug fixed I believe CoinTracker will be one of the top contenders, perhaps the one I'll use for my own. If you don't lend your coins you could get up and running straight away.
Altpocket
AltPocket hasn't changed much so far. It is still totally free, good looking and accepts Poloniex and Bittrex API Keys. Also, the data visualization tools are still to come. Unfortunately they lack strongly on exchanges support. It seems they've stopped with Poloniex and Bittrex while their competitors expanded their support a lot. Here's what I had written about it before:
Altpocket is,so far, the best looking alternative I've seen. One of the best tools out there. Totally free, lets you input your Poloniex and Bittrex API keys (which are the exact ones I use) and get trades automatically. Also lets you add trades manually. Lets you change your pricing API to CoinMarketCap, Poloniex or Bittrex.
Moreover, it has a social network feeling. Lets you share your portfolio and performance and be followed by people. But you can, obviously, make your portfolio private.
Still, it has a lot to add in terms of data visualization. Cointracking beats it hands tied. It seems that they have updates going on all the time, so I expect a lot more to come.
Note: Be sure to create new API keys with read-only rights before submitting it to Altpocket or any other tool !
Crypto Portfolio Tracker
Crypto Portfolio Tracker was suggested by @sagadotworld on my last post. It has neat integration properties with some of the most known exchanges (BitFinex, Binance, Bittrex, GDAX, Kraken and Poloniex). The free version shows you unrealized gains/losses on your position, and the paid version basically lets you convert all positions to the same price quote (such as BTC., USD and ETH). It doesn't add much to Cointracking but it's way cheaper (~ USD 25 / month)
Track A Coin
Track A Coin is a good looking tool. It lets you import CSVs from Binance, Bittrex, Cryptopia, GDAX, HitBTC and Poloniex (no API integration though). It has some nice visualization tools such as a Heatmap and prices alerts. Free to use and requires no personal data to sign up.
Crypto Compare
Crypto Compare hasn't shown any particular advances. As before:
Crypto Compare is probably the most notable cryptocurrency prices feeder of all. In terms of coins and prices it is basically unbeatable. The portfolio tracking app is web-based which is cool but not as mobile friendly as one would expect.
Also I disliked the fact that it won't allow you to upload an excel with trades for example or look at your historic performance in a format other than a table with unrealized profits and losses
Mobile
#1 Cryptorai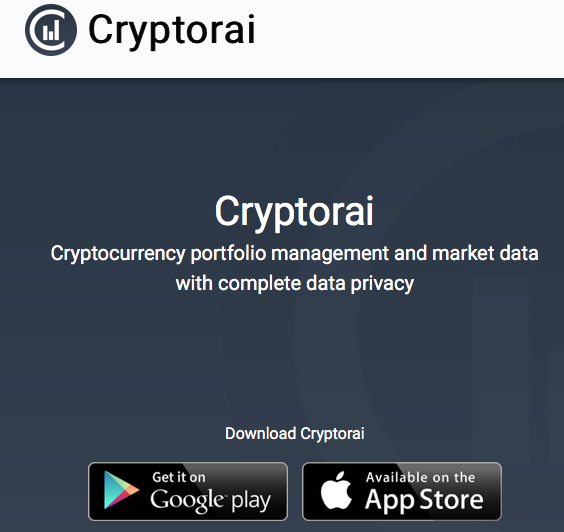 Cryptorai is perhaps the most advanced mobile platform there is. With the clear advantage of API imports (Binance, Bittrex, Coinbase and Poloniex) and a few data visualization tools, Cryptorai could be a killer, if only they expanded their API integration options to at least include Bitfinex. They'll let you backup your data to Google Drive instantly, set up price alerts for any pairs, and support 2000+ coins. Best option to date, to my view, even though the limited exchange options.
We hope to hear from our friends at @cryptorai about new exchanges supported. PS: As a dev I'd be willing to cooperate if that's what it takes.
#2 Delta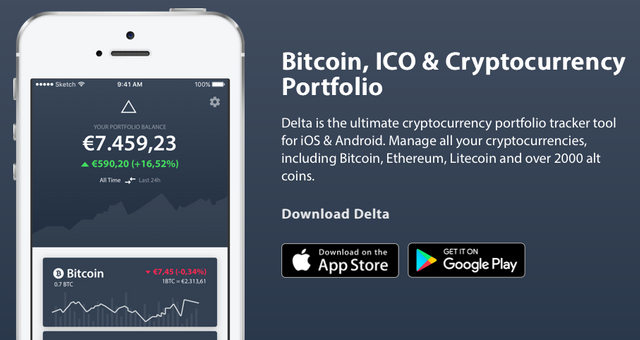 Delta is a mobile-only application. Easy and beautiful to use. As far as I'm concerned, it could easily occupy Blockfolio's space in the market. It was developed by our friend @nicolasmask, and we're hoping they expand it with a desktop application as soon as possible.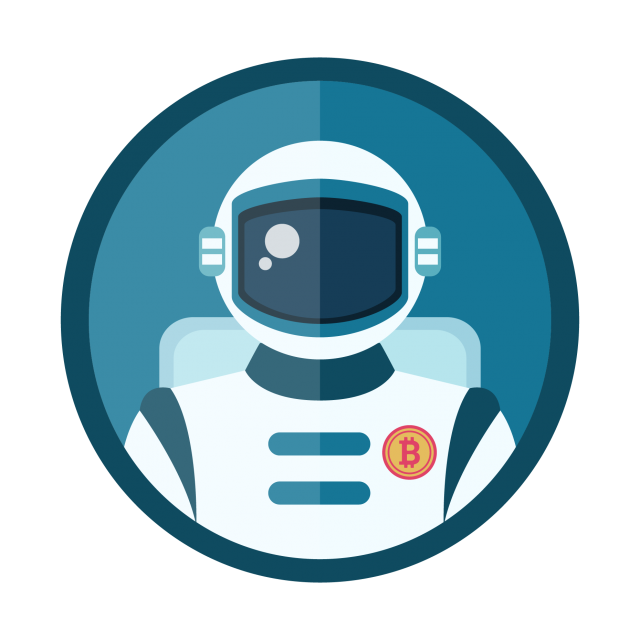 Cryptonaut is just as good as Delta and has the same features. Hopefully will be experiencing some increase in its users soon enough. Developed by our friends from @cryptonaut.org
Vertfolio
Vertfolio Simple, functional and easy to use.
Bitsnapp
Bitsnapp is an android-only sleek app. Great look and several visualization tools.
Blockfolio
Blockfolio hasn't changed. It's still a very handy mobile app to check prices, although it is still very complicated to input a lot of trades. They had promised a desktop app by the time I wrote the last post, but so fat it isn't out. As said before:
Blockfolio has the prominent advantage of being mobile. And it has the massive drawback of being mobile-only. I loved Blockfolio for quite a while, the app is sleek, they have live prices for virtually all mainstream tickers and exchanges and it worked just great to keep track of my handful of coins and weekly trades.
But then when the trades started to get more frequent than weekly it became such a mission to input all those trades using this tiny button on my phone that I had to quit it.
They said a desktop version is soon to be released, but so far it hasn't.
eFolio
eFolio is a lean application. Very simple functionality and good looking design. Recommended for people that do little trading, looking for a nice visualization for their manual inputs. It is surely a contender to both Blockfolio and TabTrader although it lacks a mobile application. No exchange/API integration.
TabTrader
TabTrader was suggested by @j4c0b1 in my last post. It is a fair contender to Blockfolio, with the same limitations: Manual input of trades and mobile-only platform.
Trackr
Trackr was built by a company that ICO*-ed * a few months ago and suggested to me by @rephill. It looks promising but yet very incomplete. They aim not only to be a tracker but also a signal generator, allowing the user to run models on historical data. So far they lack the import feature, which is a deal breaker for me. So far every feature is free, but there will be a price tag attached to them at any point. Worth keeping an eye open.
Done !
Hope it helps all the cryptotraders out there. Hope to hear all your feedback, opinions and new alternatives. Also let me know whether you disagree with any of the above stated.
Cheers !