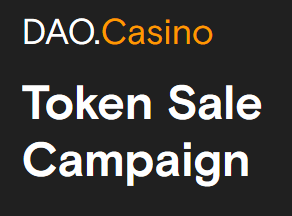 Yesterday was the first day of the DAO Casino ICO!
Last time I posted about the Suncontracts ICO and today I hoped to share my thoughts on DAO Casino with you. Following our usual ICO Valuation Methodology I came up with the following points and arguments.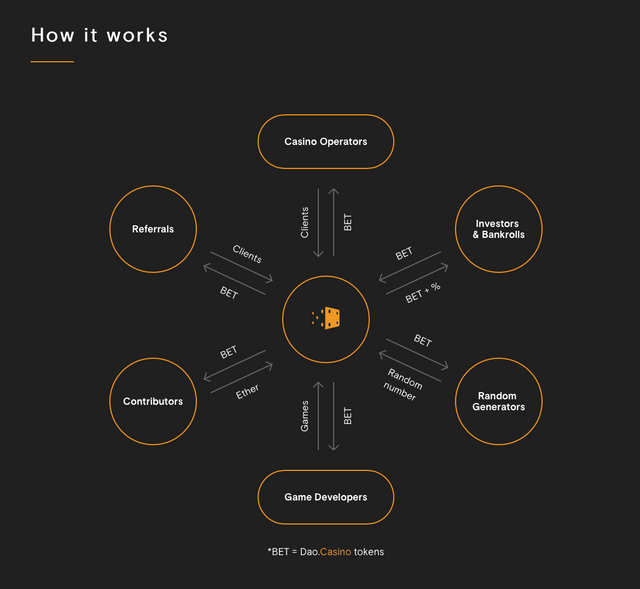 The Project
DAO Casino aims to solve a century-long problem by becoming a decentralized casino platform, thus eliminating trust issues and fraud concerns, quite common within the gambling environment (specially online).
It is a fully open-source platform based on ethereum that can host gambling games. As a fully decentralized platform, it automatically rewards all parties involved by the use of really smart contracts.
The platform automatically reward the following agents by the following shares, when their software is used:
Game Developer - 25%

Casino Operator - 25%

Referrer - 25%

Bankroll backers - 25%
Understanding the parts
The agents' roles described are a bit confusing, but we'll try to clear it out.
A platform is the ultimate front-end any user will deal with, the website per se, like the prototype platform they made available.
The game's developer is whoever created the game's smart contracts and the game front-end itself, i.e., the little screen, within the platform, where you actually play the game. The game's developer might or might not be two different agents. For instance, I could create a poker smart contract, for which several other developers could design different front-ends. When that's the case, both developer's equally split the developing fees.
Referrers are platforms or games that are able to drive players to new games.
Bankroll backers are token owners that make their tokens available for a game contract. Many games play "the house" and need cash to pay winning players, thus they need bankroll backup.
The random numbers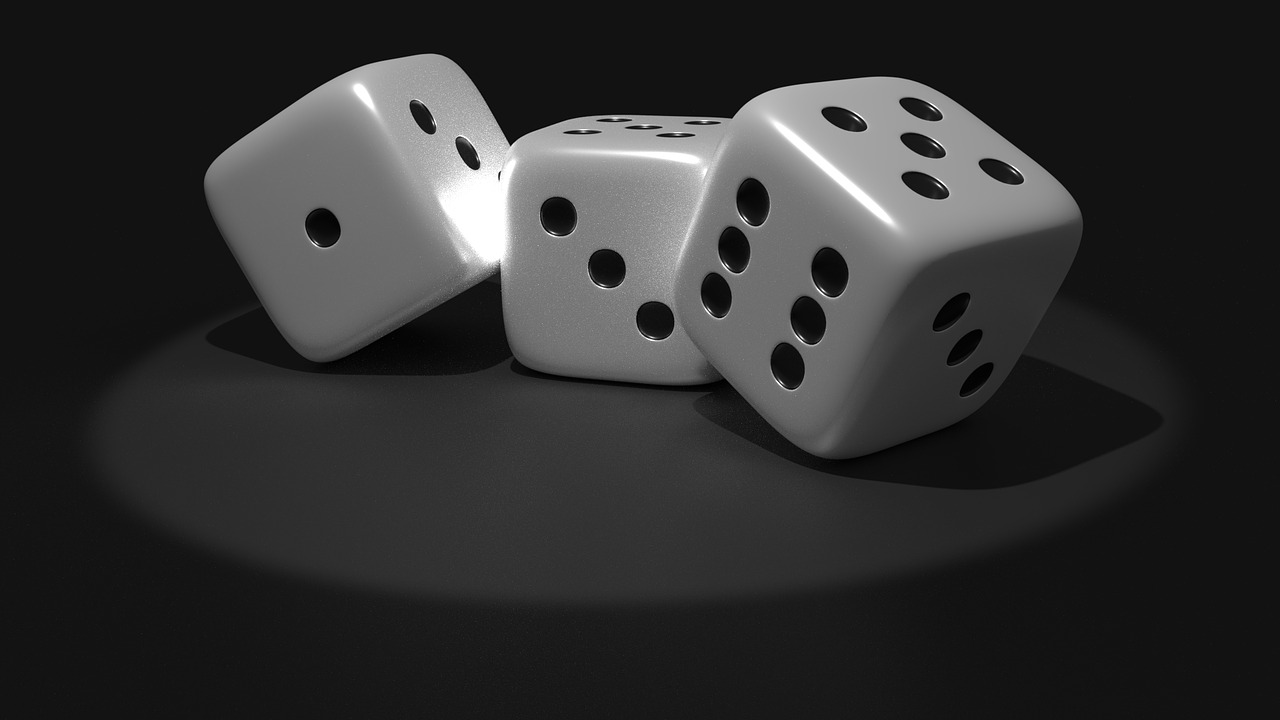 Fair gambling is based on randomness, being it random cards, random roulette values or random dice outcomes. The cyber blog claims DAO Casino to be ahead of its competition by being the first platform to generate provably random numbers on ethereum's network, while its competitors still have centralized randomness solutions.
So far the DAO Casino has implemented the Signidice algorithm. This algorithm functions for two-player games, i.e., player versus house.
Essentially what it does is ask the player for a random number, then the contract hashes it (along with the players address and the casinos private key), generating a new and unpredictable number. And all the contract has to do to prevent fraud is not to allow the same address to use the same random number twice.
To allow for more complex games, new algorithms will have to be implemented. This is very important to understand before investing, out of its current technology, DAO Casino is not looking to overcome poker stars anytime soon !
The Team
Their CEO claims to be an entrepreneur with past experience on blockchain experiences, although little of it is verifiable. Their protocol architect though, Lomashuk, is a well-known member of the blockchain community, as he is the CEO and funding member of the Satoshi Fund. Even though his LinkedIn profile doesn't yet say so, one of his companies has posted about DAO Casino mentioning his part in it, so it is verified by my standards.
Aleksandra Fetisova is the face signing all emails, and her LinkedIn profile is empty except for the DAO Casino.
Even though the LinkedIn part of it looks a bit shady, Lomashuk's presence backs it up a bit. Although it would help a lot if he included that info on his profile.
All the team is Russian.
Market
The company really did their homework on researching its target market. They've come up with a few statistics, all backed by studies. The most compellent one likely is that the gambling world market is as big as 50 Bn, of which 10% if composed of online solutions. Moreover, the online portion of it is concentrated among 22 companies, what makes it very hard for new entrants.
Even on the blockchain side of it, we're not talking about blue ocean here. Some of its running competitors are Edgeless, vDice and SatoshiDice. All of which currently recur to centralized random numbers generations processes. Also, they're games. DAO Casino puts itself to be a platform for games to be built in, diminishing the developing costs and creating a marketplace for games contracts and front-ends.
Token Value proposal
The token (BET) is the currency to be used in all games.
It has no intrinsic value nor a clear value proposal. What the token lets you do is back bankrolls. That way you can earn whatever players loose. You can, quite literally, be the house (the one that always wins and all that). But those contracts will only hold BETs themselves, so that it still doesn't have intrinsic value.
Still, its value proposal is solely based on scarcity. Backing bankrolls is just a distribution mechanism.
Final comments
In their white paper they state:
The objective of Dao.Casino protocol is to enable a sustainable model which benefits all the parties involved in the online gambling business process. (i.e it should be more profitable for the developer to use Dao.Casino protocol, rather than work on its own, and less costly for a casino operator to provide better service for the players. Players should have access to more diverse range of games from independent game developers while having a higher level of security than in traditional online casinos).
Well, where does the money come from ? How is it possible that its cheaper to develop, create and play ? The answer, for me, is one of two: Either the extra money comes from the reuse of code, since they don't need to pay developers to re-write many contracts; or it comes from more money flowing into online gambling, which I don't think is likely.
Conclusion
Their paper is technically neat and written with a very scientific approach, which I believe should be followed by future white papers. Their team is a bit shady and too discrete and their value proposal is a bit redundant.
They propose the right solution for a huge problem . The idea is fantastic, demanded and applicable. The problem is they do not seem to have found the golden mine yet, since only 1 player games are enabled so far. Still, creating a decentralized gambling platform is fair and full of potential.
I've made my moderate contribution this morning on the first day of their ICO. As a gambling afficcionado I just had to, at least to support the project. I'll basically support any hopes that online poker will be decentralized at some point. As a pure investment I would think twice before doing it for the unclear token value proposal.
Done !
Hope that helps all of you in making informed investment decisions. Any feedbacks and different points of view are appreciated.
Cheers !