Is Gold Going To Rival Bitcoin On The Blockchain? AAX Exchange Is Now Enabling Blockchain Gold Investment
Since the beginning of blockchain technology's emergence on the scene of public consciousness, Bitcoin has been the undisputed king of cryptocurrency and the benchmark to which all other cryptocurrencies measure themselves against. Despite this kingly status, a new way of using cryptocurrency and blockchain may be on the horizon in the form of gold. In recent times, numerous gold oriented cryptocurrencies and blockchain projects have emerged in the market, all citing gold's inherent value and economic traits as reasons why gold could be the future of blockchain.
Changing Gold Investment
Blockchain technology has the opportunity to transform and democratize investment into gold. One such example of this can be found in PhiGold, which is a new blockchain project that offers its cryptographic tokens at $10 each and the owner of a token gets 1/100th of an ounce of gold value. This works as PhiGold owns a goldmine in the Philippines and the funds raised from the tokens go towards mining efforts. PhiGold will sell the gold to the central bank in the Philippines and then invests the cash is then invested in 995 purity bullion from LBMA.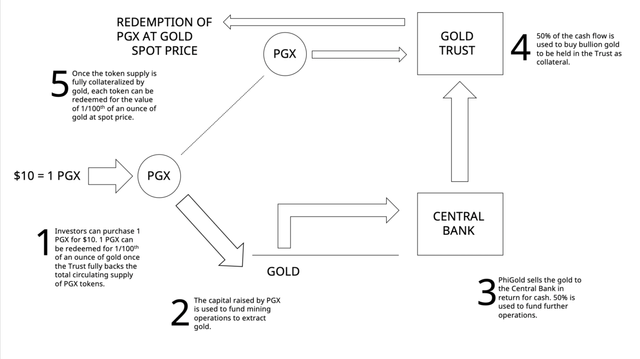 (Source: AAX)
Once the trust reaches the value of each PGX token for 1/100th of an ounce of gold, investors will be able to cash in their tokens for the value of gold on the day, which is currently hovering at around $15. This represents a gold-buying discount of 33% for investors and makes it easier for the average person to invest in gold. The token has even appeared on Malta's digital asset exchange AAX, with the launch being announced on the 31st of March in this year. Interestingly, Malta is the only digital asset exchange of its type to be using the London Stock Exchange Group's technology platform.
The PhiGold platform provides an opportunity for both corporate and private investors, communities and one-man-bands' to all have the same opportunity to get involved in the gold market, by allowing gold to be bought at a discount. The gold sector may normally be out of reach for a lot of these individuals. The 2019-born exchange made the reasons for their belief in PhiGold clear, stating "It provides a real-world example of how blockchain technology can be leveraged to disrupt a well-established industry. It provides an avenue for both institutional and retail investors to engage an area of investment, otherwise less accessible".
Additionally, AAX felt that the success of PhiGold could prompt more exploration into other commodities apart from gold; potentially spawning blockchain projects that democratize investment into other items. This could lead to investment in other commodity markets from the average person, unlocking more doors to financial freedom.
Gold vs Bitcoin
Gold, throughout history, has been known as an incredibly stable asset and whilst like all assets, it experiences price fluctuations; it still holds its value better than Bitcoin and fiat currencies. This can even be seen in recent events, with Bitcoin losing 20% of its value. Analysts have chalked this up to the worldwide COVID-19 outbreak. Alternatively, market stress has led to many investors flocking to gold, allowing it to hold its value and rally at this time. The comparison of Bitcoin price fluctuation and gold fluctuation can be seen below.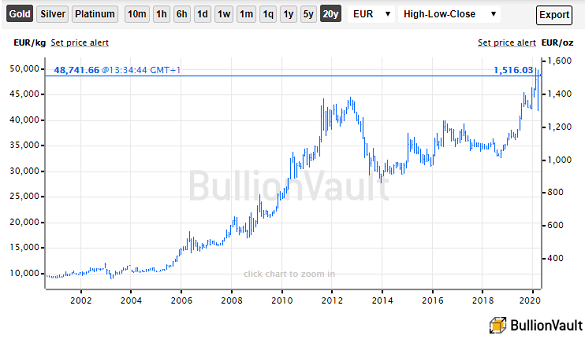 Source: BullionVault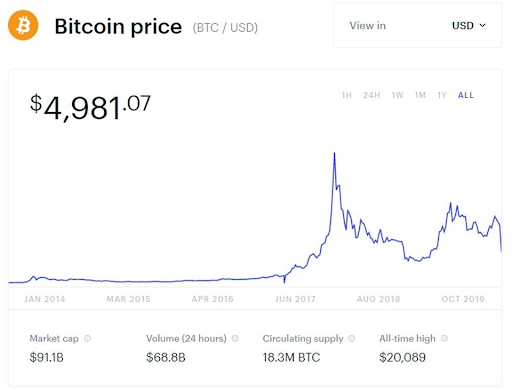 Source: Forbes
As can be seen from the above charts, Bitcoin is incredibly volatile and can lose a lot of its value quickly, further evidenced by the crash in 2018. Whereas, gold has maintained a constant increase, except for a crash of 13% in 2013. Digital asset exchange AAX, have pointed out that both gold and Bitcoin are driven by the same economic forces, with gold maintaining value more effectively.
Additionally, gold has a strong track record and has been performing better than any fiat currency in the 20th century. Gold has also seen investment demand growth of 15% per year, for nearly two decades. As a result of this, gold is normally an incredibly safe investment for traders and businesses alike. By contrast, Bitcoin offers investors a great opportunity to make a large amount of money from their investment, even more so than gold. However, the same price fluctuations that cause people to win, can also cause people to lose much more substantially.
Gold-Backed Stablecoins
There have been attempts to digitize gold, even before the emergence of blockchain technology. Despite this, in the blockchain and cryptocurrency world; gold has seen itself become the pegging asset for a number of stablecoins. Stablecoins are cryptocurrencies, which align their value based on being backed by an asset, usually fiat currencies. Gold is beginning to show promise in this area, due to it having greater stability and growth potential for would-be investors, with a commonly cited flaw of stablecoins being limited investment potential. Stablecoins seek to remove the risk of price fluctuation for investors of cryptocurrency and increasing the earning potential makes it much more viable.
Examples of Gold-Backed Stablecoins
Digix Gold
Tether Gold
Pax Gold
GoldMint