A WINNING, PROFITABLE page from PASSION's Guardian Revere LONG-TERM TREND MONITOR for (BTC)
Before I make my way out the door for Holiday travel, it was time for me to deliver my subscribers a general market update. As mentioned in a recent post, the S&P 500 is threatening to deliver a long-term sell signal tonight contingent upon where the price closes by the end of trade today. In doing so, I took a peek at the BITCOIN page within the report and thought I'd share it here on Steemit.
Beginning in 2018, I recently added BITCOIN to the other three markets included with my long-term market timing service. The primary markets covered for long-term (hodlers)/investors are as previously mentioned, the S&P 500, Gold, and Silver.
Adding Bitcoin to the mix was an experimental trial that I offered with Steemians in mind and stated such in a past TA oriented post. At the time, I stated that if I had at least ten people sign up for the service that I would begin sending out email alerts for the long-term market timing model I created for Bitcoin.
Even though I added Bitcoin to my mix so I could follow it, none of my current long-standing subscribers have called for such coverage, and since I don't want to litter their inboxes with unwanted Bitcoin Alerts - I'm not sending any out.
Well, ONLY ONE Steemian thought $99.00 per year was worthwhile and as such, though I continue to follow and report on the status of the Bitcoin timing model as a matter of curiosity for myself and my subscribers - it is not on the active email list for sending alerts to my clients.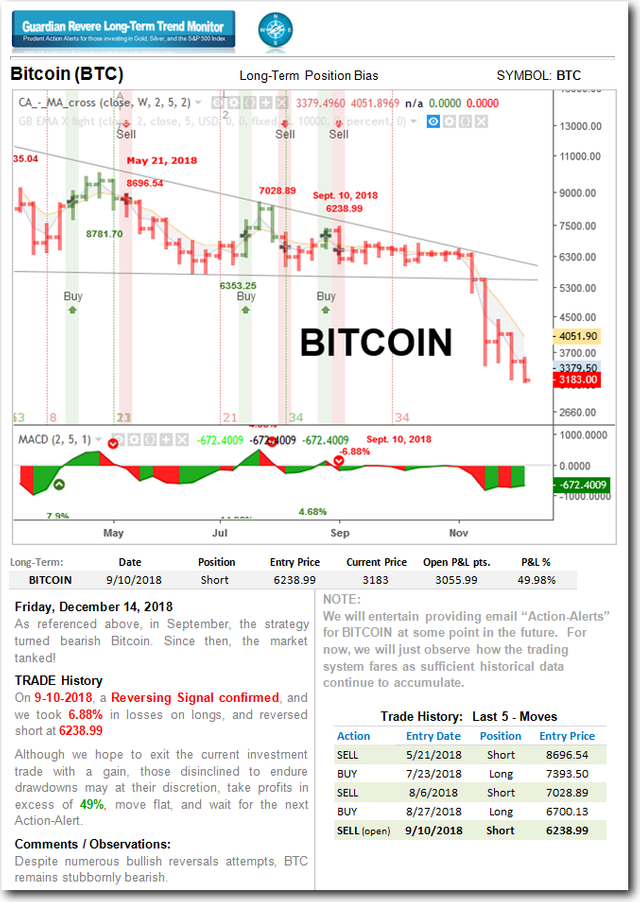 RIGHT CLICK AND OPEN IN A NEW WINDOW TO VIEW FULL SIZE
What's Next from the Timing Model?
Well, as @meno said in a recent article of his, it's likely a bit too late to sell or go short here, however, what this timing model WILL PROVIDE GOING FORWARD is the next BUY-SIGNAL once the market finally bottoms and begins to recover sufficiently.
Though there were many false "buy-signals" in the recent past, with the market wiped-out to the extent that it is right now, the next buy signal may well be one that endures. So, instead of wondering if the "bull" is back after a few days or weeks of rallying - the way that I quantify such prospects is via the use of my timing model.
With only around 10-years of price data, BITCOIN is a very young market relative to the legacy markets, and the jury remains out, however, my models result to date must be greeted with a "so far so good" evaluation.
For anyone interested to know the current results of my technical investment models and see how my subscribers have faired via the model's guidance surrounding long-term buy and sell signals for BITCOIN, I thought I'd share a page out of this month's Long-Term Trend Monitor update.
With the low Steemit readership, I doubt I'll get 10 new subscribers this time around - but I'll try nonetheless. I'll provide a link to the service below. There's an automatic one-month trial for $25 bucks! You can cancel after a month if you want - if you decide to hang around like that ONE Steemian who no doubt saved herself a ton of pain, you'll get billed $99 and start an annual subscription after the trial is done.
If I get ten of you, I'll add the email alerts. If not, you'll get quarterly updates - OR - if you ask me to, and you get past the one month trial and sign up for the annual, I'll arrange to send you private email alerts directly so long as your an active member.
It's really old, but here's was my best shot at a "pitch," which includes links to sign up for the service.
Happy Holidays All