We announced it weeks ago, now it's here! The Particl discussion forum is now live and ready to use! This new platform will allow the entire community as well as Particl team members to communicate in a new, more organized way than on a chat platform. It has already been populated with content such as articles, tutorials, posts, news, archived discussions, and more to help kickstart it. Without further ado, let's dive right in into what this platform is going to bring to the Particl community!FORUM LINK: https://particl.community
More Details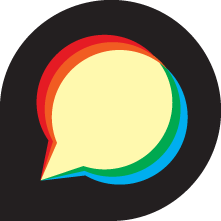 Discourse
Our new discussion forum is based on Discourse, a slick-looking and high-performance forum platform designed for the modern-day internet. In fact, Discourse is a very smooth platform which will make the Particl forum experience as smooth as silk as well as enable a wide variety of engaging features that will surely come in handy in various situations. Here are some of the highlights from our own Discourse setup:
Structured Discussions
This new forum will help better structure all the discussions going around the community. As it stood up until now, the great majority of discussions within the community happened over one of our instant messaging platforms such as Telegram or Discord. While this does provide a dynamic way of discussing with your peers in real-time, it fails to make these discussions accessible.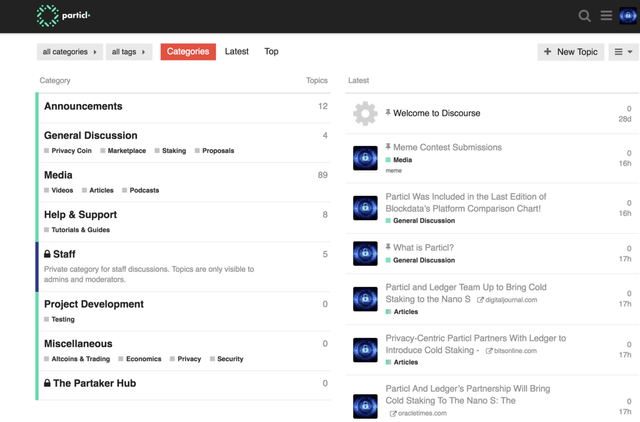 Particl Forum's Homepage
In fact, there is only a small number of Telegram and Discord channels, most of which are being underused because of the separation they create with the rest of the community which mostly hangs on #general. Moreover, discussions quickly get buried under days and weeks of chatter and, at some point, disappear whenever they get too old. This is obviously not an ideal set up, especially when it comes to help & support; different users will often be asking the same questions because they cannot be expected to scroll weeks of chatter to see if their question has already been answered.Let's also not forget that our community is still relatively small compared to its full potential when the marketplace will be on mainnet. In fact, some of the bigger cryptocurrency communities hosted on Telegram are quite chaotic due to the very nature of instant messaging platforms, so it only makes sense to prepare our infrastructure for when we get a good influx of new users. Furthermore, as the "forum format" is very popular on the internet and used by millions of people every day, and as we may very well get users that are not cryptocurrency users or simply not used to hang in instant messaging platforms, having a more intuitive and easy-to-navigate platform will surely be something that will make life easier for a lot of people.
Central Point of Information
Particl is all about decentralization, but that doesn't mean the information surrounding the project has to be all over the place. While the Particl Wiki already does more or less of a good job to keep the information about Particl organized, we believe the forum will also help a lot. For example, any support required by a user and later marked as solved will be easy to dig back out and link back to any other user having similar issues.Any article, video, news, and similar posts will be very easy to find for users, and this "everything-under-the-same-hood" approach will definitely help newcomers quickly find the information they are looking for. This is but one more step towards making Particl information more accessible to as many people as possible!
Help & Support

Among the many categories that are initially included with the Particl forum is a Help & Support category. We strongly believe this category to be an absolute requirement for the improvement of user support as well as to make it much easier for anyone to find the information they need without having to scroll weeks of unrelated discussions on Telegram or Discord. As such, we have ported our Particl Wiki's FAQ into a pinned thread so that users could easily answer the most frequently asked questions by themselves or ask their questions, if they are not already included, as a reply to the FAQ thread so that it could be added to it upon resolving.Moreover, the forum format is used around the world and is a very popular and instinctive platform to grow communities on. We believe that, as we release the mainnet version of Particl Marketplace and attract vendors and buyers, it will become a very valuable platform to help and support these users which may actually not be used to, or tempted to use, chat platforms such as Telegram or Discord.
Archived Discussions

Archived discussions are discussions of interest that happen outside the Particl forum but are archived on it. The reason these discussions are getting archived on the Particl Forum is that they are thought of as constructive, interesting, and in general, adding value to the broader Particl discussion.As mentioned throughout this post, many of the platforms we are on (i.e. Telegram, Discord, etc) are not ideal when it comes to preserving discussions and making them easily accessible. Particl Forum, on the other hand, offers a much more structured way of preserving and categorizing discussions or thoughts, hence why we believe noteworthy discussions should be made easily available for all to see, even if it has been weeks or months since they happened.Note: There is no "Archives" category. We prefer putting every archived discussion within the category it fits in to make them easier to find. You can, however, simply select the archive tag to filter all the forum posts and only display archived posts. To do so, go to the main page of the forum and select archive as the tag filter.For more information about archived discussions, visit this thread: https://particl.community/t/what-are-archived-discussions/79 For a good example of an archived discussions, read What is Dandelion?
Self-Governance
An interesting feature of the Discourse platform is that it allows, not too unlike Particl Marketplace, the community to govern itself. In fact, Discourse includes a trust system as well as a flagging/report system that can hide inappropriate posts once they reach a certain threshold calculated by crunching together trust levels and numbers of flags. Users that reach trust level 4, the highest trust level, are even granted limited moderating powers which allow them to keep the environment clean when no moderators are around. After all, users trust level 4 are those trusted ones that have been hanging around the forum for the most time and have made quality contributions to it.To learn more about Discourse's self-governance mechanism, read this article posted on the official Discourse blog: https://blog.discourse.org/2018/06/understanding-discourse-trust-levels/
Particl Proposal Discussions
As many of you already know, our development team has been working on the Project Governance mechanism that will allow any Particl users to create, submit, and vote on proposals directly within the Particl Desktop wallet. Particl Desktop does not, however, support proposal discussions. These proposal discussions and debates are expected to be vital to the voting and consensus reaching process and would benefit a lot from a more organized way to go about them.The Particl forum contains a Proposals sub-category within the Generalcategory. Because Particl Desktop allows users to link to an external discussion thread, it is recommended that users first submit their proposal on the forum and then submit it to the network (with the link to the discussion thread included in the submission). This will help people easily find the thread dedicated to a specific proposal and discuss what's being proposed in a well-structured fashion and for all voters to see.
Fun Social Features
Not only is Discourse full of useful features, but it's also full of fun and socialfeatures! In fact, we've added a lot of plugins to the vanilla version of Discourse, including a custom-theme, that makes hanging on the Particl forum a real treat.
User Cards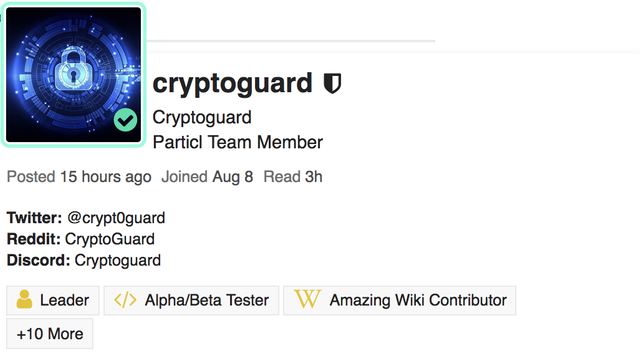 Cryptoguard's User Card
User cards are a small profile summary attached to every user that can be displayed simply by clicking on the user's avatar. They display a lot of useful information about the user in question such as social media platform usernames, forum statistics, title, and badges. They allow users to quickly preview another user's profile without requiring to quit the page or thread they're currently on. This is an excellent way to display your forum achievements and activity to the rest of the community as well as making yourself easier to reach out to on any platform you're on!
Badges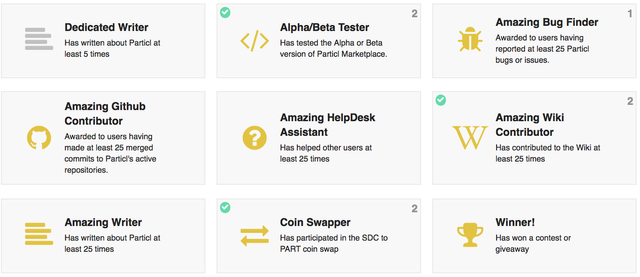 A few examples of custom badges made for the Particl forum
Badges are forum "achievements" you acquire throughout your journey on the Particl forum and are meant to showcase to the rest of the community your involvement within the project. On top of the default badges included in the vanilla version of Discourse, we've added a few of them (such as Wiki Contributor, Alpha Tester, Bug Finder, Coin Swapper, and etc) to highlight some of our own milestones and community achievements. They are an excellent way to build a reputation for yourself and showcase your support and involvement in the project! For a list of the currently available badges, visit the forum's badges page. Note that more badges will be added as we move forward and receive suggestions from the community.
Reactions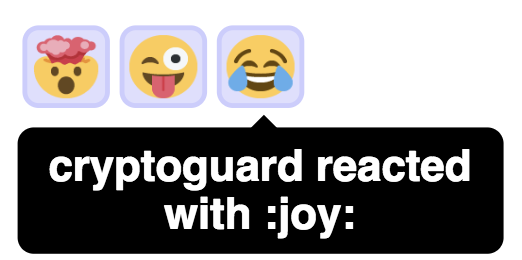 You can react to posts and threads the same way you can do it on Discord or Slack. Indeed, on top of the "like" function that comes with the default version of Discourse, we've added a plugin which allows users to "react" on posts using any emojis. Don't be afraid to show how you feel about a certain post! 😉
Polls

Example of a poll within a thread
Polls are going to be useful for anyone that wants to poll the community about a certain issue, matter, or question. Up until now, polls were exclusively held on either Twitter or Discord (using "reacts"), a set up that wasn't optimal. In fact, if you didn't have a Twitter account, you couldn't vote on Twitter polls. If the poll was held instead on Discord, it was getting buried by the constant chatter within only a few hours. Discord polls also do not allow for very complex sets of options.With the Particl forum's polling feature, polls can now be properly referenced by a link and are opened to every member of the community. Yes, you will need a forum account to participate, but it is, in the end, a much more private solution (don't need to provide a phone number, unlike Twitter), convenient (doesn't get buried, can be easily linked to and shared), and flexible (can put many options and include much more details) way to do it.
Swap Angels
Back when the community decided to go ahead with the Community Initiative to accommodate late swappers, it was discussed within the community that the people who would donate may, possibly, receive some kind of flair or special mention as a token of appreciation. As we slowly, but surely, head towards the mainnet release of the long-awaited Particl Marketplace, we believe that now would be a great time to celebrate our generous veteran holders who have donated some of their personal funds to help and rescue late swappers.As of today, donors to the initiative will be able to display a special badge, flair, title or any combination of those on their profile and user card. These optional options can be granted to donors' Particl forum accounts simply by sending a message containing your Particl Portal username as well as whether you would like to be displayed on the Hall of Fame thread or not to Cryptoguard.
Additional Resources
Tutorial
If you would like to follow an interactive tutorial that will show you the basic functions of Discourse, simply read the message from @discobot that you will automatically receive in your inbox upon signing up and follow through his instructions. The bot will guide you through all the basic stuff through an interactive tutorial and help you get started!
Discourse
Discourse's Official WebsiteDiscourse Vanilla FeaturesNew User Tips & TricksUnderstanding Trust LevelsFormatting Help
Particl Forum
Particl Forum LinkArchived DiscussionsParticl ProposalsBadges PageSo now that you are done reading this introduction post, it's time to #BePART of the discourse! Head over to https://www.particl.community to register a new account and join the fun!
The Particl Team