Did you miss our last AMA/FAQ livestream on Youtube? Don't worry, this update should keep you up to speed with all the latest developments and news surrounding the project!
AMA/FAQ Livestream Summary
Will it be possible to have prices displayed in their fiat value?
While currently not available on Particl Marketplace Alpha, yes, this is something that ultimately would be part of Particl Marketplace. Paul speculated about how this feature could look like in Particl Desktop, but the takeaway point is that this wouldn't be hard to include on the marketplace and is a feature that will, in the end, be enabled.
Will there be a "Share" feature where vendors will be able to send a link to their product listing on the web?
Everything is "social" right now, so being able to share a listing is a vital function for a marketplace. This is actually how private listings are designed. In fact, the entire nature of private listings is that they aren't displayed on the public interface of the marketplace and can only be accessed through a custom link or key. It hasn't been settled yet whether this sharing feature would also be available on public listings but it should ultimately be.We'll also soon be publishing an interview with Albin from Mubiz. Mubiz is a web & mobile decentralized marketplace gateway that makes available buying items on decentralized marketplaces using their website just like any other eCommerce platform. They do plan on integrating Particl into their platform which would make the sharing of listings very easy (simply copy-paste the URL link).
Is it possible to have the order at which releases will be ready without any specific dates?
The two biggest items required for Particl Marketplace to go live on mainnet are the marketplace governance system and the RingCT privacy protocol. As we are also heavily focused on security, we always prefer introducing features on testnet first, especially major updates such as the governance system and the RingCT protocol. As most of you already know, RingCT has been on our mainnet ever since Day 1 but has only recently been validated by both the NJIT Department of Security academic review and WeSecureApp's audit.We can also confirm by now that RingCT and the marketplace governance tool are going to be part of the same hardfork. This should give a good idea of what the next steps are going to be: the marketplace governance system is going to hit testnet then, after proper testing, will be integrated onto Particl mainnet integration alongside RingCT.There are, of course, other features that may hit testnet or mainnet within that timeframe, but as far as the critical path to Particl Marketplace mainnet release goes, governance and RingCT are the two items to look out for.As always, you can always have a look at our Status Report which should be updated soon.
Have a notification system for vendors been put in place?
Absolutely, as you can see in our Status Report, this feature has been integrated onto Particl Marketplace and is currently in its final review phase.
Has the new Particl Desktop developer started working yet?
Yes, his first day with us was on August 1st. We'll soon make a blog post introducing him to the community as well as linking to his Github account like we usually do.
Any new Particl merchandise coming up?
Yes, it's definitely going to happen. We have started looking into various types of merch we would like to giveaway to the community and have even made a poll on Twitter asking for your suggestions.We're planning on both giving merch away on Particl Marketplace Alpha but also using our new Discord GiveawayBot which we used to run our Ledger Nano S contest with. Keep an eye out for any future announcement of free merch being made available!
Is there any update about the PIVX Alliance conference call?
Yes, we had Imran, Ryno, and Cryptoguard participate in that call and we agreed with PIVX to submit a proposal to the PIVX community. The proposal states that PART would get listed on PIVX for free in exchange for a PIVX integration right into Particl Marketplace. The two social media teams would then help each other out with some cross-promotion campaign.Both teams have also discussed doing a zPIV integration to Particl Marketplace, effectively allowing users to combine both Zerocoin and RingCT privacy protocols in a single transaction for the ultimate privacy package. This integration would, however, be a monster of itself. Both teams are interested in this concept and it could definitely make for a great joint project. For the moment, both teams have a lot on their plate and have other priorities, but it's definitely being kept in mind on both sides.The proposal hasn't been voted on by the PIVX community yet, we will be giving out details when that happens. It will be interesting to see how this pans out!
News & Updates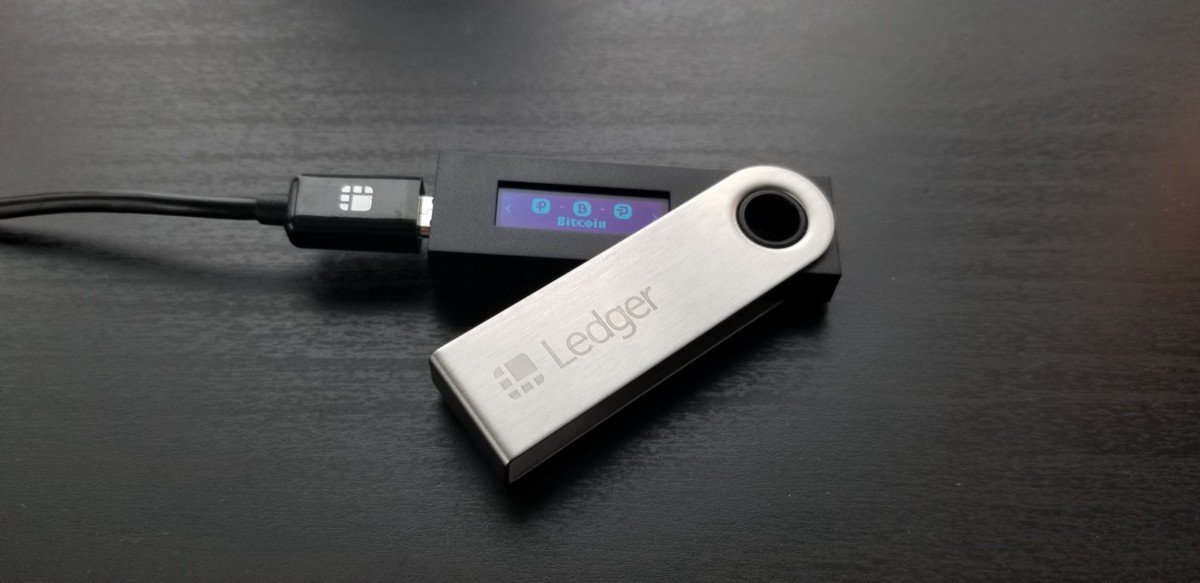 Ledger Hardware Integration is Here!
Update [10–08–2018]: There is a known issue with setting up Ledger on Particl-Qt MacOS. Mac users should download Particl-Qt 0.16.2.0 (pre-release) by following this link: https://github.com/particl/particl-core/releases/tag/v0.16.2.0Update [10–08–2018]: The tutorial for cold staking from your Ledger Nano S is currently not available. Our team is working on figuring the best temporary solution to allow staking while the full Ledger integration onto Particl Desktop is completed. More details about both the tutorial and the Particl Desktop integration will be given out in further updates.Update [10–08–2018]: Your Particl balance will not show up on Ledger Live's Portfolio interface. The Particl Ledger application currently only supports storing Particl on the Ledger Nano S and using the Particl features (staking, voting, transacting, etc). Ledger Live's Portfolio may or may not come at a later time, this mostly depends on Ledger.
Particl, Bitcoin & PIVX on the Ledger Nano
After having submitted our own Ledger "third-party application" to Ledger weeks ago, it has finally been officially integrated into Ledger's Nano S hardware devices and Ledger Live. That means you can now safely store your PART private keys on the Ledger Nano S device, dramatically increasing the security of your funds as well as the entire ecosystem. This also makes Particl the first pure Proof-of-Stake coin to offer hardware cold staking, or even just simply hardware staking.
As a matter of fact, no matter how strong your passwords are or safely hidden your wallet files are, you are still putting yourself at great risk of getting hacked the moment you either enter a password or upload a wallet file on a computer or mobile device. Indeed, cryptocurrencies have become one of the prime targets for hackers and cyber thieves, and there are now several ways infected computers could result in the total loss of coins stored on unsafe wallets.
— Particl Introduces Hardware Cold Staking
The Ledger Nano S is a hardware wallet, a special type of bitcoin wallet which stores the user's private keys in a secure hardware device. They have major advantages over standard software wallets: private keys are stored in a secure chip, and cannot be transferred out of the device in plaintext. That means your funds are safe even when connected to an infected or malicious computer or a phishing/scam web page.
— Manage Particl on Ledger Nano S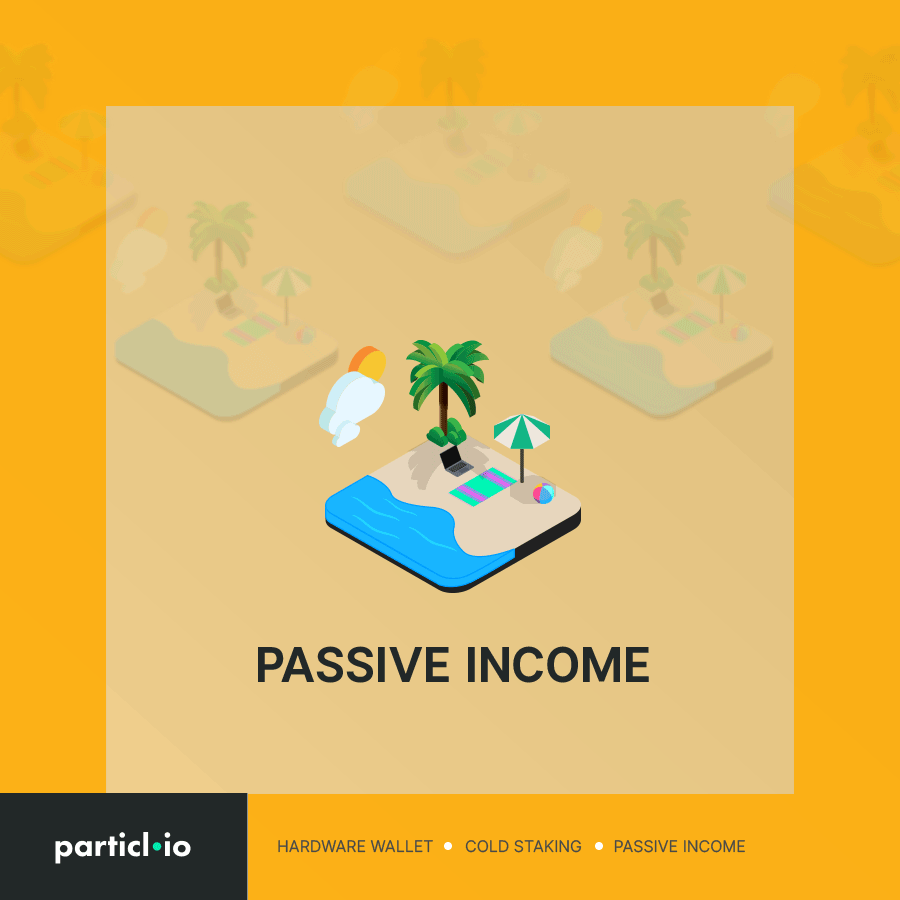 Furthermore, we strongly believe those looking for the highest level of security shouldn't be limited in what they can do on the Particl platform, especially as it relates to its governance (true democracy -> no voice left unheard). As such, this Ledger integration is designed to be compatible with almost all, if not straight up all the functions of the Particl platform including, but not limited to, transacting funds, staking, voting and submitting proposals to the community as well as participating in the marketplace's governance system without ever requiring to expose their private keys.This announcement marks a very important step in Particl's journey, demonstrating the team's commitment to not only build the most secure blockchain solutions but to also deliver them in a perfectly accessible and flexible package that does not infringe on the user experience.
Decentralized Project Governance
!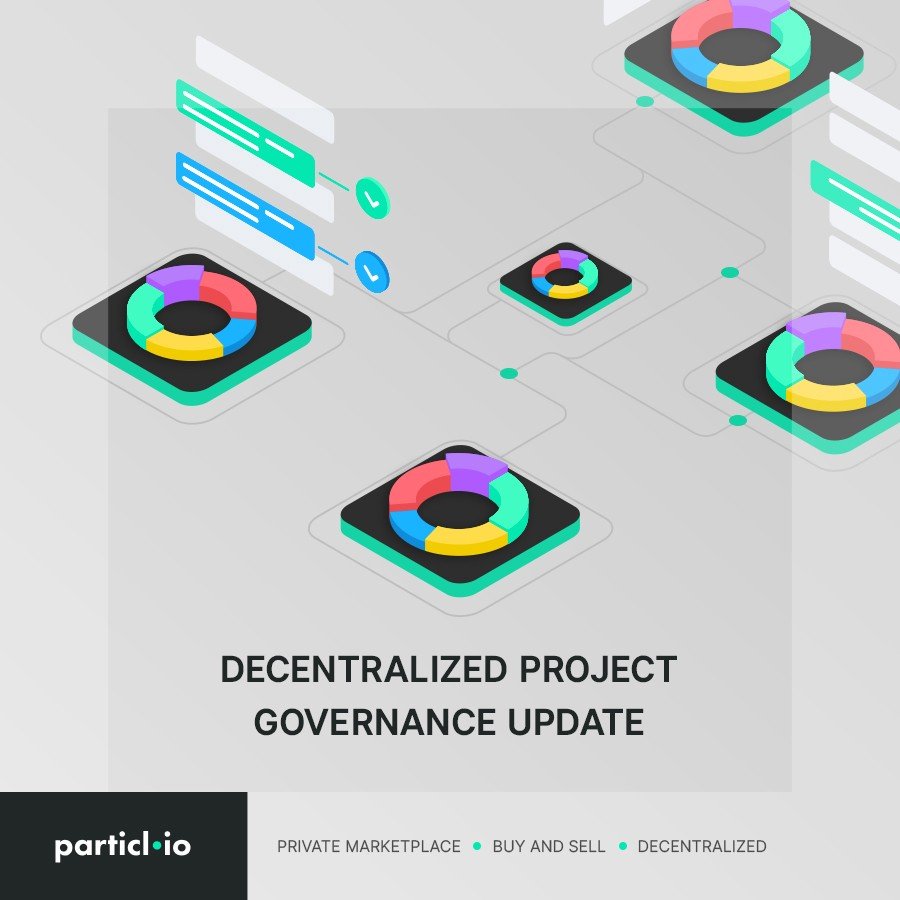 We also posted this week about the new and improved decentralized project governance that is nearing testnet implementation. In fact, we identified several issues with our legacy voting system (which has been on mainnet since Day 1) that makes it too restrictive in nature for what the Particl platform is aiming to do.The main difference between the new governance system and the legacy one resides in the fact that any user will be able to vote for multiple proposals at the same time and do so directly from Particl Desktop regardless of if their funds are stored on a hot, cold, paper, or hardware wallet. We believe this update to the Project Governance system is a huge improvement both in terms of usability and democratic accurateness, and so we are very excited to run it through its final testing phase and to begin testnet integration.We also announced in our Decentralized Project Governance update that there were a total of ~33,800 PART left in the Community Initiative Fund and that we would be ready to initiate voting rounds on what to do with the funds once the Project Governance tool hits mainnet. As such, it could be a good idea to start thinking about proposals and ideas on how to best use the 33,800 PART that does belong to the community.
Particl Core 0.17.0.2…Really?!?
For those keeping a close eye on Particl's Github page, it may not come out as a surprise that Tecnovert, our Core Developer & Cryptographic Researcher, has ALREADY started working on Particl Core 0.17.0.2. TV is known for being the fastest developer in the entire industry to adapt and merge the latest Bitcoin codebase into Particl Core whenever there is an update to it. Usually, it takes a few weeks, sometimes even days after the release. But this time, it seems like Tecnovert has been working overtime on 0.17, so it will be interesting to see if he has anything special under the hood or if he's just being extremely diligent.For a rough 0.17 release timeline from Bitcoin Core, please visit this link: https://github.com/bitcoin/bitcoin/issues/12624.
New Status Report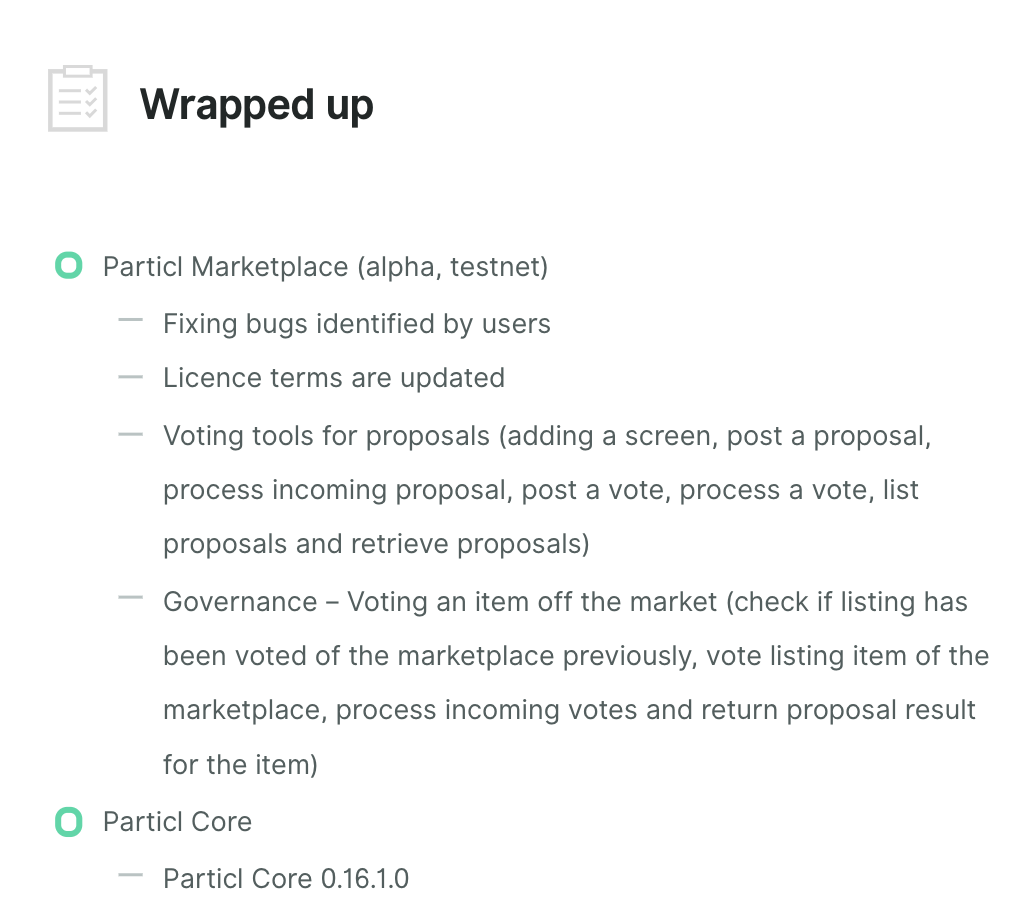 We released on the third of August a new Status Report on our website. This report is quite similar to our previous Status Report but also contains some new, exciting information about the state of Particl Marketplace development. Indeed, the "Wrapped Up" section of the report shows that a lot of items for the marketplace have been completed, including the Project Governance and Marketplace Governance tools. Some of the items marked as "Pending Review" have also been completed since we posted this report 7 days ago, including the Ledger hardware integration and the Particl Desktop 1.2.2 (currently on pre-release, mainnet). A new Status Report should be posted soon and we will post an update here on particl.news.
Development is at an All-Time High!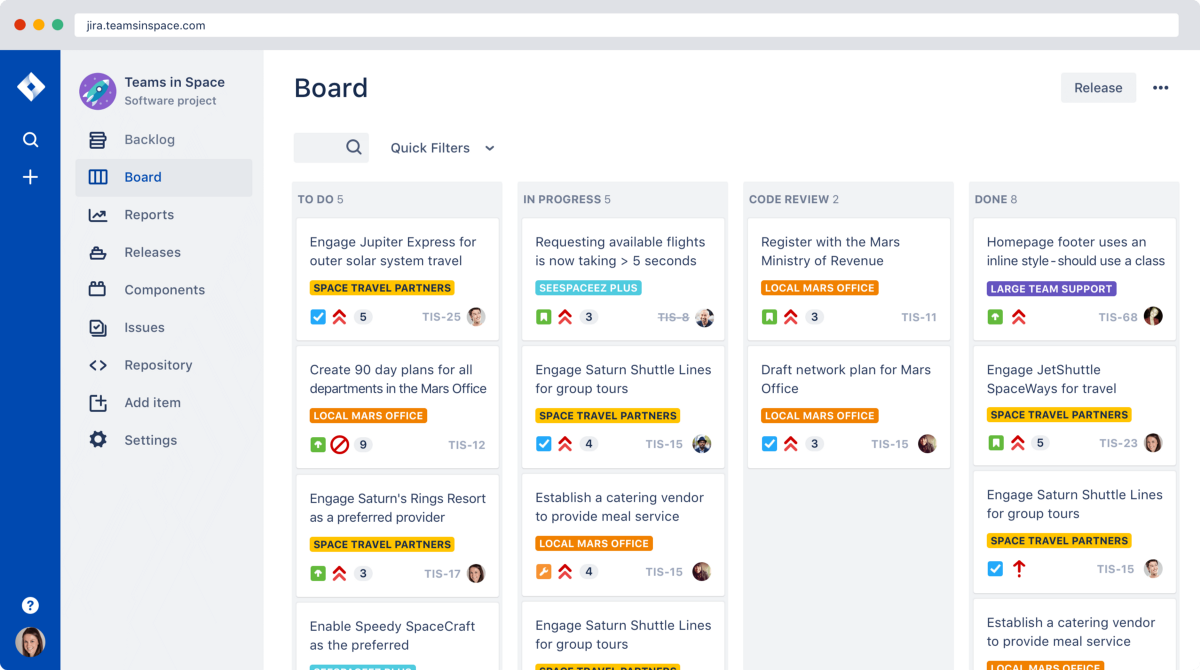 Jira
The development process of the Particl project has never been in such good shape. Indeed, the project has reached a stage where our team has gained a lot of experience and have adapted their work methods to better organize and deliver more efficiently. That much can be seen on our Github with as much as 3 to 6 repositories being updated daily and by how fast items in our Status Report are getting hammered.A lot of this can be attributed to our two new managers, Carmen and Vivienne, as well as the new Agile methodologies and strategies the team has established during its last meeting in Prague. It is worth noting that Github is only the tip of the iceberg, most of the development process and communications happening internally using Jira.As we are seeing a lot of items being marked as completed and as we keep hiring new developers such as our new Particl Desktop developer or any developer we will be hiring after the primary funding round, the Particl project is slowly entering into a new phase. We will soon reach a point where a lot of the pieces will start falling into place in a relatively short period of time while the development pace keeps increasing. Furthermore, the future release of our developer SDK should also attract many more "outside" developers contributing themselves to the accelerating development pace of the project. Simply put, we believe our best days are ahead of us and at arm's length.Teaser: We will post next week a video demonstrating the impressive work our developers have put into Particl since we embarked on this journey a little more than a year ago. This demonstration will be in the form of a Github contribution timeline and will help understand several factors associated with the development of an open-source project. This will be a must-watch, so stay alert for a post on particl.news!
Exciting Interview Coming (Web & Mobile Interface)
Those around the community for some time have probably heard about Albin at some point or another. In fact, Albin, the owner of Mubiz, a decentralized marketplace gateway currently offering services for the OpenBazaar protocol, has been around the Particl project for some time, even being going as far back as the Shadowcash times. Turns out this entrepreneur has big plans for Particl!With the desire to integrate Particl onto its decentralized marketplace gateway platform, Mubiz will undoubtedly become an enormous piece of the puzzle for Particl to go mainstream by offering a modern and responsive web & mobile interface (currently under FULL revamping) and by taking care of all the techy/geeky stuff like MAD escrow, crypto payments, customer support, and returns. Yes, you read that right!Stay tuned for this exclusive, ground-breaking interview where Albin will lay down his vision for Particl and decentralized marketplaces in general and explain exactly how he intends to make all the cryptocurrency and blockchain processes operate in the background, leaving users with a user-experience no different than any other web-based marketplace. We also will be able to show you an EXCLUSIVE look into Mubiz's new platform that will launch within a few months, in time for the Particl Marketplace mainnet release.
Website Redesign & Particl Wiki Update
We've also been recently busy with revamping our official website. While there are definitely elements we like about it, we've identified, helped by the generous community feedback, a few issues, and improvements that could be made to it in order to make it more impactful. You can visit the website right now and already see that we have started merging some changes to it, currently mainly being focused on the header (more dynamic, more engaging). We will also be rewriting a lot of the texts on it to make it clearer, more accessible, and easy-to-understand for anyone to know what it is that the Particl project is all about.Particl Wiki has also been updated following the release of the Ledger hardware integration. Several pages such as the FAQ and the What Is article have indeed been updated to add information about Ledger.
Particl Discourse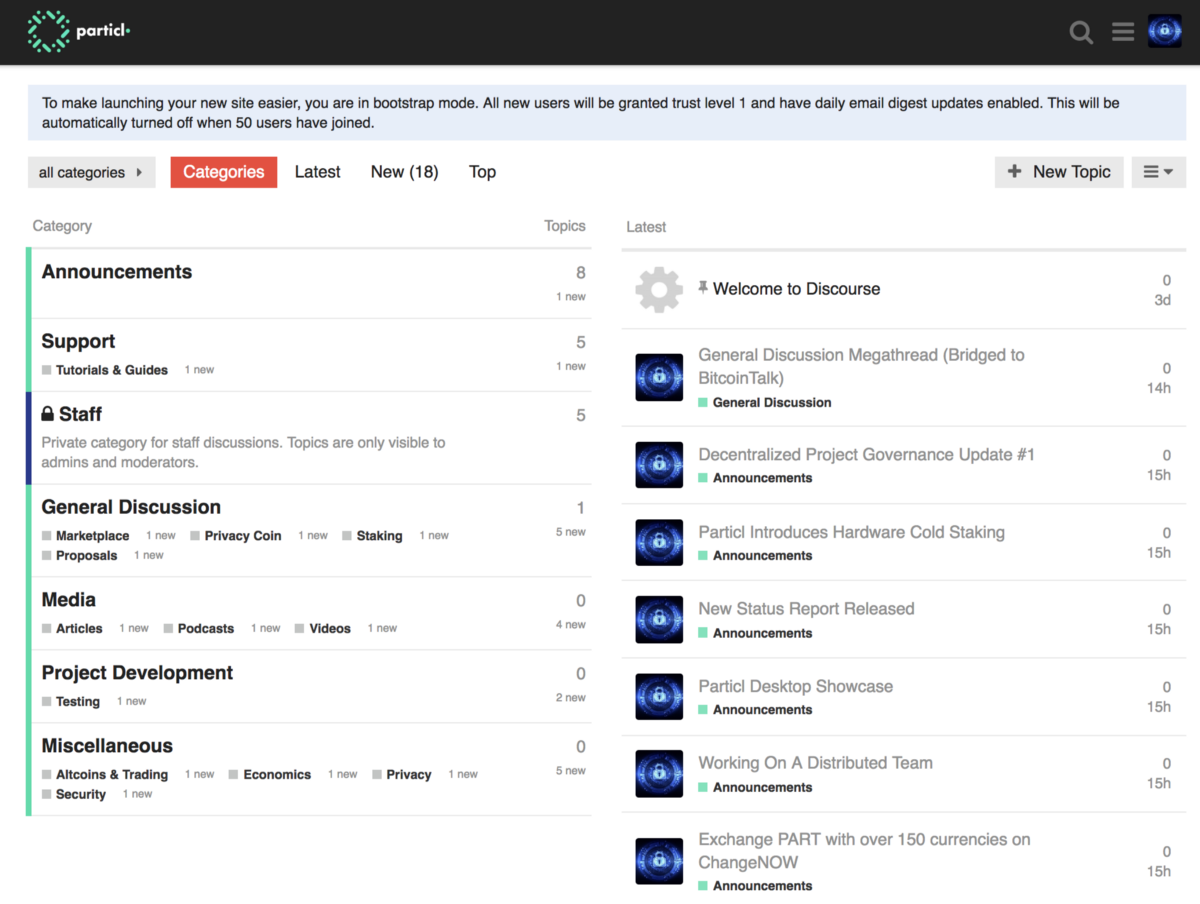 Particl Discourse
Another thing we have been putting together has been the Particl Discourse forum. We've unfortunately run into some issues which have delayed its release but are happy to announce today these issues have been resolved except for one. The forum is currently being configured and set up and should most probably be made available next week.We will be posting a proper update as well as a complete presentation of the new platform and the vision we have for it next week. Stay tuned and follow our particl.news blog to get notified of every update we publish!
New Particl Foundation Financial Report
The Particl Foundation has posted a new financial report on its official website. The report shows that the Foundation is still on track to last until at least Q1 2019 with the funds it currently possesses.
Desi-Rae's Publications
Working on a Distributed Team
Carmen Pozyn, our Product Owner, has posted a blog about how it feels working in a "decentralized team". While she mentions there are a few bumps here and there that can make working in a remote fashion a challenge, her impact on the project ever since she joined us undeniably confirms her ability to work in this new and rising work configuration! Be sure to read her article here: https://particl.news/working-on-a-distributed-team-a380ca520b71
…and the Winners are…
To celebrate our Ledger Hardware Cold Staking announcement, we decided to hold a contest and give 5 Ledger Nano S away, 3 of them being given away on Twitter and 2 of them on our Discord server using the GiveawayBot. The winners are…Twitter (171 participants):
Discord (64 participants):
Thanks to everyone for participating and be on the lookout for more giveaways done on both our Twitter page and Discord server!We wish you all a good weekend and don't forget to follow our particl.newspage to not miss any update and #BePART of our great Discord community! 
The Particl Team