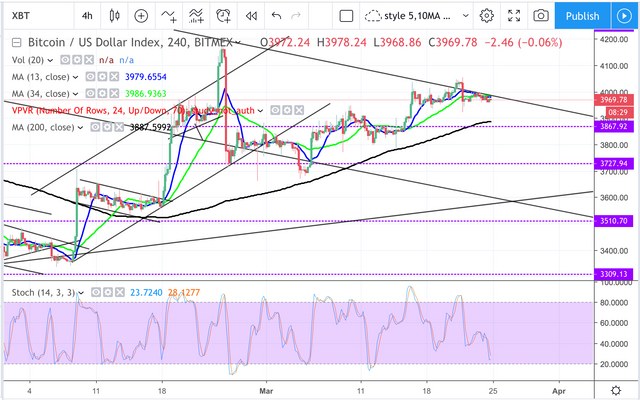 Exactly as mentioned denial clinging on. On 4hr chart, stoch on the lower band and maybe some breather space needed before making room for further down move. Possible upside wick again to trap. Consolidation room getting tight and lesser, next move in 1-2 days time.
On weekly it tell another story, if it hold and close above the week open of 3966, making path for possible TD9, maybe maybe we will have the formation of the big ascending triangle with baseline around 4250 zone.
News: (Current) | (Upcoming)
Short term moving average (day candle) :
RSI :
Network Value to Transactions Ratio :116
Total marketcap :140
Dominance :50.5
Bitfinex Margin Long/Short Volume Ratio :
Depth Chart : (S) | (R)
Weekly Timeframe :
---
HOT ~ !!
►Moon your STEEM everyday ! play now FREE steemies & get a share of the house P&L
https://moonSTEEM.com
Recommended
►You're gonna post on instagram, youtube, twitter anyway, why not post and earn steem : https://share2steem.io/
►FREE to Play and start earning daily steem payout without any investment https://staging.drugwars.io
►Walk, Jog, Run and Earn steem for moving : https://actifit.io
►Play and Earn steem, blockchain Trading Card Game : https://steemmonsters.com
►Sell your upvotes automatically : https://smartsteem.com
Dark Side Secrets
►Play and earn magic token dividend (revenue share with the house) : https://magic-dice.com

---
Published by One Percent Better
on

with SteemPress
https://mentormarket.io/cryptocurrencies/onepercentbetter/bitcoin-24-mar/
---