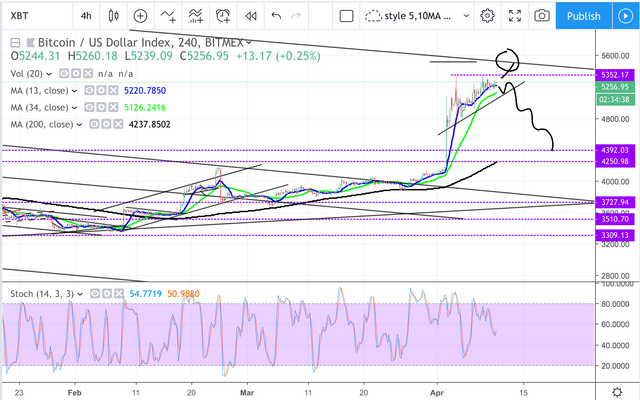 On 4hr chart, buyer are reluctant to give room for breather, kept inching up towards the mini ascending triangle top. Limited upside to 5600 though even if it break 5400. Still bias towards triangle breakout downside and take a breather space to test 200 MA on daily.
News: (Current) | (Upcoming)
Short term moving average (day candle) :
RSI :
Network Value to Transactions Ratio :114
Total marketcap :182
Dominance :50.8
Bitfinex Margin Long/Short Volume Ratio :
Depth Chart : (S) | (R)
Weekly Timeframe :i
---
HOT ~ !!
►Play and earn Gamer token that payout dividends (Profit Share with the house) | DICE and BLACKJACK | Earn more tokens now before the next halving ! :
https://kryptogamers.com
Recommended
►You're gonna post on instagram, youtube, twitter anyway, why not post and earn steem : https://share2steem.io/
►FREE to Play and start earning daily steem payout without any investment https://staging.drugwars.io
►Walk, Jog, Run and Earn steem for moving : https://actifit.io
►Pro Gamers ! Participate in Tournament and WIN steem with your gaming skill and cards, blockchain Trading Card Game : https://steemmonsters.com
Passive Earning
►Sell your upvotes automatically : https://smartsteem.com
Dark Side Secrets
►Play and earn magic token that pays lifetime dividends (PROFIT share with house) | Random FREE Player Upvote worth $15.37 : https://magic-dice.com
►Instant Dividend payout after every game.WIN 452+ STEEM every round. FREE Player Upvote worth $1.48 every 2.5hr https://moonSTEEM.com
Bonus : Signup any link under Dark Side Secrets + wager 10 steem and receive daily 1% upvote from my account! comment when done.

---
Published by One Percent Better
on

with SteemPress
https://mentormarket.io/cryptocurrencies/onepercentbetter/bitcoin-10-apr/
---