Proof-of-Payment
YES! WE ARE THE FIRST FULLY FUNDED AND OPERATING FESTIVAL IN THE WORLD WITH CRYPTO
When One Love Fest says it will be the first festival in the world to run fully on crypto we really mean it. This post is to showcase how we are using crypto in the very beginning of our 2018 buildup cycle and also use this opportunity to educate others who may be interested in leveraging crypto to operate whatever they are working on that requires value to be shared.
Tech we used for this exercise
--Trezor.io open source hardware
--Bitcoin open source transnational, borderless, permissionless money
--BitGo.com Enterprise level web wallet that is insured and uses advanced multi-signature and audit technology. User controlled wallets that run on the chain so BitGo cannot even take your money.
Depositing the Funds
In this section that we have begun separating out categories that help us track flow of resources of value. We are able to change the names of these separate wallets in a matter of seconds. The wallets are accessible by several people and no one person can remove any BTC (for example) over 0.1 BTC without a second approval (Multi-Signature).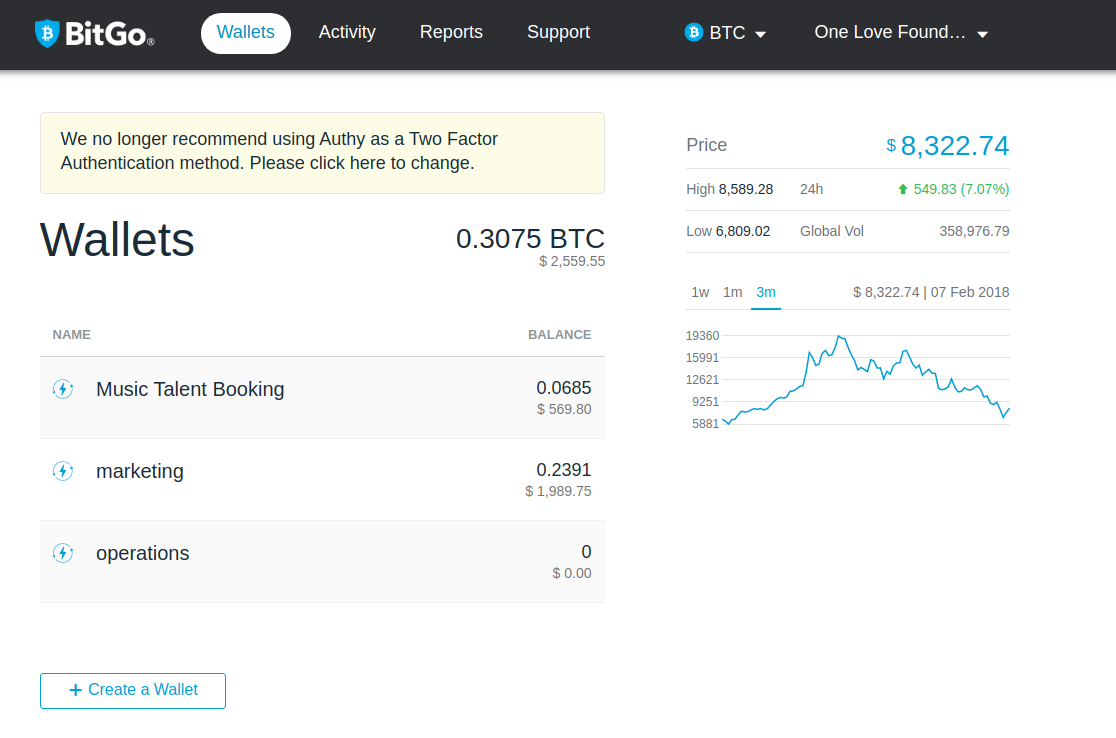 Tracking Inputs and Outputs
The festival and the One Love Eco involves tribes with vastly different value propositions and skills so we are leveraging the transaction record log feature that is built into their platform.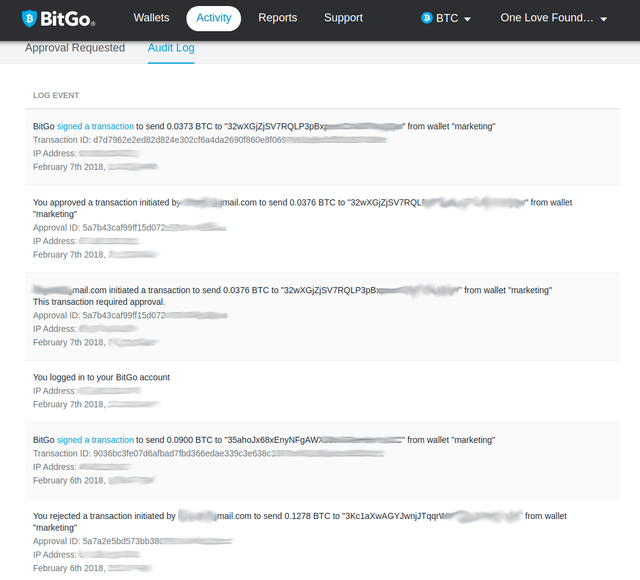 Below is a more user friendly interface to make personal notes of transactions and provide a quick reference of recent activity with the Bitcoin addresses.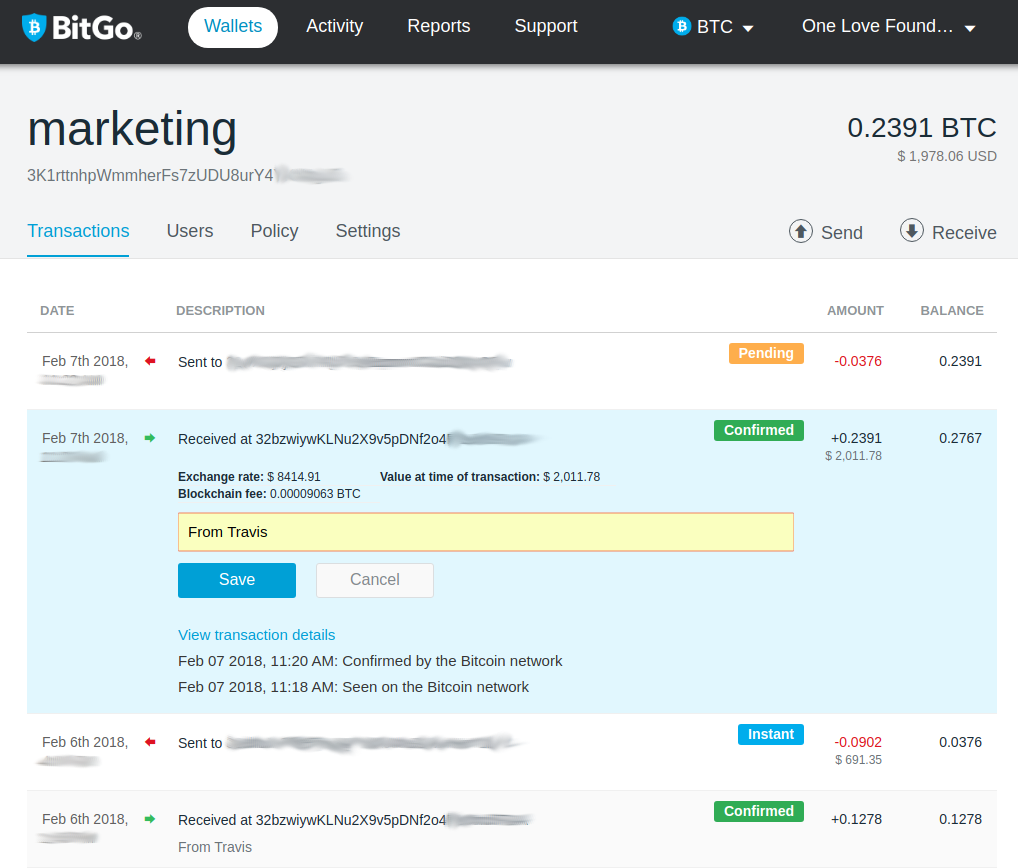 Creating the Payment
This is one of our core members participating with this tutorial example who has spending authority (One Key), but requires a secondary approval (Second Key) over 0.1 BTC defined by our programmed policy (third signature - BitGo). BitGo allows us to scale our I & E with much more flexible and secure way to operate funds without a central authority.
This is "worker" setting up a request for payment. They were able to send Bitcoin without approval up to 0.1 BTC, but over course there is little incentive to break our "rules" because there is an immutable record of everything the wallets do.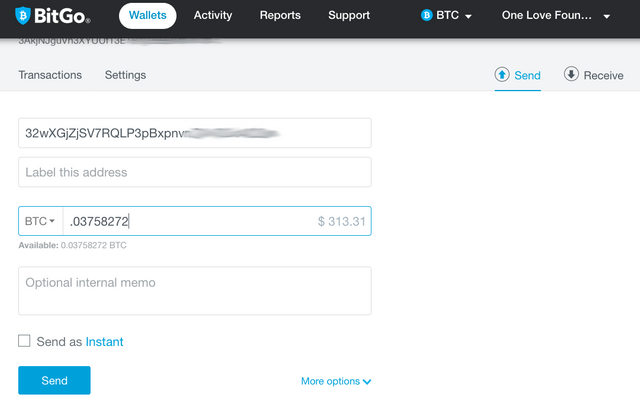 Review of the worker [spendor] transaction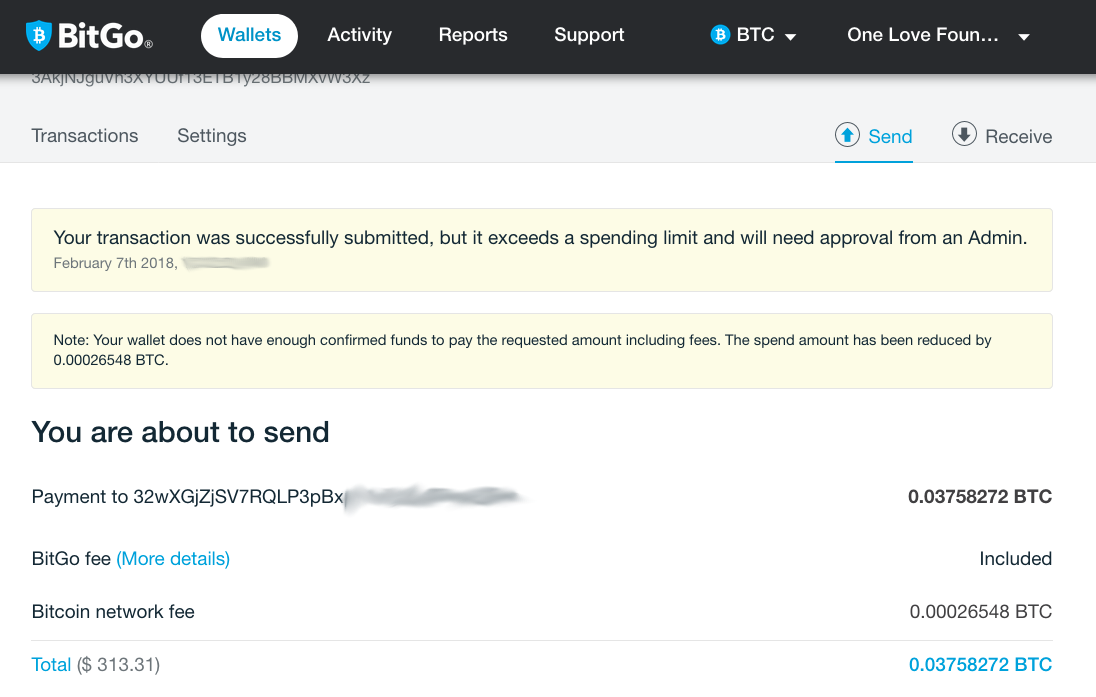 Notice the generated transaction was less than 0.1 btc, but our current policy limits that amount for a 24 hour period. So this screen shows the screen of the secondary approval process.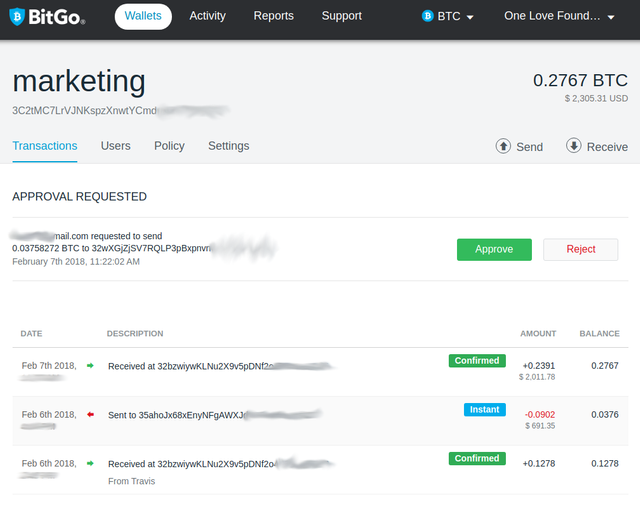 We will publish educational proofs like these periodically. Feedback in the comments below is greatly appreciated.
Please follow our Steemit Page and here is a look of other places on the web you can find us: