Eobot - Service of cloud minigames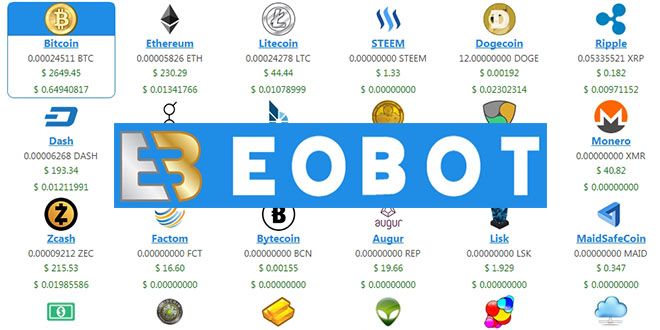 Review and feedback on the Eobot service
About the service: Eobot - Real service of cloud mining crypt. On the Eobot service, it is possible to obtain a large number of popular and, in principle, promising crypto currency. This service does not produce any equipment for mining. They simply buy it from well-known companies that are developing equipment for mining.
Buying a Cloud
Specifically, about the value of the clouds, I write do not see the point, because the price can for 1 day then rise, then fall. It depends on the course of Bitcoin. The higher the rate, the more expensive the cloud will be, the lower the rate, the lower the price for the cloud
At the moment you can buy several types of capacities:
Cloud SHA-256 4.0 5 Year Rental - power is purchased for a period of 5 years. This is the cloud you need to buy, if you are going to earn money here. At the moment, these are the most profitable capacities.
Cloud SHA-256 4.0 24 Hour Rental - power is only purchased for 24 hours. To buy there is no sense, since they for 24 hours of work will not have time not that what to you that that to earn in plus. You will not even have time to repel your invested funds.
Cloud Scrypt 24 Hour Rental - power is purchased only for 24 hours. To buy them is meaningless.
Cloud SETI 1 Year Rental - power for charity. Are purchased for a period of 1 year. There is no sense to buy them. You do not earn much from them.
Cloud Folding 1 Year Rental - power for charity. Are purchased for a period of 1 year. There is no sense to buy them. You do not earn much from them.
Cloud Folding 24 Hour Rental - power for charity. They are only available for 24 hours. Acquire them all the more meaning :)
The payback period of Cloud SHA-256 4.0 5 Year Rental is approximately 24 months (2 years). The payback period can both decrease and increase. It all depends on the Bitcoin course.
Free bonuses
For a daily login to your account, you earn a bonus of 1 Dogecoin.
Also there is a section "Faucet", that is, "tap". You can go 1 time a day and get a bonus, in the form of a crypto currency or the power of the cloud.
The bonus is accrued depending on what is currently mincing in your account. That is, if you have Bitcoin Mining at the moment, for example, your bonus will be in Bitcoin. If there is a mining of capacities, then the bonus will be credited in the form of capacities.
It's best to get a bonus in the form of capacity. For that would be pumped over the cloud. For this, it will be necessary to forcefully switch to the mining of capacities. This is the case if it is worth the mining of the crypto currency
How the Altkoins are mining
If you pay attention, you will notice that on the Eobot service there are crypto-currencies that are extracted on different algorithms. That is, you acquire the power of the SHA-256 algorithm, and extract the crypto currency, which is extracted for example by the algorithm X11. You should have a question like this at all can be? Yes, everything is simple! Cycle on this service exclusively Bitcoin crypto currency. And already in real time, it is converted depending on the course for that crypto currency, the mining of which you actually chose
Extraction of crypto currency with the help of "Asic" or "Farm"
On the Eobot service, it is possible to connect its own equipment to the pool and start producing crypto currency.
In the "Pool Info" section there are special files (a kind of program) that you need to download to your computer (depending on where the mining will be done) or you can use your program for mining. If such is available in your possession.
In the same section of "Pool Info" special data is registered for connection to the Eobot pool (depending on which algorithm you will be attracting). This is Server, Username and Password. This is your personal data, which must be registered in the program for mining
Referral program
As a matter of principle, there is also a referral program here. But here it is very small, but still there :)
Here you will receive 1% of the crypto currency they have earned.
Charging will occur both from the Cloud Mining, and from the extracted from the pool using their own equipment.