My Bank Accounts Were Hacked and Drained - by my Own Bank
Recently I logged into my email to find 5 emails that looked just like this: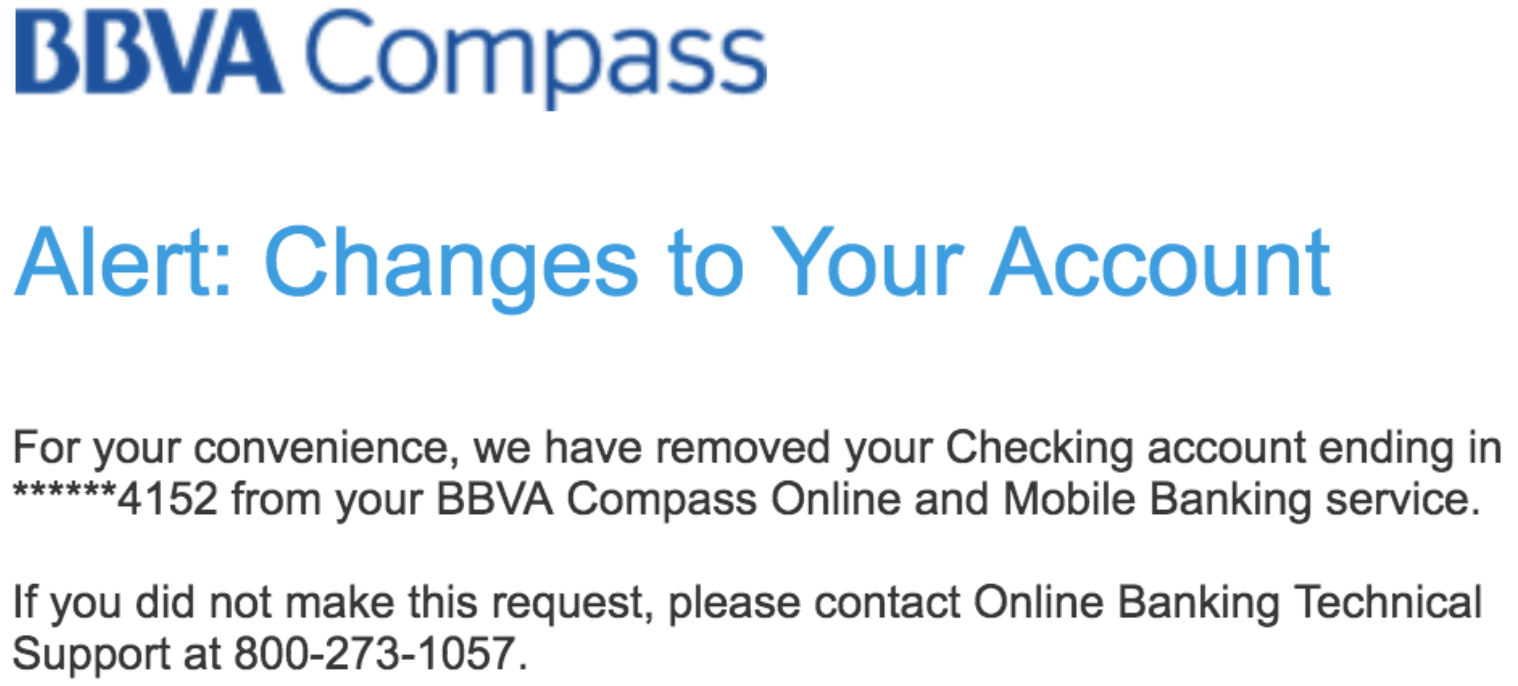 There was one email for each of my five checking accounts at BBVA Compass. My first reaction was fear and dread. What was going on? I hadn't made any changes to my account. Who did? No one else has access to my account and my logins are all tightly locked down with 2FA. I instantly logged into my main account without issue and saw this: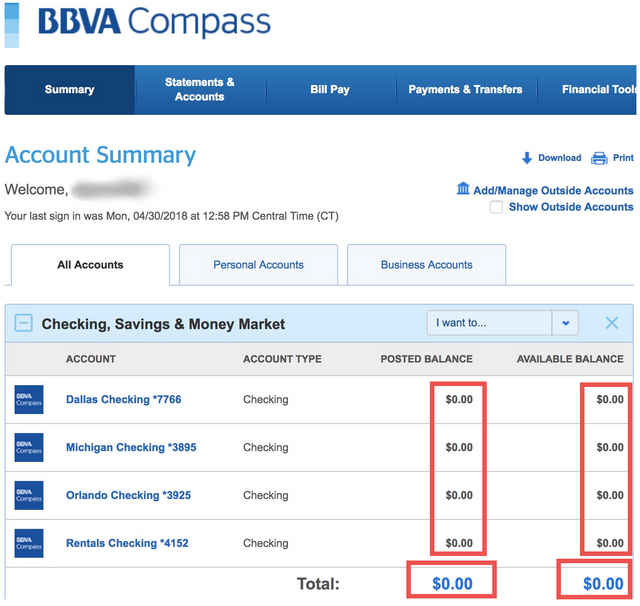 I'd been hacked. Robbed blind, somehow. I had four accounts under this login and one account under another login for a different business I own and all were at $0. A check had been written and cashed in the exact amount that was left in each account, but when I clicked on the check to see the image, nothing would load.
Who could have done this and gotten through all of my security measures? Who let them do this? I instantly hopped on the phone to the BBVA Compass Fraud Department and waited 33 minutes for assistance. Once I finally got someone on the phone (that I could barely understand) I explained what had happened. Surely someone stole my identity somehow and posed as myself to gain access. But how did they cash my checks? I don't even use checks! My mind was racing with possibilities. Finally, the person on the phone calmly told me, "I see here that we decided to close your accounts, and unfortunately I cannot provide a reason. Please go to a local branch, tell them what happened and have them give you the money back."
I was beyond pissed. I asked, "WHAT IS THE REASON FOR DOING THIS?!" And of course, she said again, "Unfortunately I am not able to disclose the reason." I hung up the phone and started to think. I remembered that a month ago I got a call from BBVA Compass' corporate office, asking me about recent Bitcoin purchases I had made on GDAX/Coinbase. They asked if it was me making these purchases and the purpose for them. I said of course it was me, or I'd have filed a fraud report, and the purpose was to simply buy Bitcoin. Keep in mind, I had been buying crypto for almost 2 years with these accounts. She asked why I was buying Bitcoin and I told her that I didn't need to tell her why I was buying Bitcoin. I sarcastically asked if it was against the law to buy Bitcoin. "Well...no." Is it against BBVA Compass policy? "Well, no." Then what's the problem? "Ok, just wanting to check in with our valued customers and make sure everything is okay." She hung up and that was that. Obviously, I was suspicious at her intentions.
4 weeks after that call my accounts were drained and closed, without notice, and was told I would not be able to bank there anymore.
I have been banking with BBVA Compass for 8 years. I opened my first business checking account with them while in college, and ultimately ran millions of dollars of corporate transactions through those 5 accounts, without any overdrafts or fraud reports. I even had a mortgage with them for a time. I was friends with a few of their local employees, who were normally very helpful. This was my bank.
I started doing some research of similar reports happening, and what I found shocked me. I found that BBVA Compass was actually very "crypto friendly." In fact, The same company they punished me for buying Bitcoin from, Coinbase, they actually own a part of!
What an awesome, forward-thinking, crypto-friendly bank! Or not.
Banks like BBVA Compass know the threat that blockchain technology is to their entire business model. They're terrified of it. So what do they do? They proudly publish PR pieces that flaunt how innovative and blockchain-friendly they are! Yet they privately instruct employees to flag, drain and blacklist loyal customers for being blockchain-friendly as well. Then they make them fight tooth and nail to get their money back. They speak out of both sides of their mouth. They want to protect themselves from their inevitability of becoming irrelevant, so they invest in blockchain technology while preventing their customers from doing the same. They know that my Bitcoin likely won't go to buying drugs or evading taxes, but they also don't want me to profit off of it, or help contribute to their ultimate demise. My profit is their inevitable irrelevance.
I know that banks can refuse any customers they please. I also know that any money I have in a bank truly isn't mine. My purpose of this article is to bring to light what's quietly happening at banks around the world, and to instill confidence that cryptocurrency and blockchain technology is the future. Banks know what it means for them and their antiquated ways of doing business. They want a piece of the action while denying you a piece as well.
Another purpose of this article is to tell you to stay away from BBVA Compass. You don't want them anywhere near your money. They're a centralized wolf in decentralized clothing, and they have no regard for you as a customer, especially if you're committing the heinous crime of buying crypto from a company they're invested in.
It took me 4 weeks to get my money back, by the way. Only after a handful of calls, emails, and branch visits did it happen. For the time being, it's almost impossible to stay away from banks entirely. But do yourself a favor and stay away from this one. Please let me know in the comments if you have had good experiences with a bank that is actually crypto friendly, if there is such a thing. Follow me on Twitter for more updates!